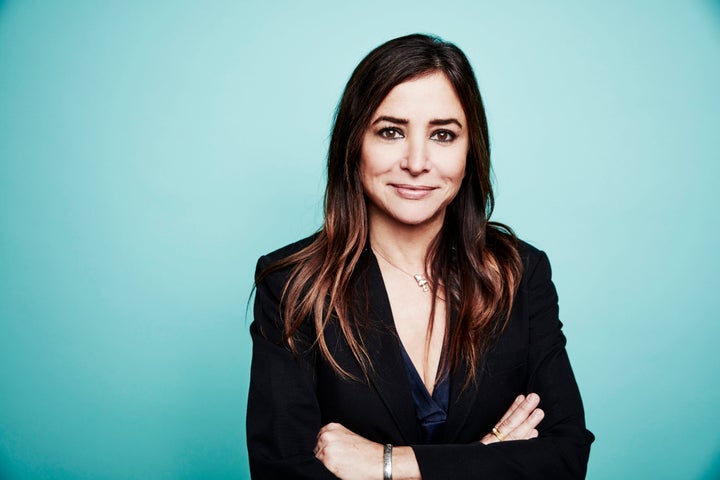 When Pamela Adlon first pitched her new show "Better Things" to FX, she possessed a clear idea of what her main character Sam Fox would look like. 
Sam, she said, would look a lot like Adlon herself ― a single mother in her 40s who wears black and rocks bedhead. Sam would not, as Adlon's already professed in several interviews, "look like a sparkling piece of candy."
"My friends and I don't walk around wearing high heels in perfect outfits. We wear jeans and sweatshirts and our hair is messy and we're just like ... we're all different colors, shapes and sizes," Adlon explained in a phone conversation with The Huffington Post. 
"There's a lot more women in the world," she added, than the mother figures streaming via Hulu right now. "Not to slam shows that are on TV, but ... yeah, let's slam some shows that are on TV."
Adlon neglected to slam those shows by name, but any TV fan can fill in the blanks. "Modern Family." "The Good Wife." "Desperate Housewives." "Weeds." "Nashville." Even shows that nix the heels ― like "Parenthood" ― tend to make sure their mothers are pristine-looking, shellacked. As FX's first comedy series with a solo female lead, "Better Things" was going to show imperfection, roughness around the edges. 
"I like things to feel real. I don't like them to be feel pushed or too stereotypical or too jokey. I don't like that kind of stuff," Adlon said. "I respond to stuff that feels real and relational to my life."
"Better Things" is semi-autobiographical. Co-created with Louis C.K., Adlon's longtime collaborator, the show tells the story of Sam Fox, an actor who's raising her three daughters ― Max (Mikey Madison), Frankie (Hannah Alligood) and Duke (Olivia Edward) ― on her own in Los Angeles, and attempting to have a personal life, too.
A "Better Things" trailer begins with Sam contemplating the kinds of porn she'd enjoy online ("mature lady sex"), transitions to her talking to her youngest daughter about a dad she's texting (her daughter's immediate response: "ew"), and cuts to spotlight Sam cleaning, cooking, chasing the family dog and reprimanding her eldest for requesting "clean pot" with no fear of repercussions. ("Honey, these things are normal," Sam says, "but you should be ashamed of them.")
There are whiffs of that mundane, observational comedy she and Louis C.K. are known for, punctuated by cringeworthy moments and gut-splitting deadpan. Also in the "Better Things" trailer: a scene featuring Sam and Max tossing incredulous "what"s at each other, with little context, the former minutely frustrated by the interaction, the latter near tears. A typical, and hilariously banal, exchange between mother and daughter.
In real life, Adlon is also raising three young women as a single mom. "I guess the bones of the story [...] are autobiographical," Adlon confessed of her new show. "You know, certain things have happened to me and certain things have happened to my daughters or my friends. A lot of the [scenes in the show] are situations that happened to me when I was a young girl, that I was able to put into the girls who play my daughters on the show. It's very simple, regular, kind of everyday stuff, and I made a show about it."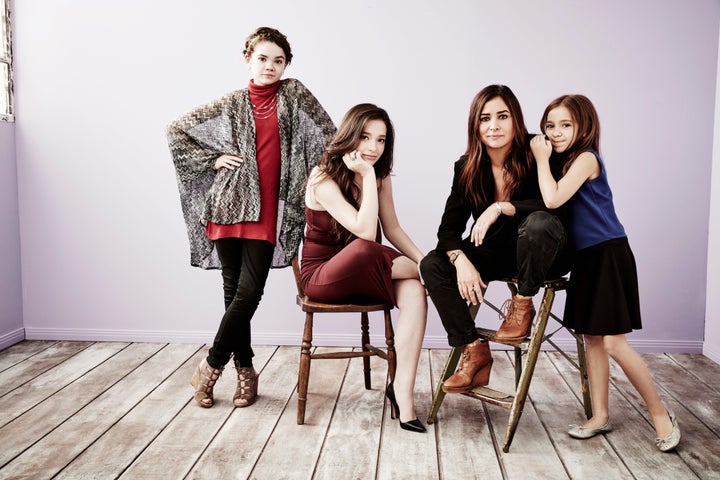 Adlon has played versions of "herself" on TV before. There's Pamela on "Louie" (Adlon also wrote for the show), and Kim from "Lucky Louie," even "Californication"'s Marcy, all characters that pivot off the kind of dark humor and irrepressible confidence Adlon plays so well. "They're all me," she said, to an extent ― though she admits to having less in common with Marcy than the rest. They both curse, she noted, and that's about it. 
"Me and Sam ― it's probably the closest to me that I've ever played," she said. "I'm kind of excavating some things that have been dormant inside of me."
Perhaps because of this closeness between Adlon's and Sam's lives, casting for the "Better Things" daughters ― the three actresses that round out this female-led show ― was a challenge. "I think Felicia Fasano, the casting director, watched over 2,000 submissions," Adlon said. "There had to be something special about each girl. I'm kind of an acting Nazi when it comes to seeing false moments, but I was able to really cultivate this amazing cast of these naturalistic performers."
For Frankie, the middle child, Adlon was set on a gender-neutral character. That was very important to her, she emphasized. For Duke, the youngest, she just needed "that little old man whose name is Olivia Edward." And for Max, the oldest, it helps that Mikey looks like she came out of Adlon's vagina ― as Adlon put it. "People think she's my daughter." The three young women channel a similar sort of austere comedy harnessed by the kids of "Louie."
My friends and I don't walk around wearing high heels in perfect outfits. We wear jeans and sweatshirts and our hair is messy.
On the phone, Adlon's voice is certainly that of "Louie"'s Pamela ― even "King of the Hill"'s Bobby, for that matter ― and she does drop the occasional bit of obscenity, a reminder that she's the driving force behind the TV women we've come to love for their dauntless behavior and seething potty mouths. But when asked if she, like her characters, is impervious to embarrassment, eternally comfortable in that squishy place where virtually everyone else feels awkward as hell, she's quick to offer a solid "no."
"Oh, god no, I'm the biggest pussy in the world," she replied. "And I hate confrontation. But there's something inside of me, that I can't help myself sometimes. I'll just say a thing, that really nobody wants to say, just because I can't help myself. I think it diffuses things and it's a great kind of coolant when you do it in a way that's a little bit funny. A little bit dark and a little bit funny."
"A little bit dark and a little bit funny" seems to be the equation that connects Adlon's work across TV, that culminates in a show that ― finally ― centers on no one but her. As a TV mom, a label she amplifies to mean anything a real woman with children wants it to mean, she owns the kind of queasy but irresistible reality of ensemble shows like "Casual," "Togetherness" and "You're the Worst."
There are certainly other TV moms breaking the mold today: Rainbow Johnson on "Black-ish," Jessica Huang on "Off the Boat," Jane Villanueva on "Jane the Virgin." But there's no denying Pamela Adlon's realism is a feat in itself. And it's high time both moms and daughters saw their brand of everyday hilarity, stripped of exaggerations and stereotypes, on screen.
"Better Things" premieres Thursday, Sept. 8, on FX.
Calling all HuffPost superfans!
Sign up for membership to become a founding member and help shape HuffPost's next chapter
BEFORE YOU GO
PHOTO GALLERY
Feminist TV Guide 2016