At 45 years old, Pamela Anderson still looks red hot in a bikini.
"Actually a lot of people [tried to make me under], especially when I was on 'Baywatch,'" she said. "They were insisting that I didn't wear eyelashes, but I said, 'I have my look, this is what I'm comfortable in.' Sometimes my eyelashes would roll up onto the beach and that's all that would be left of me. But I was determined to be glamorous. Oh, I loved it, I LOVED it. I thought, 'If you're going to be on TV, and if you're gonna be out and glamorous, the natural look can stay at home. If we're gonna do this, let's have fun with it!' I actually just did a shoot lately, and they took all the makeup off and put me in a ponytail, and I said, 'Well, OK, we'll try that.'"
"[E]veryone was happy about it and liked it," she said of the Vogue shoot, "and so, well, we'll see what it looks like. It was Mario Testino, so I can't argue with him! And he loved it, so, we'll see." Check out more photos of Pam Anderson from Vogue Brazil in the slideshow below.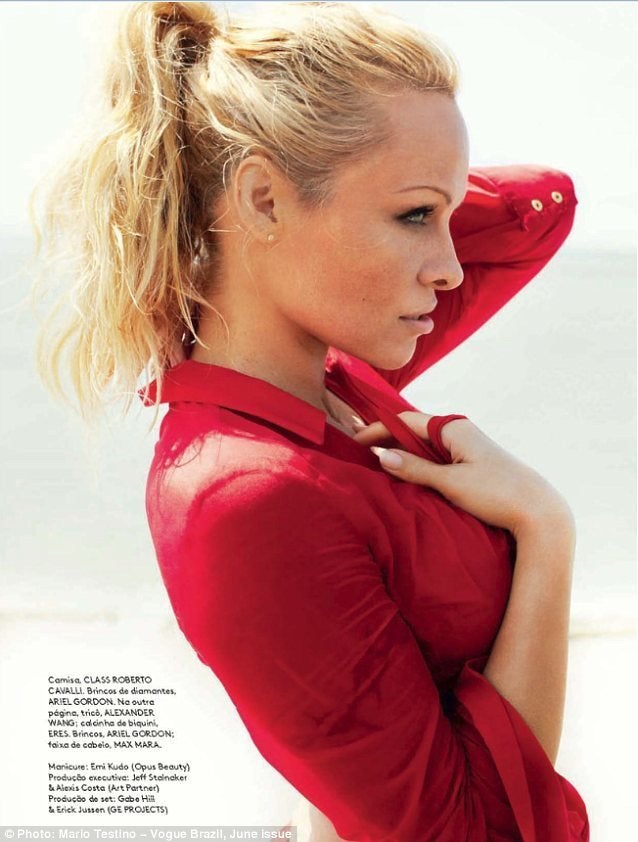 Pamela Anderson Bikini Shoot For Vogue Brazil
Popular in the Community