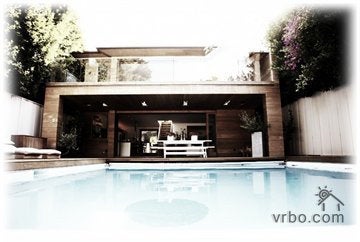 Pamela Anderson has been a poster girl for many things, and now she may become the face of the sluggish high-end real estate market. The former "Baywatch" star is offering her vacant Malibu Colony, Calif., home as a short-term rental at $20,000 a week or $75,000 per month. Anderson's listing appears on VRBO.com (for Vacation Rentals by Owner), one of a growing number of sites that seek to help homeowners lease their vacant houses.
While Anderson isn't the first celebrity to rent out her home for income -- many in Malibu and the Hamptons are displaced for the summer by high-paying tenants -- she's certainly the highest-profile personality to enter the short-term rental market without the shield of anonymity. Christine Karpinski, author of "How to Rent Vacation Properties by Owner," calls Anderson's move "brilliant."
"Having Pamela Anderson's name attached to a property gives it a higher premium. It's not just any old house anymore and becomes something much more attractive," Karpinski said. It gives renters the cachet of saying they moved into a celebrity's home, slept in her bed, etc.
Karpinski noted that in the housing downturn many second-home owners began to lease their vacation properties when they weren't using them, hoping to generate some extra income. The result has been the proliferation of both online sites and the number of properties they have listed. VRBO.com, started in 1995 as a family business with a single listing in Breckenridge, Colo., now has 165,000 homes listed, many of them at the high end of the market.
An unoccupied property is a financial drain, said Karpinski.
As for the Canadian-born Anderson, she wrote on the VRBO site that she's been traveling a lot and spending more time with family in Canada, leaving the Malibu home empty. Agents in Malibu suggest she is most likely keeping her options open, preferring not to sell her house in a depressed market and allowing for a possible return there as her base. Eileen Buesing, a spokeswoman for VRBO parent company HomeAway, said the actress did not receive any remuneration for listing her home.
In fact, VRBO charges homeowners to post photos and descriptions of properties, and the owner manages the leasing transaction. Other vacation rental sites function differently, some providing tenant screening and more active management of the property for a percentage of the rental fee.

Calling all HuffPost superfans!
Sign up for membership to become a founding member and help shape HuffPost's next chapter