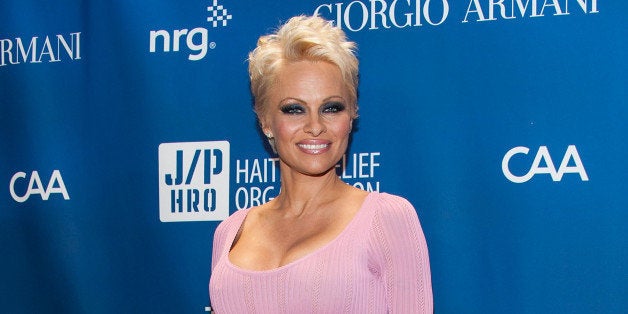 Former Playboy star Pamela Anderson is working out her most recent heartbreak in verse.
"When did I lose control over my own heart?--," Anderson wrote. "When did I start believing,/That this is all I'm good for-/against my better judgement--"
"fell for-dammit-," she continued. "it all backfired--it doesn't feel good to be used, neglected, ignored---/controlled...i'm not doing this---"
Such frustration over marital issues is not a particularly new feeling for the actress -- this was in fact her second marriage to Salomon, after the first one annulled on the basis of fraud back in 2008. The repeated experience appears to have turned her reflective not only about her own relationship, but also about the ails of love in the digital era:
"Coded, and loaded Cell phones, /Computers -- /Ordering sex on line- is like ordering a book on Amazon--," she wrote. "and ... snooping eats you alive--"
"Life is sensual-- not a "fix it in post"--/ ME- I miss PLAYBOY- /The End of an Era-- /Chivalry, elegance-/Celebrated imperfections - /differences... hot---passionate dreamy scenes.../The girl next door-- shyness-- "it's my first time"/but - not my last....(wink)"
While it's true things have changed since the height of Anderson's "Baywatch" days, we'd love to see her have a second coming as a poet of the celebrity age.
Calling all HuffPost superfans!
Sign up for membership to become a founding member and help shape HuffPost's next chapter
BEFORE YOU GO
PHOTO GALLERY
Pamela Anderson