 WASHINGTON -- Ready for the next round of jihad-related Metro ads?
The ongoing saga over anti-Islamic advertisements in the district will soon open a new chapter that reads a lot like an old chapter.
The Washington City Paper reports that the American Freedom Defense Initiative, the organization that stirred up controversy last fall in Washington and New York with its anti-jihad advertising campaigns, has purchased more ad space in the D.C. Metro for a new promotional campaign.
The ad buy would be the latest in what has become something of an advertising war between the AFDI and the "My Jihad" campaign, which is sponsored by the Council on American-Islamic Relations.
The Huffington Post reported in January that My Jihad ads were being put up in four Metro stations -- Shaw-Howard U, Waterfront, Rockville and Dunn Loring-Merrifield -- promoting cross-religious understanding through "a public education campaign that seeks to share the proper meaning of Jihad as believed and practiced by the majority of Muslims," according to the organization's website.
Pamela Geller, president of AFDI, told The Huffington Post in an email that My Jihad "is a deceptive campaign designed to distract from and obscure the true meaning of jihad that Muslims the world over understand." She believes that her new advertisement campaign will "show the reality of jihad."
The new ads will play off of the My Jihad campaign, using similar font, color and design, to invoke a completely different interpretation of "jihad," which, according to Geller, involves misogyny, anti-Semitism and "persecution of non-Muslims."
One of the ads displays images of Osama bin Laden and of the 9/11 attack on the World Trade Center, with a quote from bin Laden that states, "The first thing that we are calling you is to Islam." Underneath the quote the ad reads, "That's His Jihad. What's yours?"
Similar ads were initially rejected by the Washington Metropolitan Area Transit Authority, but in October a federal judge ordered [PDF] the ads be displayed.
Those ads prompted a response from CAIR, who sponsored the My Jihad campaign in January.
Ibrahim Hooper, a spokesperson for CAIR, told HuffPost that no second set of My Jihad ads are in the works, and that he's not concerned about Geller's latest ad buy.
"It's a free country, and she's free to be a bigot and a hate-monger if she wants to be," he said. "We would hope intelligent people would recognize it for the hate-mongering it is and make appropriate conclusions about the motivations of the sponsors."
Riders might have a while longer before they have to draw any such conclusions. Asked when the AFDI ads would be going up, a spokesperson for Metro told The Huffington Post on Friday afternoon that "As of now, we have no signed agreement."
Before You Go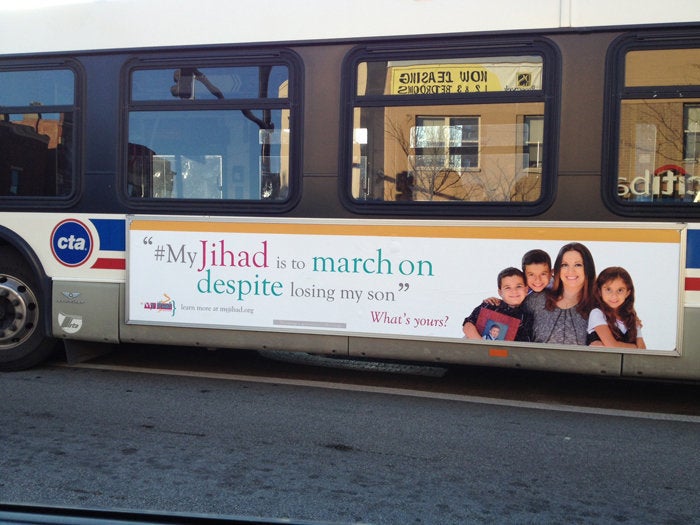 #MyJihad Campaign Debuts In Chicago
Popular in the Community