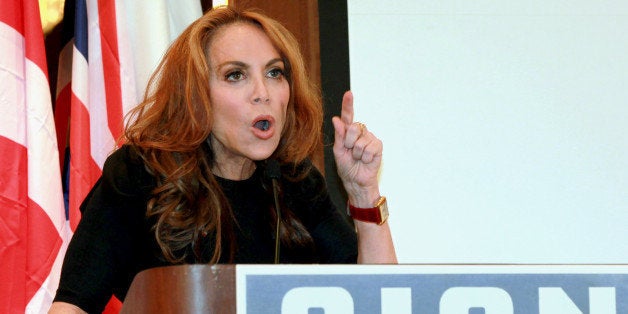 The anti-Muslim activist whose Muhammad cartoon contest in Texas was attacked by two gunmen on Sunday said the shooting shows the importance of her message.
Pamela Geller, American Freedom Defense Initiative president and sponsor of the "Draw Muhammad" contest in Garland, Texas, defended her event to CNN's Alisyn Camerota on Monday.
"This terrible incident reflects the need for such conferences," Geller said. "It's illustrative of the violent assault on the freedom of speech." Later, she added, "There is a problem in Islam, as illustrated last night, that anyone who addresses it gets attacked."
"I'm not concerned with Muslims, especially peaceful Muslims," Geller said. "I'm anti-Jihad, and anybody who says I'm anti-Muslim is implying that all Muslims support Jihad."
Camerota pointed out that Geller's selection of Dutch politician Geert Wilders as the event's keynote speaker suggests otherwise, and read portions of his speech: "Our Judeo-Christian culture is far superior to the Islamic one," Wilders said. "Islam does not allow free speech, because free speech shows how evil and wrong Islam is. And Islam does not allow humor, because humor shows how foolish and ridiculous it is."
Geller defended Wilders' message as free speech.
The contest's winning cartoonist, Bosch Fawstin, also spoke out on Twitter following the attacks, calling the shooters' deaths "justice."
Calling all HuffPost superfans!
Sign up for membership to become a founding member and help shape HuffPost's next chapter
BEFORE YOU GO
PHOTO GALLERY
Shootings In America