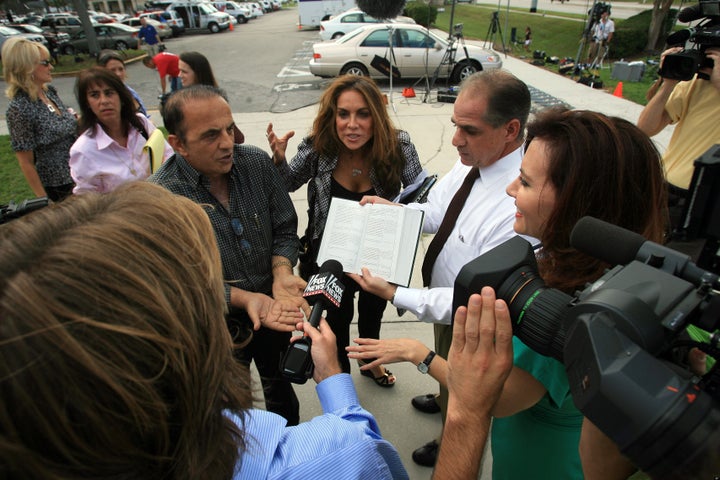 By DANIEL BURKE
Religion News Service
(RNS) By some accounts, the heated opposition to the so-called Ground Zero mosque has been drummed up by a telegenic blogger with a strong New York accent and even stronger opinions.
Pamela Geller, a Long Island native who writes the blog "Atlas Shrugs," said she was the "quintessential New York City career girl" before the terrorist attacks of Sept. 11, 2001.
Since then, she has co-founded groups dedicated to fighting the "Islamization" of America, sponsored anti-Muslim ads in several cities, and, more recently, become a near daily presence on television news programs.
Some even suggest that Geller deserves credit -- or blame -- for turning a local zoning decision about whether to build an Islamic cultural center and mosque blocks from Ground Zero into a national political spectacle.
"She's been instrumental," said Eric Boehlert, a senior fellow at Media Matters for America, a liberal watchdog group. "She has whipped up hatred in the right-wing blogosphere and now that's spilled out into the wider community."
Articles in The Washington Post and Salon.com this week have reported that the mainstream media picked up on angst about Park51, the planned cultural center and mosque in lower Manhattan, only after Geller began blogging about it. In recent weeks, Geller has become a chief spokeswoman against the project, appearing on ABC's "Good Morning America," CNN, NBC Nightly News, and Fox.
According to a recent Time magazine poll, 61 percent of Americans now oppose building Park51. Geller says the notion that she has single-handedly instigated the opposition is absurd.
"I think it's grossly unfair and condescending to the American people, as if they are lemmings and can't think and feel for themselves," she said in an interview. "I don't have that kind of influence."
Before she got into blogging and advocacy, Geller spent nearly a decade at the New York Daily News, starting as a financial analyst and making stops in the advertising and marketing departments. Later, Geller was associate publisher of The New York Observer for five years, she said.
Now, even Muslim groups reluctantly acknowledge Geller is front and center in the mosque debate. "People say don't give her too much credit, she's a fringe character," said Ibrahim Hooper, a spokesman for the Council on American-Islamic Relations. "But she is a fringe character who every day is on CNN, Fox, The Washington Post, and The New York Times. She is the driving force behind the Islamic center campaign."
Some media experts doubt Geller's influence, though, and question why reporters have given her controversial views a platform. Postings on "Atlas Shrugs" have included a video suggesting Muslims have sex with goats, a doctored picture showing President Obama urinating on an American flag, and a fake image of new Supreme Court Justice Elena Kagan in Nazi garb.
Geller has also accused Obama of anti-Semitism, said that he does the bidding of "Islamic overlords," and posted an essay suggesting that the president is the love child of Malcolm X.
Geller said not everything on her website should be taken seriously. She jokingly called CNN the "Crescent News Network," after it criticized her views, and her author photo shows Geller's head on Superman's body. "The blog is my living room, my kitchen, when I'm talking to my friends," Geller said.
Muslims, however, are not amused.
"I would say that she is the queen of the Muslim bashers," said Hooper. "I see her rise and the rise of these anti-Islam hate groups going hand in hand."
Diane Winston, an expert on religion and the media at the University of Southern California, said a perfect storm of circumstances has fueled opposition to Park51 -- but the media have settled for the simplistic narrative that one woman is behind it all.
"Pamela Geller is an attractive woman and she speaks simply and you can follow her and she gives good sound bites," Winston said. "She has definitely had an impact, but her perspective wouldn't be widely know if the mainstream media hadn't picked up on it."
Thirty years ago, before the advent of the Internet and cable news, it's doubtful the mainstream media would have given Geller any attention, Winston said. "Now, in its rush to be relevant and get an audience, the mainstream media basically whores itself out to the right wing."
Geller's groups, Stop the Islamization of America, and the Freedom Defense Initiative, have bought ads critical of Islam on public buses in New York, Miami, and San Francisco. After transit officials in Detroit refused to post the ads, Geller sued, and the litigation continues.
Geller says the ads, which carry messages like, "Fatwa on Your Head?" and "Leaving Islam?" are not intended to be anti-Muslim, but offer safe haven for people considering conversion. Geller would not say how many people have asked for the resources offered in the ads.
Geller's latest ad, which will run on buses and trains in New York, shows a plane about to crash into the World Trade Center and a rendering of the proposed Islamic cultural center.
"I have nothing against Muslims. I love people," she said. "But I am opposed to ideology that inspires violence."
Related
Popular in the Community