Two American men were gored on the second day of the San Fermin bull running festival in Pamplona, northern Spain, on Saturday morning.
It follows the goring of two other men from the U.S. on Friday.
One of Saturday's runners, a 22-year-old identified only by his initials J.C., was gored in the arm. He remains hospitalized in serious condition.
The second man, a 35-year-old identified only as W.H., was gored in the perineum. His current condition has not been released.
Eight other men were also hospitalized following the run, officials said. Three are from Spain, two are from France and three from the U.S.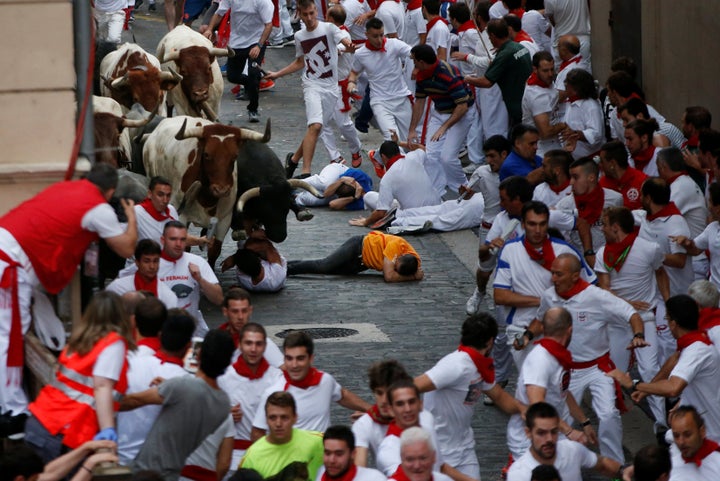 Two of the Americans, identified as 59-year-old P.C. and 35-year-old J.H., suffered minor injuries and have since been discharged from the hospital, alongside the injured French and Spanish runners. A 68-year-old American initialed J.W. remains in serious condition and is receiving treatment.
Friday's inaugural running of this year's weeklong festival saw the goring of three men, including two Americans ages 29 and 35.
The younger man, identified as A.P., was gored in his scrotum. He is expected to be released from the hospital Saturday. The 35-year-old, named E.H., was gored in the thorax and remains in "favorable" condition.
The controversial event sees six bulls chasing hundreds of people through a 790-meter route across the city, from their corral to the bullring, at 8 a.m. each day.
REAL LIFE. REAL NEWS. REAL VOICES.
Help us tell more of the stories that matter from voices that too often remain unheard.
BEFORE YOU GO