This classic Provençal sandwich, which means "soaked bread" in the ancient Nice dialect, is nothing more than a Salade Niçoise served between two pieces of bread. In the old days it was considered to be a humble food, made with ingredients that every household would have on hand.
But today Pan Bagnat is fashionable fare. And for good reason: it makes an extraordinarily delicious and satisfying meal.
In my version, the grilled peppers add a bit of depth to this simple sandwich, and the basil vinaigrette soaks the whole thing with its ambrosial fragrance - making it the quintessential summer sandwich!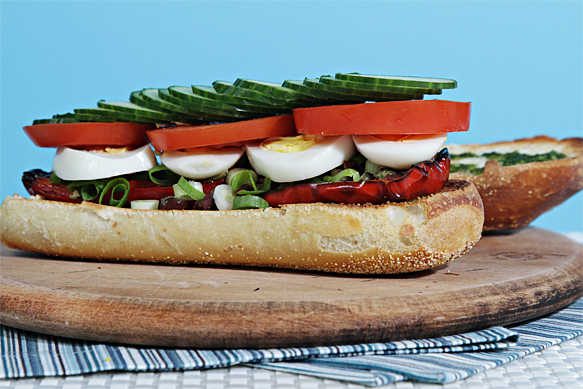 Pan Bagnat with Grilled Peppers and Basil Vinaigrette
Serves 4
Active time: 40 min
For the peppers
2 large red bell peppers - quartered; stems, seeds and veins removed
1 teaspoon olive oil
For the vinaigrette
12 large basil leaves
2 tablespoons aged balsamic or red wine vinegar
6 tablespoons extra virgin olive oil
1 garlic clove - peeled
1/4 teaspoon sea salt
freshly ground black pepper to taste
For the sandwich
1/3 cup - pitted Niçoise or Kalamata olives, coarsely chopped
1 tablespoon capers - drained and finely chopped
4 baguette or ciabatta rolls
4 scallions - white and pale green part cut in 1/8" slices (1/2 cup)
4 hard boiled eggs - shelled and cut in 1/4" slices
2 medium ripe tomatoes - cut in 1/4" slices
1/2 seedless cucumber - cut in 1/8" slices (use mandoline or hand slicer)
sea salt to taste
freshly ground black pepper to taste
Preheat grill to medium-high heat.
Step 1: Brush the peppers with olive oil and set aside on a tray. When the grill is ready, place peppers directly on the grill, cut side up, and grill until charred, about 4 to 5 minutes. Turn peppers over and grill until well charred, about 3 to 4 minutes. Transfer to a tray and set aside. (Alternatively, you can roast the peppers under the broiler, following the same directions as for grilling them.)
Step 2: To make the vinaigrette - Place all ingredients in the bowl of a food processor and process until basil is very finely chopped and vinaigrette is smooth. Transfer to a bowl and set aside.
Step 3: In a small bowl, mix the olives and capers. Set aside.
Step 4: Cut rolls in half. Lightly toast cut side on the grill or under broiler. Drizzle both sides of the rolls with two thirds of the vinaigrette to soak the bread. Top the bottom half of each roll with the grilled peppers, olive/caper mixture, scallions and egg slices. Drizzle with the balance of the vinaigrette. Top with the tomato and cucumber slices. Sprinkle with salt and pepper. Finish with the top-side of the rolls, press slightly with your hand, and cut sandwiches in half. Serve with a leafy green salad with mustard vinaigrette.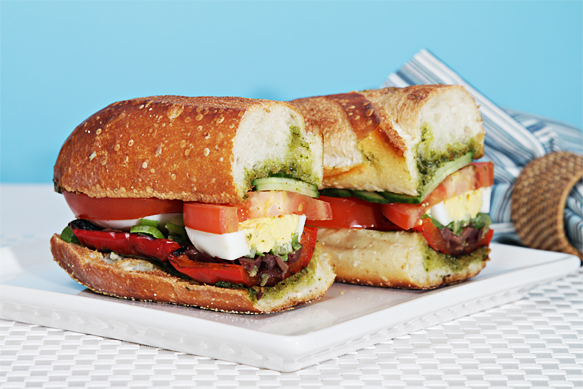 Related