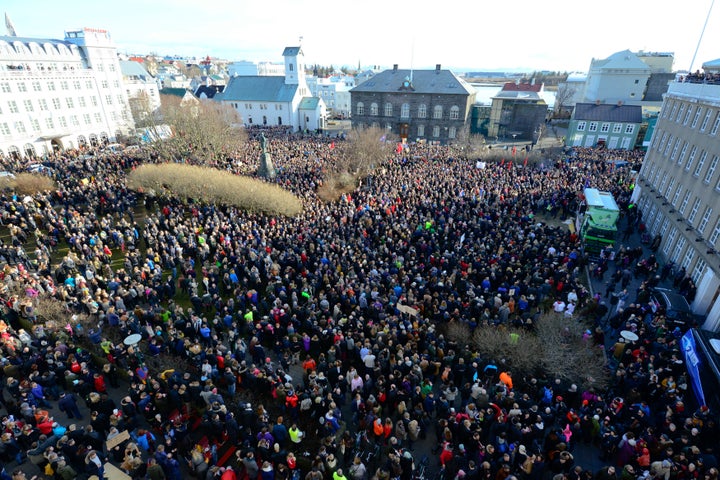 Every week, we bring you one overlooked aspect of the stories that made news in recent days. You noticed the media forgot all about another story's basic facts? Tweet @TheWorldPost or let us know on our Facebook page.
In no other country has the "Panama Papers" leak had such an immediate and significant influence than in Iceland. Thousands on the tiny island nation have gathered in protest, parliament is moving toward a no-confidence vote against the government and Prime Minister Sigmundur David Gunnlaugsson has stepped down.
Icelanders' outrage came after documents in the leak, which exposed thousands of offshore holdings, showed Gunnlaugsson and his wife had founded a company called Wintris Inc. Opponents say Gunnlaugsson's offshore holdings constitute a conflict of interest, given that the company held bonds in banks that failed during the 2008 financial crisis. Gunnlaugsson, who denies any wrongdoing, took part in negotiations as prime minister that could have affected the price of those bonds.
Even though the Panama Papers have implicated at least a dozen current or former world leaders, only in Iceland has there been massive demonstrations and immediate political change. The leaks have hit such a nerve in the country in part because of the Icelandic public's deep distrust in politicians and financial institutions that stems from its 2008 financial crisis.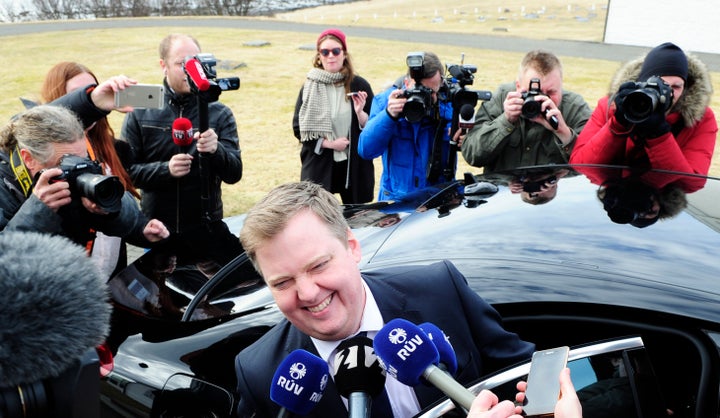 The 2008 global financial crisis hit Iceland hard. The country's krona currency became devalued by around 60 percent the year after, the unemployment rate more than doubled and capital controls were put in place that still remain today.
Part of Iceland's problem was its banks. In the years before the financial crisis hit, Iceland's banks had grown to ten times the country's GDP. When the bubble burst in 2008, the banks were far too big to be bailed out by the government and Iceland decided to let them fail. Not only did Reykjavik let the banks collapse, it also jailed banking executives that it held culpable for financial fraud that contributed to the economic catastrophe. 
Despite the severity of the financial crisis and banking collapse, Iceland has actually had a fairly successful recovery since 2008. As a result of a combination of factors, including a multibillion-dollar International Monetary Fund bailout and increased competitiveness due to a devalued currency, the economy has steadily gained strength. Unemployment is now down to around 3 percent, and the capital controls are scheduled to be lifted this year. Iceland's former Finance Minister Steingrimur Sigfusson went as far as to call the country a "poster child" for the IMF due to its well-managed recovery. 
But while the economy recovered, public trust in Iceland's officials and banking sector did not. A 2009 Gallup poll showed that 89 percent of Icelanders were not confident in their financial institutions. This figure remained largely unchanged after all of Iceland's progress, and another Gallup poll released last month showed that only 12 percent of people trust the country's banking system. A mere 17 percent said they trust the country's parliament.
"It wasn't just money, it was what we believed we could trust collapsed," Birgitta Jonsdottir, the current leader of the country's radical protest Pirate Party, told The WorldPost about the feeling in Iceland following the crisis.
As a result of disillusionment with Iceland's political establishment, many in the country have begun supporting formerly fringe, populist parties. The Pirate Party has surged in popularity since the financial crisis, and a poll by Iceland's Visir media outlet released on Wednesday following the Panama Papers showed that 43 percent of Icelanders would vote for the Pirates in an election -- the highest figure for any party.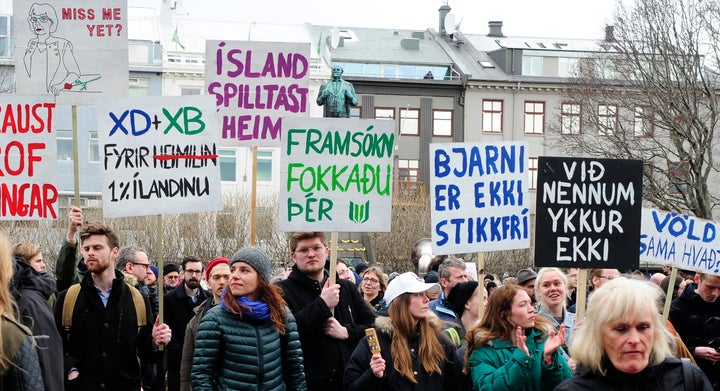 The party has been both surprised and confused by the huge swell in support, according to Jonsdottir, although she says it's understandable why people would turn away from the establishment parties associated with the crisis. The leak, much like the Pirate Party, has tapped into the feelings of outrage and mistrust directed at Iceland's powerful.
While the Panama Papers' revelations have already forced Gunnlaugsson to step aside as prime minister, many more high-up figures have been implicated in the documents. Finance Minister Bjarni Benediktsson also possessed an offshore account, and a Visir poll this week showed that 69 percent of those surveyed favor his resignation as well.
Although the offshore dealings of Gunnlaugsson and other Icelandic politicians were legal, Jonsdottir says many in Iceland are mad because their actions show the same practice of bending rules and regulations that preceded the financial crisis.
"We really wanted to change our society and learn from [the financial crisis]," Jonsdottir said. "What we're witnessing from these revelations is that those who have the largest amounts of money in our society haven't learned anything."
REAL LIFE. REAL NEWS. REAL VOICES.
Help us tell more of the stories that matter from voices that too often remain unheard.
BEFORE YOU GO
PHOTO GALLERY
World Leaders Connected To The Panama Papers