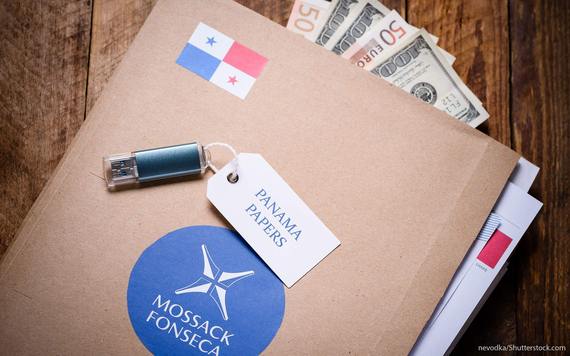 By Michelle Smith, Contributor
On Monday, the International Consortium of Investigative Journalists (ICIJ) released a searchable database of its Panama Papers. The database allows users to search through the Panama Papers and other records for individuals and corporations that might be using foreign shell companies and offshore accounts to keep financial information private.
Certain entities will use shell companies to avoid paying taxes on income, launder money or hide evidence of misconduct. Here is a look at some individuals and companies that appear in the Panama Papers.
What Are the Panama Papers?
The Panama Papers is a trove of 11.5 million files that span 40 years. The leak came from Mossack Fonseca, a Panamanian law firm that's now infamous for helping people hide and protect assets. In the course of one year, over 100 media organizations have gone through the leaked files connecting offshore companies to individuals in over 200 countries.
The Panama Papers reveal how wealthy individuals can keep personal finance information private. Use of offshore businesses are often not illegal, though they can be used for tax evasion and fraud, among other illegal purposes.
Altogether the ICIJ database reveals over 360,000 names.
Who's in the Panama Papers?
Being in the Panama Papers does not necessarily mean a person or company has done anything wrong. "There are legitimate uses for offshore companies and trusts," reads a statement on the ICIJ website. "We do not intend to suggest or imply that any persons ... have broken the law or otherwise acted improperly."
Notable individuals that appear in the ICIJ database include:
1. Republican Presidential Candidate Donald Trump
Republican presidential frontrunner Donald Trump appears 3,540 times in the ICIJ database. However, over the years Trump has sold his name and reputation to investors, meaning the appearance of his name does not necessarily link him to offshore accounts.
2. Argentina President Mauricio Macri
President of Argentina Mauricio Macri is revealed as the director of Fleg Trading, a now-dissolved company based out of the Bahamas. The company is linked to Santiago Lussich Torrendell, an active firm in Uruguay.
Opposing congressman Norman Darío Martinez began legal proceedings against Macri on allegations the president is involved with a company not declared in his assets since 2006.
3. U.K. Prime Minister David Cameron
An offshore trust was set up in Panama by the father of U.K. Prime Minister David Cameron. After numerous statements and three days, Cameron admitted he sold shares he owned in the tax haven fund before becoming prime minister.
4. Russian President Vladimir Putin
The Panama Papers revealed Russian President Vladimir Putin is linked to $2 billion in transactions funneled through banks and shadow companies. The leak reportedly reveals how Putin helped make members of his circle wealthy.
5. Saudi Arabia King Salman bin Abdulaziz bin Abdulrahman Al Saud
King of Saudi Arabia, Salman bin Abdulaziz bin Abdulrahman Al Saud, is reportedly linked to mortgages for luxury London homes.
Americans in the Panama Papers
Of the Americans listed in the Panama Papers leak, at least 36 were accused of fraud and financial crimes, reported USA Today. Leonard Gotshalk, a former offensive tackle for the Atlanta Falcons, reportedly paid Mossack Fonseca to set up a company in the British Virgin Islands three days after being indicted for a scheme to inflate technology stocks.
Iceland Prime Minister Steps Down
Revelations from the Panama Papers have already led to one high-profile resignation. Iceland Prime Minister Sigmundur David Gunnlaugsson stepped down from his role after it was revealed he and his wife had about $4 million in bonds in three bankrupt Icelandic banks while he was negotiating a deal for those banks -- a clear conflict of interest.
More from GOBankingRates:
Popular in the Community