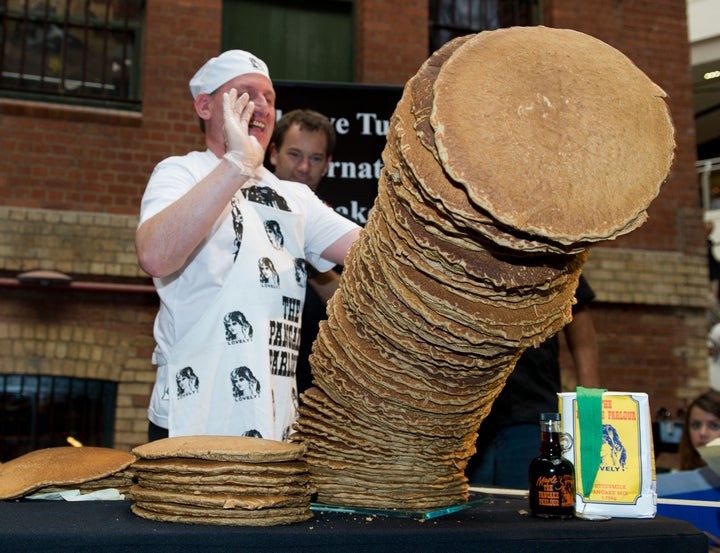 All Australian cook Andy Wrobel wants to do is set a world record for the largest pancake stack, but it seems the odds are stacked against him.
Last year, Wrobel, who makes hundreds of pancakes a day at a Melbourne restaurant called the Pancake Parlour, attempted to set a new record in honor of Shrove Tuesday -- which is colloquially known as "Pancake Day" in England, Canada and Australia.
He made a stack that reached two feet before it fell over the table.
"We tried last year and we got to 61 centimetres and did pretty well," he told ABC.net.au. "We thought we'd give it another go, and this year we actually did it."
Sadly for Wrobel, whoever judged his pancake pile had the wrong information. The existing record for tallest stack of pancakes is actually 77 cm (2 feet, 6 inches) and was achieved by Paul Dedroog and Alfons Lowie, in Sint-Katelijne-Waver, Belgium, on January 23, 2011.
That means for the second time, Wrobel's record attempt has fallen short of the mark.
It's not uncommon for people to jump the gun and claim they've set a world record, but Guinness spokesman Stuart Claxton said the organization is very thorough before putting its stamp on any record attempt.
"Until these attempts have been registered through our website and are officially verified by a Guinness World Records official, we are unable to confirm it as a record," Claxton told HuffPost Weird News. "Our official guidelines set a global standard which others are able to use as a reference before attempting a record."
One person who is noticeably frustrated that Wrobel's supposed world record turned out to be a missed opportunity is Nicole Jackson, the spokeswoman for the Pancake Parlour.
"The Pancake Parlour based our attempt on the official correspondence we received from the Guinness Book of Records stating that the Official Record ... measured 74 cm (2 feet, 5 inches) and was made by Krunoslav Budiselic of Croatia at Hotel Toplice, Terme Catez, Slovenia, on August 26, 2008," Jackson told HuffPost Weird News via email. "It's interesting the information that was provided to you by Guinness World Records."
Jackson said she did further research and discovered there are actually several different records that seem to have been set, including one in Glasgow, Scotland, by Sean McGinlay and Natalie King that cites their pancake tower that measured 29.5 inches (75 cm).
Although numerous reports suggested Guinness judges were on hand to verify the record, Jackson insists her company never made that claim.
"We had an official 'witness' to verify our height for our own records whom was a well-known Melbourne community member," she wrote.
Wrobel was unable to be reached for comment, but it's understandable if, under the circumstances, he feels a little battered. Nevertheless, Jackson said she hopes to convince him to make another record attempt next year.
SEE WROBEL'S FIRST FAILED PANCAKE STACKING ATTEMPT HERE
Popular in the Community