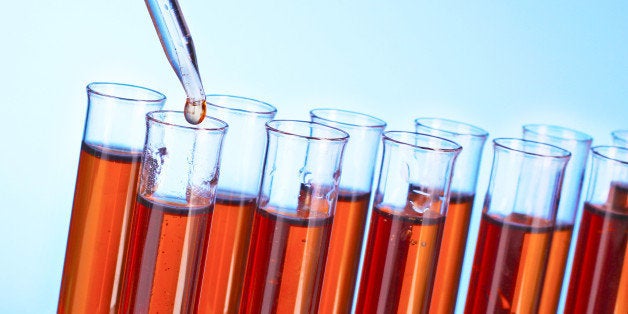 By Rachael Rettner, Senior Writer
Published: 01/21/2014 04:04 PM EST on LiveScience
Pancreatic cancer could be identified in its early stages with a test that looks for genetic material in the blood, according to preliminary research from Denmark.
In the study, the researchers looked for tiny pieces of genetic material called microRNA in the blood of patients already diagnosed with pancreatic cancer, as well as in healthy people. Researchers found that certain combinations of microRNAs, or microRNA "signatures," could somewhat distinguish between people with and without the cancer.
However, many more studies are needed to determine if the test could really be useful for the early detection of pancreatic cancer, the researchers said. Because patients in the study already had pancreatic cancer, it's not known if the test is accurate enough to detect cancer in its early stages, before it has been diagnosed. And the test had a high false-positive rate, meaning that the test incorrectly identified many healthy patients as having cancer. [10 Do's and Don'ts to Reduce Your Risk of Cancer]
Still, people with symptoms and a positive test result could undergo a CT scan for further analysis, the researchers said.
"The test could thereby [help us] diagnose more patients with pancreatic cancer, some of them at an early stage, and thus have a potential to increase the number of patients that can be operated on and possibly cured of pancreatic cancer," the researchers from Herlev Hospital in Copenhagen wrote in the Jan. 22 issue of the Journal of the American Medical Association.
Pancreatic cancer has a low survival rate; 75 percent of patients die less than a year after diagnosis, and 94 percent die within five years, according to the Pancreatic Cancer Action Network (PCAN), an organization that advocates for pancreatic cancer research. Often, the cancer is not found until its late stages, when it has spread to other areas of the body.
It is also difficult to obtain useful biopsies of tissue in patients suspected of having the disease, so a non-invasive blood test for pancreatic cancer "would be very valuable," the researchers said.
The new study involved 409 patients with pancreatic cancer, 312 healthy people and 25 people with chronic pancreatitis, or inflammation of the pancreas often caused by alcohol abuse. People with chronic pancreatitis were included in the study to see if the test could distinguish between pancreatic cancer and other diseases of the same organ.
The researchers identified two "panels," or combinations of microRNAs (including four and 10 microRNAs, respectively), that had potential for diagnosing pancreatic cancer.
The two panels correctly identified about 85 percent of patients with pancreatic cancer as having the disease. However, the test only correctly identified 29 percent of patients with chronic pancreatitis and 50 percent of healthy people as not having pancreatic cancer.
The test's poor ability to rule out pancreatic cancer in healthy people improved when the researchers added information about a different marker for pancreatic cancer, called serum cancer antigen 19-9 (CA19-9). This marker is elevated in about 80 percent of people with pancreatic cancer. By themselves, neither of the microRNA panels were better than CA19-9 in identifying patients with pancreatic cancer.
Future research should examine whether the high false-positive rate seen with this test has the potential to be harmful, the researchers said.
Many of the healthy people in the study were younger than those with pancreatic cancer, which could have affected the results, as aging likely affects the presence of microRNAs in the blood, Donald Buchsbaum, of the University of Alabama, Birmingham, and Dr. Carlo Croce, of Ohio State University, Columbus, wrote in an editorial accompanying the study.
"Given the dismal prognosis for patients with pancreatic cancer, it is important that new diagnostic approaches, such as the one used in this study, are sought," Buchsbaum and Croce wrote. "However, additional rigorous investigation will be necessary to support and extend these interesting findings," they said.
Copyright 2014 LiveScience, a TechMediaNetwork company. All rights reserved. This material may not be published, broadcast, rewritten or redistributed. ]]>
Support HuffPost
A No-B.S. Guide To Life
Related
Popular in the Community