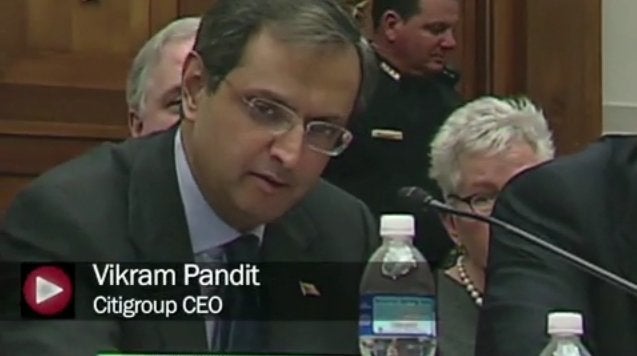 A month earlier, he testified to Congress that his compensation for 2008 was just $1 million.
"My compensation for the year 2008 was my salary, which was $1 million," he told the House Committee on Financial Services on February 11, failing to mention his sign-on and retention awards, as well as stock and option awards.
At the same hearing, Pandit pledged to accept a salary of just $1 a year and no bonus until Citibank once again posted a profit.
The $10.82 million in total compensation for 2008 consisted of $7.73 million in sign-on and retention awards, a $958,333 salary, $9.84 million of stock and option awards and $16,193 of other compensation.
According to Crain's New York Business, Pandit originally was paid $40 million, not $11 million, but lost a significant bulk of the money when the stock tumbled, recently dipping to below $1 a share.

The vast majority of Mr. Pandit's compensation last year came in the form of stock granted in January 2008 as a "sign-on award" a month after he became CEO. The value of the shares at the grant date was $37 million, reflecting Citi's stock price at the time, $24.40 a share. Since then, Citi's share price has collapsed into penny-stock territory, and the shares given Mr. Pandit were worth only $1.8 million as of last Friday.

Mr. Pandit joined Citi after it acquired his hedge fund, Old Lane Partners, for $800 million in 2007. Mr. Pandit is said to have personally reaped $165 million from that sale.
Calling all HuffPost superfans!
Sign up for membership to become a founding member and help shape HuffPost's next chapter