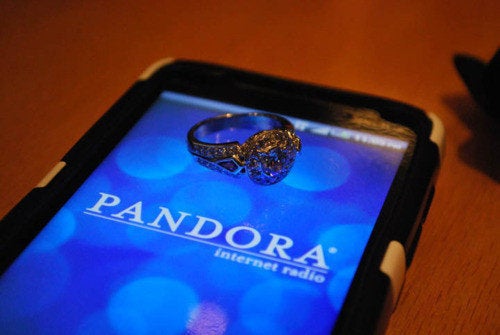 Any creative marriage proposal involves a fair amount of planning, but taking five months to coordinate popping the question is perhaps bringing things to another level. But that's how long it took Kyle Taylor, a recent college graduate from Texas, to get Pandora to create an original audio advertisement and play it while his girlfriend Maggie listened in through the Pandora app that's built into her car.
"I want nothing more than to have you by my side for as long as I live," she continues. "You are my absolute sweetheart and I know this has been a long time coming." (The couple has been dating for six years).
There's been no shortage of outside-the-box, Internet-inspired proposals in recent months: In February, a BuzzFeed contributor started a meme-inspired "Say Yes Katie" campaign by soliciting posts to the site from Facebook friends. In the end, 160 people submitted photos for the campaign.
"I don't think the Internet has necessarily raised the stakes for creative proposals as much as it has provided way more creative opportunities for younger generations like myself to express their love," Taylor told The Huffington Post in an e-mail. "Traditional couples go to restaurants, outgoing couples get on the jumbo tron at baseball games. Well, we're a techie and creative couple. So when I thought of using Pandora, it just seemed to work out so perfectly and the team at Pandora really pulled through for me to make it happen."
To make the proposal happen, Taylor submitted a general support request to Pandora, learning soon after that he would be the first person to propose this way. He started working with the creative, technical and audio advertising teams. Eventually, he got a script together and had it recorded by voice actress.
Maggie promptly said yes and the two went to a restaurant where their families were waiting for them.
WATCH: Timothy Tiah's proposal:

Popular in the Community