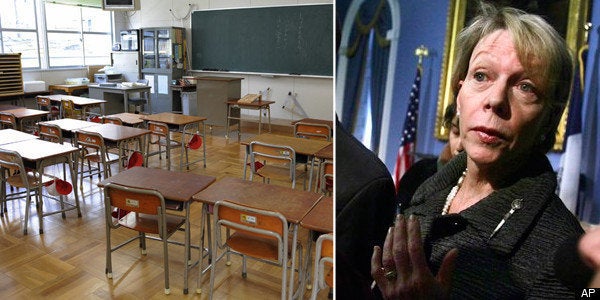 UPDATE: NY1 has video! Schools Chancellor Cathie Black, after hours of sitting on the podium saying nothing, chimed in at around 1AM. "I cannot speak if you are shouting!" she yelled at the audience. When the audience responded with audible dismay, she mocked their response with a very sarcastic, "Ohhhhhh" of her own.
This time, it was the adults who had to be separated during a school fight.
After five and a half hours, hundreds of testimonies and one physical altercation, a city panel voted to close 10 New York City schools.
About 2,000 parents, students and teachers flooded the city Education Department's Panel for Educational Policy meeting about not only closing schools, but also about requiring existing buildings to share space with new schools.

In contrast to last year's closing vote, most of the crowd appeared to be charter school supporters, the majority from former City Councilwoman Eva Moskowitz's Success Academies, who arrived by the busloads and held signs calling for "Bold Fast Change."

Two hotblooded panel members, Tomas Morales and Patrick Sullivan, had to be restrained during a heated exchange with one another.
Several politicians spoke out against the school closings, including public advocate Bill De Blasio. He noted that some students at Wadleigh Secondary School will have to eat lunch at 9:45 a.m. if the Harlem Success Academy 1 moves to the building already shared by Frederick Douglass Academy II.
At the Brandeis campus, where Upper West Success is scheduled to move into a building already shared by five high schools, De Blasio said the district was overcrowded and that there were "safety concerns" raised by 5-year-olds sharing space with teenagers.
In the end, some at the meeting felt the vote was a foregone conclusion because eight of the 13 panel members were appointed by Mayor Bloomberg, who favored the closings.
Michael Mulgrew, the president of the teachers' union, was furious about the decision, telling the New York Post, "It seems despite all the evidence, and all the reasonable arguments, the . . . panel is determined to just be a puppet of the city's administration."
After the vote, Mulgrew joined parents and teachers in chants of "fraud."
Schools chancellor Cathie Black was, once again, booed at the meeting.
More school closings are expected in the coming weeks.

Calling all HuffPost superfans!
Sign up for membership to become a founding member and help shape HuffPost's next chapter