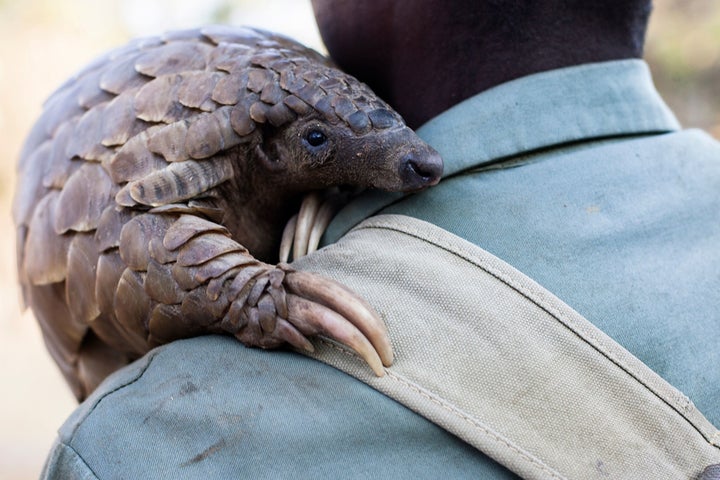 The stronger protections will "give the world's most-trafficked mammal a fighting chance at survival," Elly Pepper, deputy director of the Natural Resource Defense Council's wildlife trade initiative, said in a statement following Wednesday's vote. 
Ginette Hemley, head of the World Wildlife Fund delegation at CITES, said it "will eliminate any question about legality of trade, making it harder for criminals to traffic them and increasing the consequences for those who do."
Covered in armored scales and equipped with a long tongue to slurp up ants and termites, the reclusive pangolin ― inspiration for the popular Pokemon character Sandslash ― is among the lesser-known endangered species. And for that reason, it has suffered tremendously.
Experts estimate that more than a million pangolins have been trafficked over the last decade. In Asia, particularly China and Vietnam, their meat is considered a delicacy. They also are sought for their scales and the unfounded belief that they have medicinal value. In China, dried scales are "roasted, ashed, cooked in oil, butter, vinegar, boy's urine, or roasted with earth or oyster shells, to cure a variety of ills," according to a 1938 report in the scientific journal Nature.
The trafficking ban was approved during the 17th meeting of the Conference of the Parties to CITES, which runs through Oct. 5 in Johannesburg. It comes less than a month after conservation leaders gathered at the International Union for Conservation of Nature's World Conservation Congress in Hawaii passed a motion calling for increased protections for all eight species of pangolin.
"The world is standing up for the little guy with this pivotal decision for greater protection of the pangolin," Susan Lieberman, vice president of international policy for the Wildlife Conservation Society, said in a statement.
For the ban to take effect, it must be adopted during a plenary that will be held on the final day of the conference, Lieberman added. 
Mark Hofberg, of the International Fund for Animal Welfare, called the CITES decision a perfect example of what can happen when the international community comes together on behalf of a species in need of help. 
"This decision gives real hope that extinction of pangolins may be prevented," Hofberg said in a statement. "The rate at which they are being killed is completely unsustainable and cruel. If nothing was done, we could see these amazing creatures disappear within a generation."
Calling all HuffPost superfans!
Sign up for membership to become a founding member and help shape HuffPost's next chapter
BEFORE YOU GO
PHOTO GALLERY
100 Most Threatened Species