There has been a panic in Detroit for as long as I can remember. Coleman Young was the mayor for my entire life. As the city's first African-American leader, his 1974 inauguration sparked panic in thousands who fled for the suburbs, refashioning the racial dynamic of the city and bringing new meaning to the term Black Power.
Motown Records certainly offered a different kind of panic - a frenzied lavender haze that left us all certain - if ever there was any doubt - that Detroit was the center of the universe. Yet, the '67 Riots remained a smoldering backdrop to all that glittered. No one really talked about it and it wasn't taught in schools, but you knew it had happened because the gun was still smoking...
The panic continued with the dismantling of our all-powerful automotive leg and the economic crippling that followed, the damage and infamy bestowed by our "Hip-Hop Mayor" Kwame Kilpatrick, our steady, un-sexy crime rates and now-famous urban ruins, a trendy new "resurgence" bending into gentrification and, most recently, a drowning public education system and the unthinkable water crisis in neighboring Flint, MI. The panic has never ceased.
Still, Detroit was the stuff of legends, and we were living it. Great bands like (our own) Grand Funk Railroad and Motown's Rare Earth helped pave an unbroken bridge between Soul and Rock & Roll. Hendrix was a family member in our heads - I can scarcely remember a young brother who wasn't trying to be him. Traffic's Low Spark of High Heeled Boys was a long-playing theme beneath a proud generation who knew who they were. In terms of its epic musicality, what was the difference between that song and Donny Hathaway's Ghetto, Led Zeppelin's Kashmir, Isley Brothers Summer Breeze, or Kool & The Gang's Summer Madness? Don't answer. No one cared.
Swathed in the syrupy sweet of Gordy's Motown, we all understood that - no matter how fly and charismatic Diana Ross was in that silvery gown - we were still, at the core, "The Home of Rock and Roll." The stage had been set decades before by John Lee Hooker and blown to smithereens by MC5, Iggy and The Stooges, Parliament, and Alice Cooper. Albums by Deep Purple and Cream fell neatly into stacks with Bloodstone, Santana, and The Dramatics. Moving into the 80s, we picked up Devo, Kraftwerk, and the B52s, right along with Michael Jackson's Thriller, Anita Baker, and Luther Vandross. From WJZZ and Baker's Keyboard Lounge, to Donny Simpson's green-eyed soul, and Howard Stern's W4, music rolled on the wheels of Detroit City. Visiting bands all told us we were the greatest audience in the world and, we needed only look around the arena to know it was true.
While the political factions between the city and the suburbs/black and white duked it out, the myth that music was supposed to be divided was never communicated to the people. I would only glean this after I left Detroit, years later as an adult.
KISS has never forgotten their roots at Detroit's Cobo Hall, and they sang about us. The J. Geils Band released a soul-infused Detroit Breakdown and has forever claimed Detroit as its home away from home. Martha Reeves and the Vandellas, Marvin Gaye, and Gil Scott Heron all put the local political tumult of the 60s and 70s to music. But in 1973, when David Bowie showed up and captured us in song, we knew we had found a brother from another mother.
Young Americans hit the airwaves two years later and Bowie shot straight from outer space to the Soul Train stage as its first white performer. Not an eyebrow raised. Despite physical appearances, for the times, it was exactly where he belonged.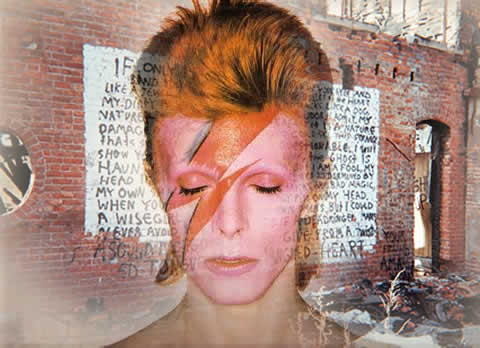 Music was dropped down to me like savory crumbs from my older siblings. I only remember the gist of David Bowie's emergence in the U.S. From where I stood, there was no discernible beginning and no end. He was just there - a magnificent sliver of architecture planted in the midst of our vast symphonic terrain. I remember there being some ambiguity about his gender and sexuality and, again, no one cared. Detroit was instantly down for his ride. As listeners, we were as mutable as his genres.
The fact that Bowie had been moved to tell a part of our raucous story to the world - all the way from across the pond and the outer limits of the stratosphere - earned him a picture on the mantle right next to Hendrix. Whether this tribal, soul-drenched, and unfortunately apocalyptic ditty was about the '67 Riots, the White Panther Party or other local revolutionary tales regaled by his dear Jimmy, Panic in Detroit was just one small example of how Bowie absorbed and plotted to shake the world. From his seventeen-year-old founding of The Society for the Prevention of Cruelty to Long-haired Men to the magical masterminding of Blackstar, his final gift reaching into the next dimension, David Bowie came not only seeking solitary fame, but to challenge and be changed by everything in his moment. The fact that Detroit figured prominently in his legendary journey is a badge we wear with eternal honor.
Through this scattered musical tale, I've hoped only to say, on behalf of my scrappy and fabulous hometown, where middle-aged women don diamonds and furs, bake cakes, and pack handguns in their modest designer bags, "We Loved You Ziggy Stardust!"
Related
Popular in the Community