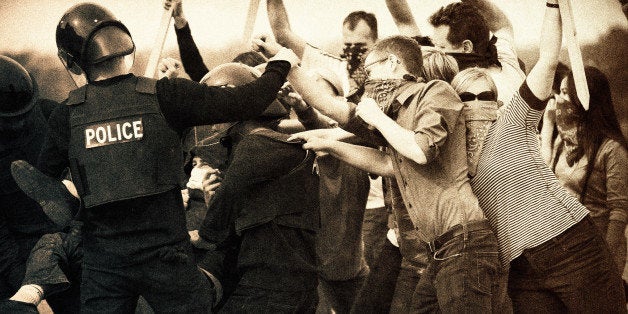 TORONTO: Goodyear Satire Company--
Riots broke out across Canada as citizens reacted to rumors that Senator Ted Cruz (R Texas) might return to his home country after suspending his campaign for the U.S. Republican Presidential nomination.
"It was like when they broadcast 'The War of The Worlds'" explained Ernie Butler of Edmonton, "The prospect of Cruz wrapping his tentacles around the weakest among us is too much to bear," said Butler as he scampered into the darkness clutching a sleeping bag and sack of hastily-made sandwiches.
Townspeople with pitchforks stormed the former Cruz residence in Calgary, quickly setting it aflame amid fears it might be the Cruz' ultimate destination. Firefighters refused to cross the ring of children blocking their path as the home was reduced to cinders. "It was what God wanted," claimed Pastor Chad Hollingsworth as he picked through the charred pantry, sometimes pushing people out of his way.
Prime Minister Justin Trudeau was unexpectedly thrust into his first crisis. His hastily convened cabinet voted to build a border wall, hoping it could impede Cruz's progress, "But that will take months," said a nervous Trudeau, "and we understand Cruz and his family are already on the move. Plus, I'm not sure we can get the Americans to pay for it."
"The air force has fitted tactical nukes onto our most advanced jets," said the Prime minster, "But we don't know whether the missiles can penetrate Cruz's exoskeleton, which satellite photos show is growing hour by hour."
Grief counselors have been dispatched to shelters throughout Alberta province to assist children work through their nightmares."It won't be easy," said psychologist Bea Winston. "If we can save 30% of the kids without electroshock, we'll be beating the odds."
Optimism was in short supply throughout the land. "There is nothing to fear but fear itself," said Trudeau from an undisclosed location north of Ottawa. "Fear and Ted Cruz."
REAL LIFE. REAL NEWS. REAL VOICES.
Help us tell more of the stories that matter from voices that too often remain unheard.