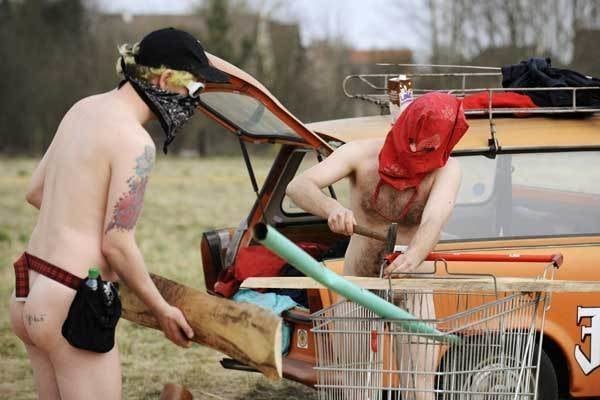 Police in France and Germany encountered small, scattered and peaceful protests Friday in a marked change from the violent clashes that marred the eve of NATO's 60th-anniversary summit.
The scene on the German side of the Rhine River in Kehl and Baden-Baden, where President Barack Obama and Angela Merkel were meeting, was far calmer than the previous night's scene in Strasbourg, France.
Some of these protesters decided to go pantless to help prove their points.
Police detained at least 300 people and forced demonstrators back into a tent camp on the edge of the city. Demonstrators destroyed telephone booths and attempted to build barricades before they were stopped, said a police spokesman, speaking on condition of anonymity according to French practice.
A total of 107 were still being held. Suspects can be held up to 48 hours before being formally charged.
In Baden-Baden, about 500 people -- mostly young adults -- walked quietly and slowly from the main train station to the city's center, flanked on both sides by a massive phalanx of police, some in riot gear with thick pads, protective vests and helmets and batons. Police helicopters flew overhead.
"Sixty years is too long!" the protesters chanted. "No more NATO is the goal!"
In Kehl, about 30 miles (50 kilometers) away, traffic was halted just after 12 p.m. (1000 GMT) across the Europe Bridge linking France and Germany. Scores of police patrolled the area. A protest that had been scheduled there appeared to fizzle because so few people attended.
A group of 10 people unfurled a banner calling for "Peace" as police looked on. Near the bridge, one protester was surrounded by seven police searching his bag.
German authorities had estimated that up to 25,000 protesters would take part in several demonstrations in Baden-Baden and Kehl, while France's interior minister has suggested 30,000 to 40,000 ultimately could show up in Strasbourg, where the camp was set up to house demonstrators.
It was not immediately clear why the numbers, so far, had been so small.
"We said it loud and clear: Civil disobedience would not be practiced in Baden-Baden," said State Police President Erwin Hetger at the Baden-Baden train station, where the march began.
There were about 5,000 police in the city where Obama arrived with his wife, Michelle, aboard Marine One, the presidential helicopter.
Police in patrol boats zipped up and down the Rhine while helicopters hovered overhead. Many police vans and units from across Germany were also on the scene. Elsewhere, police were playing cards and sitting in their police vans reading newspapers.
Strasbourg's streets were virtually deserted as unauthorized traffic was forbidden in many parts of the city. Schools and the university were closed. Most businesses and restaurants have shut down for the duration of the summit.
Christoph Kleine, a spokesman for the protest network Block NATO, told The Associated Press that some 3,000 protesters were encamped in Neuhof just south of Strasbourg and they planned to stage a demonstration Saturday in the city center.
"We do not want any clashes with police ... We will go around them, we will go through them," he said. "We will not attack them. But we will make our way."
Some 15,000 German police -- including 31 riot squads -- and 9,000 French police are on call for the summit. France has temporarily reinstated border controls with its immediate neighbors for the meeting.
Protest organizers have called for peaceful demonstrations to highlight their complaints, including anti-war, anti-globalization, anti-capitalist and disarmament platforms.
Associated Press Writers Thomas Seythal and Oliver Schmale in Baden-Baden and Scott Sayare and Laurent Pirot in Strasbourg, France contributed to this report.
Slideshow compiled by HuffPost's Katharine Zaleski
Related
Popular in the Community