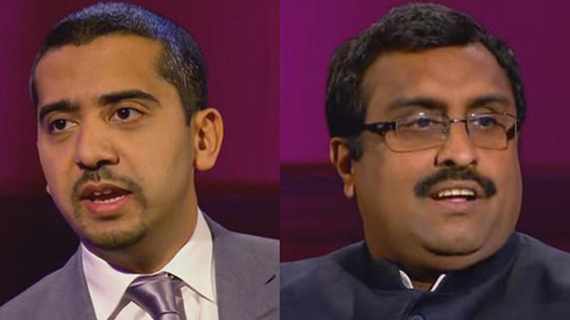 Have you seen Mehdi Hasan's Head-to-Head with Ram Madhav? As expected, the hard-hitting interview generated heated debate on the true nature of India's current regime, Hindu nationalism, and (unbelievably) whether the country is decaying into fascism. On display were Hasan's journalistic chops as a combative interviewer. Despite the emotional responses all around, since journalism is ultimately all about reporting the facts to audiences, I try to cut through the bias and see what the interview gets right and what it gets wrong.
Hasan: In terms of the stats, data from [the] Ministry of Home Affairs showed a near 25% increase in incidents of communal violence in the first five months of 2015... There has been a "surge of communally charged incidents in BJP-ruled states like Maharashtra, Madhya Pradesh, and Jharkhand."
Half-True. In terms of raw numbers, the first sentence is absolutely correct. Data from January- May 2015 did, in fact, show an increase in the number of communal incidents from 232 to 287 vis-à-vis the same period in 2014. Of course, comparing data from narrow time series is a dangerous exercise. The most recently released data by the MHA shows the number of communal incidents from January to October 2015 to be 650. If we assume that the relative frequency of communal incidents remained the same through the remaining two months but with the monthly variation indicated by the Varshney-Wilkinson (1950-1995) Dataset on Communal Violence in India (p. 4), we arrive at an estimate of 764 incidents for the whole of 2015, which is 7.3% greater than the average of the previous three years. According to 15 years of data compiled through an RTI query, the average annual number of such incidents the last time the BJP was in power (1999 - 2004) was 740, while the same figure during the UPA (2004 - 2014) was about the same-- 750. Hence, it is impossible to conclude that communal violence has actually increased in any meaningful sense.
The quote that Hasan uses from India Today is the subtitle of this piece. Yet, it also mentions that, "BJP-ruled states like Gujarat and Rajasthan have done well to ensure that number of communal incidents have come down," which is clearly vital information for the context in which the data is analyzed.
Madhav: In 2014, the number of communal incidents has come down in India. 2014-15 data was released just a few days ago in the Indian Parliament. Go check that data.
Mostly True. It depends on how one interprets what Madhav is saying. If Madhav is referring to data for the calendar year 2014, then it is true that incidents of communal violence that year--at 644--were lower than both of the preceding years (668 in 2012; 823 in 2013). But since Madhav was replying to Hasan's quoted data from 2015, it would be instructive to note that within the past year the number of incidents has increased from 2014 (see prior analysis), while the number of deaths from these clashes has decreased.
Hasan: The National Crime Records Bureau (NCRB) has actually disputed that data [see above].
Mostly False. The NCRB has pointed out the discrepancy in the data for the year 2014 given in parliament, but the way Hasan mentions this is incredibly misleading. 2014 was the first year for which the NCRB gathered data on communal violence, and hence, it is not relevant for the comparative point Madhav previously made. The discrepancy in the figures is due to the sources of the data. While the MHA relies on inputs from state governments and the Intelligence Bureau, the NCRB focuses on first information reports lodged with police (IE). It is important to note that the Home Ministry figures that Madhav mentions were compiled in the same way as had previously been done.
Hasan: The Prime Minister said [the lynching of Mohammed Akhlaq] was "sad and unwelcome." That's not a condemnation. Madhav: That's not true. He said, "I condemn those [sic] incidents."
Half-True (Both). Hasan refers to the translated version of an October interview of Modi by ABP News. Modi's public reaction to the crime was given at a rally in Nawada, in the poll-bound state of Bihar, when he reminded audiences of his statement from 2014--"Hindus must decide whether they want to fight Muslims or poverty," and then went on to say (trans.):
The country must stay together. Unity, empathy, brotherhood, peace: these will take the nation forward. That is why I want to say to my countrymen-- because of politics, everyone (chhote-mote har) is intent on making irresponsible statements for their own political greed. ... Don't listen to [them]! ... If you want to listen to someone, listen to President Pranab Mukherjee, ... who has shown us the way. We must all walk on that path.
Thus, the Prime Minister's reaction went beyond the sound byte Hasan mentions, but he never says what Madhav quotes (at least publicly), either.
Hasan: A close ally of the Prime Minister or [Chief] Minister [Maya Kodnani] who's filmed handing out swords to people, to kill people...
Mostly True. Kodnani was convicted for inciting mobs to violence in the Naroda Patiya massacre. But calling Maya Kodnani a "close ally" of Narendra Modi is really stretching it. Business Standard reported, "[Kodnani] is known to have been close to former chief minister Keshubhai Patel, who led the rebel group in Gujarat against the Modi government... her name did not appear in the list of ministers initially after the 2007 elections. Demonstrations were held outside the chief minister's office to include her in the cabinet. Kodnani ... [was] given a ministerial portfolio when ... BJP stalwart LK Advani urged her name be included in the list."
Mehboob Khan: Even after one week of Prime Minister Modi taking over... on fourth of June, [Mohsin Shaikh] was killed in Pune. There is a mob that took out him [sic] and lynched him. There was no word from Prime Minister Modi.
Hasan: M.S. Golwalkar... referred to India's "muslim menace" and to Christians as "bloodsuckers."
Half-True. M.S. Golwalkar does indeed use the expression "muslim menace" in Bunch of Thoughts. As far as Christianity, he says
Such is the role of Christian gentlemen residing in our land today, out to demolish not only the religious and social fabric of our life but also to establish political domination... Jesus had called upon his followers to give their all to the poor, the ignorant, and the downtrodden. But what have his followers done in practice? Wherever they have gone, they have proved to be not 'blood-givers' but bloodsuckers? What is the fate of all those lands colonized by these so-called disciples of Christ? ... Do we not know the heart-rending stories of how they annihilated the natives in America, Australia, and Africa?
It appears from this quote that Golwalkar was criticizing the relationship between Christianity and Western imperialism and colonialism (particularly with regards to dismantling of local traditions and forced conversion) for not living up to the teachings of Christ, rather than calling Christians "bloodsuckers."
Audience Member: In Haryana, [the] BJP is promoting the Bhagavad Gita.... Why the government doesn't do it for other religious scriptures and how they are [sic] allowed to use public fundings for promoting a particular religion? Hasan (follow-up): In a secular democracy, you treat all religions equally, don't you? .... Will you be funding the spreading of the Koran and the Bible?
Mostly False. This one is tough to rate because although there is no evidence of direct government funding of "the spreading of the Koran or Bible," it is well-known that the Indian state provides specialized subsidies for Haj pilgrimages and has created several schemes that provide funds to minority institutions--educational or otherwise--that are not otherwise available. According to a 2004 Act passed by the previous Indian government, this support must be commensurate to that given to public institutions; in other words, governments must ensure "equality in pay scales of minority schools teachers as compared to Government school teachers," provision of "teaching aids and/or other facilities like computers, library, laboratory, etc. to minority educational institutions [must be] on par with government institutions," "availability of books in Urdru in all subjects for students of [an] Urdu school," etc. It should be noted that no one in the current government has made any move to roll back this Act. Thus, creating the perception that the state "promot[es] (only) a particular religion [Hinduism]," as both the audience member and Hasan do, clearly misrepresents the facts.
(Note: In my opinion, this kind of perverted secularism in which the state promotes various religious ideologies must be scrapped completely, but attacking it from one angle or the other is ignorant and disingenuous, at best.)
Audience Member: Today, in many parts of India, Christians and Christian institutions are attacked and sometimes destroyed. ... The government is supposed to protect all people ... why is the government not taking action against those ... doing hate crimes against minorities? Hasan: Just to be clear, who do you believe is promoting the hate campaign against minorities? Audience Member: The government is not taking action against any Hindutva groups!
Pants on Fire. There are just too many things wrong with this to give it any other rating. Guards of the Saint Sebastian Church in East Delhi maintained that a fire that burned down the church had "started in one of the rooms on either side of the altar, in which a lot of the church's clothes, candles, [etc.] were stored (Caravan)." Rather than rule it accidental, the Delhi Crime branch set up a Special Investigation Team to probe the incident. Mass at a church in Okhla was disrupted the same week when "a stone was thrown from outside and broke a window," but witnesses claimed it was a young boy who was playing with a friend (Caravan). Three drunken men vandalized a church in Vikaspuri in mid-January; none was affiliated with any "Hindutva group (HT)." Police maintained a break-in at St. Alphonsa Church in Vasant Kunj was burglary, not desecration (HT).
In none of these examples was anyone from a Hindutva group involved, yet the media narrative made it seem so. In all of these examples, either the home ministry or the Delhi police directly intervened (see links).
To be fair, interviewers who are trying to get at criticism of public officials rarely present a balance in their questions. The whole point is to get the respondent to present the "other side," right? Still, the truth can and should only be stretched so much. Whether or not the Ram Madhav interview crossed that line is for you, the viewer, to decide.
Calling all HuffPost superfans!
Sign up for membership to become a founding member and help shape HuffPost's next chapter