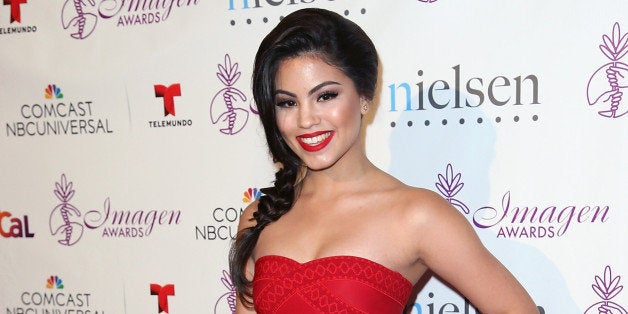 Paola Andino may play a powerful witch on Nickelodeon's "Every Witch Way," but off-screen the actress says she simply hopes to be a good role model for teen girls.
The Puerto Rico-born, Texas-bred actress stars as Emma, a teen whose life takes a turn when she discovers she has magical powers. The show was adapted from the Nickelodeon Latin America show "Grachi" and premiered in January 2014.
Leading up to the show's Season 3 finale, which aired Jan. 30, fans were able to vote on which of Emma's two love interests she should end up with. After the finale aired, Andino, 16, spoke to The Huffington Post about what it was like to film two season endings, how she hopes to follow in Gina Rodriguez's footsteps, and the best advice she has for Latinas.
Before you auditioned for the series, had you ever seen or heard of "Grachi"?
Before "Every Witch Way," I had never even heard of "Grachi" because it only airs in Latin America. I had never seen it or anything. When I got the audition for the role of Emma, they hadn't changed the character name yet. Her character name was still Grachi, and it was an untitled Nickelodeon project. So I was really curious as to what it was. When I found out that it was based off a show that was so successful on Nickelodeon Latin America, I was even more excited to audition for it. I began looking it up and kind of seeing what it was about and getting the vibe for the show. Then I was able to put my own twist on the character.
What's different about the show is that it maintained a telenovela format, even giving fans a new episode every weeknight from Monday to Friday. Were you familiar with telenovelas before you were cast?
Oh, for sure. It was so easy to jump into it because I'm from Puerto Rico. When I was younger, my mom and I use to watch telenovelas all the time and then, when I would visit family in Puerto Rico with her, we would also watch them at my aunt's house. All the girls would get together and watch the telenovelas and sing the theme songs together. It's really cool, too, that the show has that format, especially because the fans don't have to wait for the whole week to watch new episodes.
There aren't a lot of Latinos on teen networks like Disney Channel or Nickelodeon, much less Latina leads. How does it feel to be one of the few leading a cast?
It's pretty surreal. It makes me incredibly proud to be able to positively represent my culture and so many people. I just hope that I never let the young girls, that hopefully look up to me, down. I always want to be a good role model for them and make good choices, always.
It also feels really special because Gina Rodriguez, who plays Jane on "Jane The Virgin," also has Puerto Rican roots, so I'm proud I'm following her footsteps as well. She's so successful and great, so it's pretty amazing. I feel like I can maybe open up doors for younger generations like people above me are doing, and that's just an incredible feeling.
Do you follow her on "Jane The Virgin," or are you just a fan of Gina?
I've been dying to binge-watch it. I've been doing a lot of research on Gina Rodriguez and what she stands for after her Golden Globe nomination. After I found out she has Puerto Rican roots, that got me even more excited.
And "Every Witch Way" just had its Season 3 finale on Jan. 30. You guys did something fun and let your fans decide whether Emma would end up with Jax or Daniel on your website and Twitter. But what was it like to film two different finales?
It was crazy because I had no idea what the fans were going to do, who they were going to pick. It was a huge surprise to the cast. Usually we know what's going to happen and everything, [but] then we were able to share that final moment with the fans because it was a surprise for us as well.
And filming the two endings was funny. I had to film two kissing scenes with my two cast members. It was a cool twist, what they did, and the fans were able to be so interactive with the show and get really pumped about the voting.
You wrote your fans a letter telling them they had made the right choice with their pick. Did you have a preference as far as who Emma would end up with?
Well, not entirely. The thing was, I didn't have one specific choice, I just kind of was leaning more toward one boy than the other. During the filming process, because I had no idea who my character would end up with, in my mind I made justifications for why Emma would choose either Jax over Daniel or Daniel over Jax. So I could play off the indecisiveness and kind of the frustration that she would be feeling when she was so in love and she didn't know who to choose. But the reason that I told them they made the right choice was because I was leaning a little bit more toward Jax.
If Season 4 doesn't happen, where do you want to go next in your career?
I would be extremely blessed to get a Season 4. The fan support throughout the whole journey that the show's been on has been incredible. But if the show ended after Season 3, I would love to make the transition from TV to film. Film has always been something that I've been extremely passionate about.
Do you have a message for young Latinas who are working to achieve their dreams?
Well, my mom has always told me, and I'll quote her in Spanish: "Un pasito a la vez, firme para que no te caigas." Which means, "Take one step at a time, and take firm steps so you don't fall." And if you do fall along the way of your journey of whatever it is that you want to do, brush the dirt off those knees and keep going.
REAL LIFE. REAL NEWS. REAL VOICES.
Help us tell more of the stories that matter from voices that too often remain unheard.