A multimedia opera set in Southern Italy is due to premier at the Kennedy Center this month, written and composed by Paola Prestini. Titled "Oceanic Verses," the concert and film project follows the stories of four characters -- an archaeologist, a sailor, a peasant, and a soldier -- as they explore the cultural and folkloric past of their Mediterranean setting.
During the performance, the actors perform the opera onstage as an accompanying film is projected onto a triptych screen behind them. It's a unconventional performance model that rejects the linear narratives of cinema, emphasizing instead short abstract sequences and multimedia components that are pieced together and intertwined to recreate the complex atmosphere of Southern Italy. Combining the intimacy of the stage with a "video environment" that encapsulates the beautiful landscapes of Italy, Prestini's project is a unique reflection on the artist's perception of identity and exchange in the contemporary world. We asked Prestini a few questions about her new work: Scroll down for images.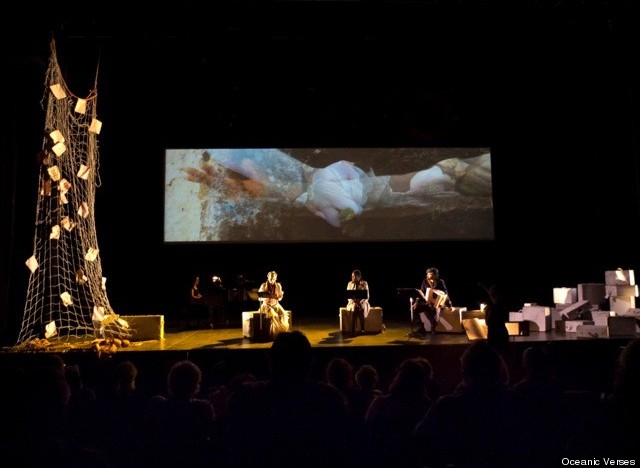 HP: What made you decide to follow a non-linear narrative? What stories influenced this work?
PP: My exploration of lost songs began in 2007, when I was in residence at Sound Res in Lecce, Italy, and my understanding of Italy and my own heritage expanded, and I became acutely aware of this ancient isthmus to be in a geographical position to make it a cross cultural land full of artistic hybrids. I began to record sound samples. It was during this festival that I recorded "Fimmene" an ancient field song, sung by 13 year old girls. Fimmene then became the backing track to the movement of the same title in the opera. The poignancy of having young girls singing such mature themed lyrics is sharply contrasted by a women's choir singing the same text live.
"Fimmene" is a song from a Greek minority known as the "Griko" living in Southern Italy. It is a work song from Salento that addresses the social issue of the working conditions of agricultural laborers, specifically the sexual exploitation of women. The women would come in two, and leave in four, having become pregnant. The backing track incorporates field samples I recorded. The adolescent girls I interviewed sang the song beautifully then answered questions regarding their views on the words. Their answers highlight the disparity between innocence and accepted wisdom and their voices rub sharply against the live interpretation of what is simultaneously sung.
Fimmene fimmene ca sciati allu tabaccu
'nde sciati dhoi e ne turnati a quattro
Women, women who go to work in the fields, you
go in pairs and return in four.
This example above, demonstrates the process in which I created the work. As I "found" more songs, texts and rituals throughout the centuries they became part of a collage illuminating specific rituals from regions in Italy such as Salento, Genoa, and Sardinia. By focusing on the rituals of marriage, mourning, and curative rituals, I created a road map for Oceanic Verses that sailed through time, thus creating a non linear work.
Using the structure created by Donna DiNovelli, and additional text (some culled from interviews with Prima and Davis), the work became a multilingual work meditating on fading civilizations.
Finally, working with filmmaker Ali Hossaini, the collaborators joined forces in Southern Italy to create a series of visual icons to portray the emotional intensity of the story and to make the landscape the final character in this opera.
An opera, exploring the complexity this character -- my native land -- with its layers of invasions and empire building; the nexus of emigration and immigration; in constant flux and transformation as it remains a three-sided port of call, has become a metaphor for a today's global struggle with issues of borders and immigration and how it collides with one woman's search for her internal geography.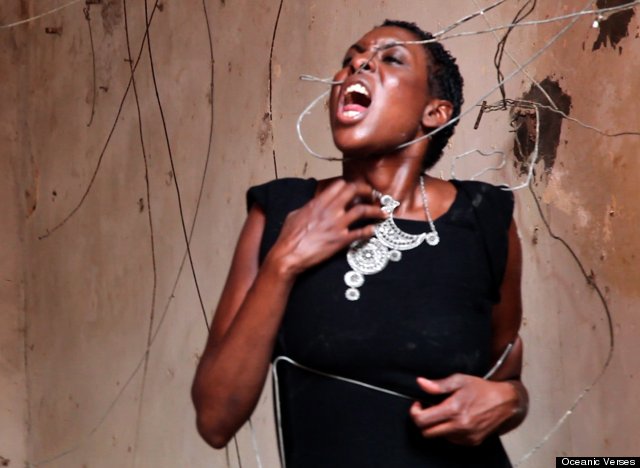 HP: What is your experience navigating borders and how does this play into this piece, as well as your other compositions?
PP: I left Italy at a young age and my family settled on the Nogales border, where we were a stone's throw from the US-Mexico fence. These early years were filled with every day juxtapositions of cultures, Mexican songs, and the sharp disparities in the social classes that populated the border. Needless to say, it left a strong impression on me. As I matured, these experiences translated into a love of bringing together disparate threads, and understanding their synergies, rubs, and truths. This has become my artistic language- one that fluidly crosses style, discipline, and culture to express the ways I want to see the world. Oceanic Verses has provided me with the opportunity to combine the disparate artistic threads that make up my own artistic palette into one synergistic body of work--my largest work to date.
HP: By creating a 'multimedia opera,' what were you able to accomplish that you wouldn't have been able to otherwise?
PP: The film in the opera gives the piece a non traditional sense of space in addition to portraying the inner life of our main character, played by improviser Helga Davis. Because this opera both crosses disciplines and brings different vocal styles to the realm of opera, I found it appropriate to utilize the full range of talents of my performers. Helga Davis is a great onscreen presence and her improvisations and reactions to the scenarios and landscapes we found in the southern region of Italy informed the piece in a personal and singular way that I found expanded the emotional range of the opera. There is a scene we shot in a room filled with wires. When Helga entered this room, she interacted with the wires in a deeply violent way--these wires held her, bound her, pressed her, and ultimately, sustained her. We later found out that the wires in the same room that was a type of 'mad room' to her, was actually a room where bread was hung to dry by wire. These different understandings populate the work, and hopefully give space to a variety of truths for different viewers.
The installation by set designer Vita Tykun takes the concept of fading civilizations and brings it to life by creating a set of white salt washed suitcases, nets, and parchment. The net catches the letters of immigrants, and holds the dreams and hopes that so many times get lost at sea. This physical landscape brings to life the voyage of our main character, the Scholar, as she encounters timeless personalities who tell a story of love, war, and internal and external borders. These meetings ultimately help her understand her own internal geography while illuminating the truths of places that struggle with immigration and emigration, ultimately telling the story of people who flee, and of people who stay.
"Oceanic Verses" will have its world premiere at the Kennedy Center in Washington, D.C. on June 23rd with a follow-up performance at the River to River Festival at Pace University on June 25th. Check out a slideshow of images from the project below.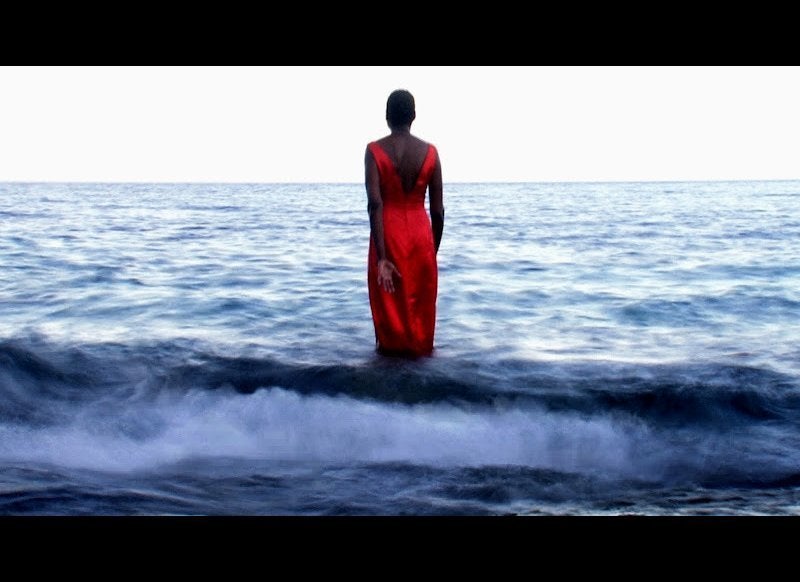 Paola Prestini's Multimedia Opera 'Oceanic Verses' Debuts
CORRECTION: A previous version of this article listed a "screening," not a performance, at the River to River Festival. It also mislabeled the world premiere as occurring at the Kennedy Center in New York, not Washington, D.C. We regret the errors.
Support HuffPost
The Stakes Have Never Been Higher
Related
Popular in the Community