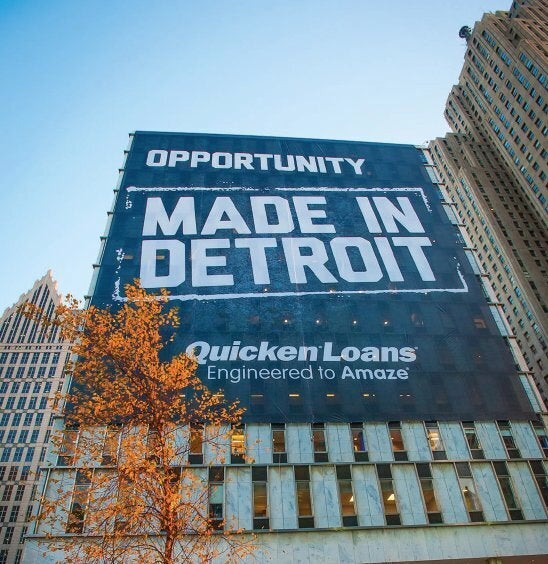 Detroiters can expect many changes to downtown after developer Dan Gilbert explained his vision for a district geared toward pedestrians and brimming with retail and green spaces. But one new business is bound to capture residents' attention: Papa Joe's Market.
Gilbert, founder of Quicken Loans and Rock Ventures, is one of several stakeholders involved in downtown's redevelopment who spoke at City Theatre on Thursday. He announced that Papa Joe's signed a lease for 15,000 square feet inside the First National Building. The upscale market, which has locations in suburban Rochester Hills and Birmingham, will sell groceries and prepared food, offer delivery and feature a full bar and outdoor seating.
It was just one of a dazzling array of new retail options, pedestrian developments and placemaking ideas presented to a packed crowd of downtown Detroit partners and businesspeople, all part of a new urbanism scheme for downtown that's been branded with the slogan, "Opportunity Detroit."
Sidewalk cafes and basketball courts. Free wi-fi in Campus Martius Park. Food trucks and outdoor art installations. Parking garages emblazoned with the work of world-famous graffiti sprayers. An accessible waterfront and surf lounge (even Dan Gilbert himself was befuddled by that idea). Opportunity Detroit's brand of populist city placemaking creates interlocking activities, distractions and opportunities for lingering, daydreaming and visiting. It's a chance to make Detroit's downtown itself the star attraction, luring residents and visitors alike.
Much like the Detroit Future City long-term plan, the urban planners and business stakeholders behind Opportunity Detroit, led by Rock Ventures Vice President Deb Dansby, have done their homework. They presented media outlets with two separate spiral-bound books detailing the plans to make core of downtown Detroit more walkable, visitable, livable and lively -- and not just during sporting events. In fact, the minds behind Opportunity Detroit said that they consulted the work of Future City, and also replicated its outreach to community residents, office workers and downtown visitors.
But, unlike Detroit Future City, which is essentially a 50-year-planning document with benchmarks for every decade of progress, the Opportunity Detroit work will start today, Gilbert and other speakers said.
"We're going as fast as we can," to develop new buildings, said Rock Ventures' Matt Cullen, "because we need to move people in as fast as possible."
In their quest to create a city where urban life is constant, and not just dependent on festivals or baseball games, Opportunity Detroit planners have incorporated influences from the world's grandest cities for their vision of what the Motor City could become.
The new vision overflows with sidewalk cafes and benches, but it also creates crosswalks and green corridors to help make the city's unwieldly long blocks easier for pedestrians and tourists to navigate.
One major goal is transforming Woodward Avenue, the city's main North-South thoroughfare, into a downtown promenade. Detroit was once called the "Paris of the Midwest." New plans would expand the walking space of Woodward, creating widened corridors on both sides overflowing with sidewalk cafes, kiosks and eye-catching displays. It would be, promises the planners, "like the Champs-Elysee, the place to see and be seen in Detroit."
South of Campus Martius, the inspirations are the famed Ramblas in Barcelona and the Helsinki Esplanade -- both examples of green open walking and community areas.
The intimacy of Capitol Park, west of Woodward, could be a destination for smaller residential units and, perhaps, an art district. The Library district area east of the former Hudson's site and Harmonie Park could draw more entertainment venues and will host an outdoor market this summer, Gilbert said.
"This isn't stuff that takes building skyscrapers or billions of dollars to do," Gilbert said." This is easy stuff."
But Gilbert and planners did announce that one project would involve a vision they hadn't yet dreamed up. It's been rumored that residential projects would find their way to the site of the former Hudson's building downtown on Woodward. Gilbert's plan for the space? That's undecided. Opportunity Detroit will sponsor an international competition to solicit the best idea for the barren stretch of property.
Gilbert also announced plans for other retail, including a nail and hair salon, as well as an ice cream shop opened by the local cupcake company, Just Baked. The audience also applauded news that the Michigan oudoors and sport outfitters company, Moosejaw, which had opened a pop-up store during the 2012-13 holiday season, had signed a multi-year lease to stay open for good.
"There is no reason to have a plan B because it distracts from Plan A," Gilbert said at the end of his speech. "We're all in."
CORRECTION: An earlier version of this story stated that Papa Joe's would open up in the 1200 block of Woodward Ave. According to a press release issued by Rock Ventures, it will open in the First National building.
Calling all HuffPost superfans!
Sign up for membership to become a founding member and help shape HuffPost's next chapter
BEFORE YOU GO