Better ingredients, better pizza and now better scapegoats?
Although Schnatter has apologized for using the N-word during a call between Papa John's executives and marketing agency Laundry Service, he is now accusing that company of attempting to extort $6 million from the pizza company.
"They tried to extort us and we held firm and they took what I said and ran to Forbes," Schnatter told Louisville station WLKY. "Forbes printed it and it went viral."
"It's ironic. The very thing we were trying to avoid was the very thing that happened," he said.
Neither Papa John's nor Laundry Service immediately responded to HuffPost's requests for comment, but the pizza chain issued a press release on Sunday night saying it has "specifically requested that Mr. Schnatter cease all media appearances, and not make any further statements to the media regarding the company, its business or employees."
On Friday, Papa John's CEO Steve Ritchie posted an open letter on the company website promising Papa John's is responding to the crisis by retaining an independent and outside expert to "audit all of our existing processes, policies and systems related to diversity and inclusion, supplier engagement and Papa John's culture."
Schnatter insists he's sorry for what he said and feels horrible about the pain his comments have caused.
"I don't condone racism in any way. Period. It's just wrong," Schnatter told WLKY.
Ironically, that call was supposed to help prevent future press frenzies like the kind that erupted in November after Schnatter said the NFL's failure to resolve players' national anthem protests "has hurt Papa John's shareholders."
During the call, Schnatter was reportedly asked how he could distance himself from the racist groups that rallied in support of him online.
His response: "Colonel Sanders called blacks n*****s," Schnatter said, according to Forbes, which censored the slur in its report.
Related
Before You Go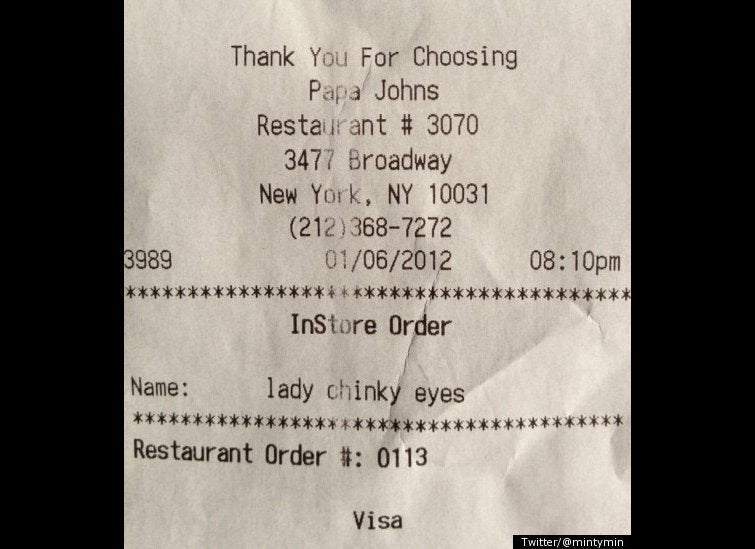 Outrageous Receipts (EXPLICIT LANGUAGE)
Popular in the Community