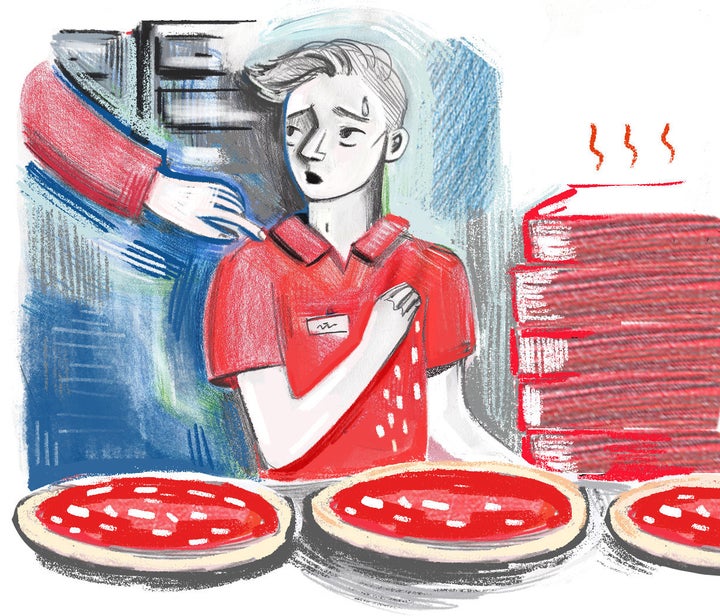 Getting fired from Papa John's is a humbling experience. As its former CEO can attest, it cuts into your soul and slices it into six to eight equal pieces. As a longtime fan of the brand and its garlic sauce, which is, according to science, just butter, I was excited to join the "Better ingredients, better pizza" family when I was hired 14 years ago. And I had no intention of being let go.
After filling out a short application, I was hired on the spot. Target, my first high school job, required an 80-question "retail associate selector" that asked trick questions about stealing and required a drug test. All that Papa John's needed was a pulse, a Social Security number and weekend availability.
My training began the next day.
The first sign that I might not be a good fit for the Papa John's family came on my first Friday on the job. The shift supervisor ― let's call her Mama John ― scowled as I was taking an order over the phone.
"How many people are you feeding?" I asked the customer, in line with the corporate script. As a high school thespian recently cast in an upcoming production, I wasn't one to deviate from my lines. "Awesome! Well, we have some great specials for you," I said, with the exuberance belonging only to a 16-year-old at a new part-time job.
"Just take the order," Mama John said when I got off the phone.
"But the little sign says —"
The second sign my time with the Papa would be limited involved the only reason we eat pizza: cheese. In the fast and loose world of pizza, cheese is the most expensive ingredient. Dough costs dimes, pizza sauce is just red water, and toppings are mere suggestions — a lover's whisper of pepperoni, the faint appearance of a green pepper, the distant memory of a single olive sliced so finely that you can see it only if you squint. Cheese, though, costs cash.
At the pizza prep area, you toss the dough, ladle the sauce and sprinkle the cheese according to corporate Post-it notes above the ingredients. As a growing champion of high-quality pizza products for more than three days at that point, I had begun to make some decisions for my customers. In short, the people needed more cheese. So I gave each pizza one and a half times the decreed amount cheese, an amount worthy of someone's hard-earned $10.99 plus tax, delivery and tip.
As if out of nowhere, Mama John appeared.
"Too much cheese!" she screamed, lunging from the other side of the restaurant to save the precious mozzarella.
"But it's barely covered."
"Too much cheese," she repeated, taking the scoop from me. "Go make some boxes."
In the pizza caste system, beneath the divine drivers, the lord dough tossers and the lowly phone order takers were the untouchable box makers. I had been demoted to assemble small, medium, large and the extra-difficult extra-large pizza boxes for hours, stacking them around the restaurant like an M.C. Escher pizza painting.
I was being punished for being a cheese martyr, the Robin Hood of Papa John's. But in the end, I wasn't fired from a Roanoke, Virginia, Papa John's for being a Marxist but for being an artist.
"My pizza career, as quickly as it had begun, was over. No goodbye happy hour, no 'Good luck' greeting card sent around the cubicles."
One week, the new shift schedule, posted on the wall outside the manager's office, showed that I had been booked for Saturday (the most popular night for people to give up on eating a respectable dinner).
"Hi there. I was scheduled for Saturday, but I can't do that shift. I'm in a new play at school. My character —"
I thought she would reschedule me or give me a way to trade the shift with someone else. But with the same pleasure that appears in people's eyes when the doorbell rings and their extra-large extra-cheese pizza arrives, she said, "If you can't come in Saturday, don't bother coming in again."
My pizza career, as quickly as it had begun, was over. No goodbye happy hour, no "Good luck" greeting card sent around the cubicles. My sacred mission to make families of four aware of our latest specials and bring extra cheese to people who lived too far to order from Domino's was over.
I had been fired from Papa John's.
This summer, I quit my advertising career to focus on writing and performing. So while I was remembering my time at Papa John's, I thought I could draw a parallel between being fired from a job for my art and quitting a job for my art. I could position this as a coming-of-age story of a young artist who consistently put his dreams above the moneymaking enterprises of corporate America, growing from being let go to letting go himself.
I could say that, but in the words of Mama John, that's too much cheese.