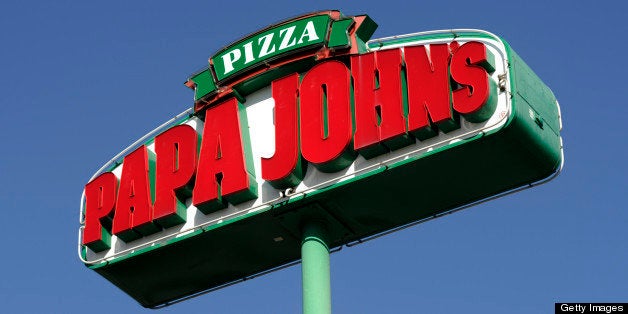 Two Florida Papa John's employees were fired after accidentally leaving a racist voicemail on the machine of a customer who allegedly tipped him poorly.
LISTEN TO THE AUDIO BELOW (WARNING: OFFENSIVE LANGAUGE)
"That's the only requirement for being a n****r," the employee says. "Yeah, they gave me five bucks there. Fine, outstanding African-American gentleman of the community," one employee can be heard saying to his co-worker.
He then proceeds to sing a made-up song using mainly the N-word.
The customer posted the racist Papa John's voicemail online. In the video, the customer says his pizza cost $15.26, adding that he gave a 21 percent tip. He detailed his shock and disgust in the video's description:
This is highly offensive, derogatory, and ignorant. I am appalled that there were no managers or supervisors (the managers and/ supervisors may even be the ones speaking throughout the recording...who knows) from stopping this kind of conversation in the work place. Everybody has a right to their opinions, however, there is a time and place to express them. As an African-American in this community and also someone who has always tipped their Delivery Drivers 21%+, I am disgusted entirely by this conversation. Instead of focusing on "better ingredients" and "better pizza", they should prioritize "better integrity" and "better people" on the top of their "to-do list."
John Schnatter, chairman and CEO of Papa John's, posted his own apology on Facebook Monday. He revealed the two employees involved in the "reprehensible" message were immediately fired, as they "defy both my personal and the company's values."
"My heartfelt apology goes out to the customer involved, his family, and our community at large," Schnatter wrote. "I am very sorry that anyone would be exposed to these hurtful and painful words by any person involved in any way with our company. Thank you for your important comments. I have personally reached out to our customer to share my own thoughts and offer my deepest apology."
Skip to about 2:30 in the video below to listen to the voicemail from the Papa John's employee. (Warning: The clip contains offensive language.)
Popular in the Community