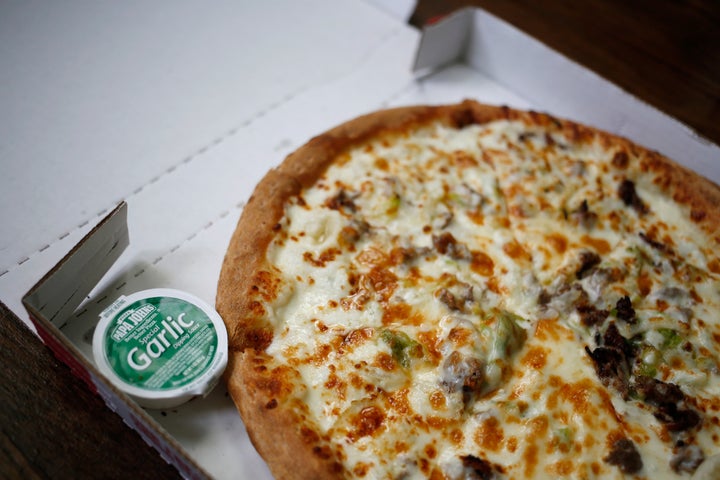 Four current and former Papa John's franchisees have agreed to pay out nearly $500,000 to New York workers in order to settle a wage theft investigation, New York's attorney general and the U.S. Labor Department announced on Thursday.
The settlement resolves allegations from workers that they were shorted on pay at nine Papa John's restaurants in Queens, Brooklyn and the Bronx. According to the state, the franchisees who run the stores admitted to violating minimum wage and overtime laws. The back wages and damages will be doled out to 250 workers who worked at the stores stretching back to 2008.
"Once again, we've found Papa John's franchises in New York that are ripping off their workers and violating critical state and federal laws," New York Attorney General Eric Schneiderman said in a statement. "Once again, I call on Papa John's and other fast food companies to step up and stop the widespread lawlessness plaguing your businesses and harming the workers who make and deliver your food."
Since the stores in question were operated by franchisees who are technically the workers' employers, Papa John's International, Inc., was not a party to the settlement. A Papa John's spokesman did not immediately return an email seeking comment on the announcement.
Wage theft is typically treated as a civil matter and often goes unpunished in many states. But Schneiderman's office has aggressively pursued wage theft as a criminal act, with Papa John's stores frequently in the investigative crosshairs.
In July, the attorney general's office arrested Abdul Jamil Khokhar, owner of nine Papa John's stores in New York, accusing him of breaking minimum wage and overtime laws. According to his plea agreement, Khokhar could serve up to 60 days in jail. In another case, the attorney general's office secured a judgment of nearly $3 million against two other Papa John's franchisees.
In a statement Thursday, David Weil, head of the Wage and Hour Division at the U.S. Department of Labor, said franchisees who break the rules undercut high-road employers.
"Although franchising is a legitimate business model, it can also be associated with practices that lead to violations of labor standards," Weil said.
State and federal regulators have been challenging the franchise system on a number of legal fronts in recent years. The National Labor Relations Board has moved to name fast food companies like McDonald's as "joint employers" alongside franchisees when it comes to labor law violations. Meanwhile, workers who've filed class-action suits against their franchisee employers have also sought to have the big fast food brands named as co-defendants in the cases.
"Franchisees must understand that they are not exempt from the law," Weil said.
Related
Popular in the Community