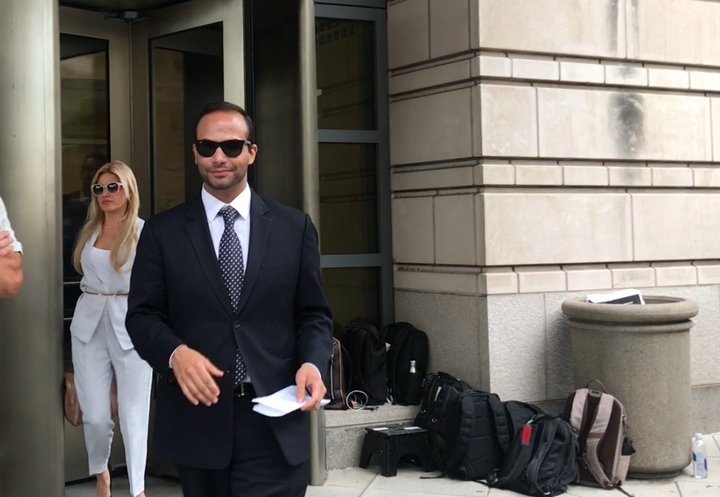 Former Trump campaign foreign policy adviser George Papadopoulos, 31, had pleaded guilty in October 2017 to lying to the FBI about his dealings with a professor who told him during the 2016 campaign that the Russians had "dirt" on Hillary Clinton. He appeared in federal court in D.C. before U.S. District Judge Randolph D. Moss, who also sentenced Papadopoulos to 200 hours of community service and 12 months of supervised release.
Papadopoulos met with FBI agents investigating Russian interference in the election in late January 2017, nearly two months before then-FBI Director James Comey formally acknowledged the existence of the FBI probe. He lied to investigators about when he was told about Russian "dirt" on Clinton, telling them he learned of it before he joined the campaign in what happened to be a "very strange coincidence."
Papadopoulos was arrested at Dulles International Airport on July 27, 2017, but Mueller kept his arrest and later plea deal under wraps until it was unsealed last October.
On Friday, Judge Moss said that Papadopoulos put his own self-interest ahead of the interests of his country, and that his choice to lie to the FBI "does not reflect good character." He said Papadopoulos was "riding very high" at the time he lied to the FBI, and that the defendant "had a lot of advantages in life." While noting that Papadopoulos already faced "collateral consequences" that were "close to unbearable," the judge said it was important to send a message to the public that lying to the FBI was a serious crime, especially in a case "of great significance."
Papadopoulos spoke ahead of his sentencing, telling the court that he "made a terrible mistake" and that he considered himself a patriotic American and was deeply embarrassed by his conduct. His "entire life has been turned upside down" since his name became public, Papadopoulos said. "I hope to have a second chance."
Papadopoulos didn't have any comment after the sentencing, but had an orange "team Putin" shirt thrown at him when leaving the courthouse.
Thomas Breen, an attorney representing Papadopoulos, told the court that his client made a "stupid mistake" and that his actions were "unsophisticated" and those of "a fool." Papadopoulos lied to the FBI, Breen said, because he wanted to "keep his name in the hopper" for a position in the Trump administration.
Breen argued that his client had caused much less damage to the special counsel investigation than Trump has.
"The president of the United States hindered this investigation more than George Papadopoulos ever could," he said.
Mueller's team hadn't taken a position on what precise sentence should be imposed, but had argued the sentencing guidelines called for up to six months in prison and that Papadopoulos' crime warranted incarceration.
Papadopoulos, Mueller's team wrote in a sentencing memo, "caused damage to the government's investigation into Russian interference in the 2016 presidential election." Mueller's team argued that Papadopoulos' sentence "should reflect the fact that lying to federal investigators has real consequences, especially where the defendant lied to investigators about critical facts, in an investigation of national importance, after having been explicitly warned that lying to the FBI was a federal offense."
His defense team said that Papadopoulos was "ashamed and remorseful" about his conduct, but that it was the result of his desire to "save his professional aspirations and preserve a perhaps misguided loyalty to this master."
The defense portrayed him as a young, eager Donald Trump supporter who landed his job as a campaign foreign policy adviser "despite having no experience with U.S. and Russian diplomacy."
Papadopoulos' wife, Simona Mangiante Papadopoulos, has been publicly lobbying the president to pardon her husband. The website Law & Crime reported that the couple are "preparing to turn infamy into fame and fortune" through a book deal.
Ryan Reilly is HuffPost's senior justice reporter covering the Justice Department, federal law enforcement, criminal justice and legal affairs. Have a tip? Reach him at ryan.reilly@huffpost.com or on Signal at 202-527-9261.
Popular in the Community