The Paper Cranes for Japan campaign was originally launched to inspire young people worldwide to show their support for victims of the disaster. But what started as a sign of solidarity has spiraled into something much more.
DoSomething.org and Students Rebuild launched the campaign, which provided an instructional video on paper-crane-making, and asked people to post photos and mail in their work. The hope was to eventually link all the cranes together, assembling a massive art installation in one of the centers or schools currently being rebuilt in Japan.
But the project, which launched modestly in mid-March, has since inspired hundreds of thousands of cranes from all over the world. The Bezos Family Foundation took note and stepped in, agreeing to donate $2 to Architecture for Humanity for every paper crane that was received. The two organizations originally partnered together in 2010 after the earthquake in Haiti.
"We thought this project would last throughout the spring, until kids were out of school," said Welling Savo Justin of the Bezos Family Foundation. "But in the first 12 days of this initiative, over 90,000 paper cranes were mailed to us. And it only got bigger from there."
As of yesterday, over 600,000 cranes have been sent in to the Bezos Family Foundation headquarters in Seattle. "We've got cranes from Moldova, Cambodia, Romania, Greece, every single state in the U.S. It's incredible," Welling said. Students from other earthquake-torn communities such as Christchurch, New Zealand, and Port-au-Prince, Haiti, have also sent in cranes. "And an Air Force base in Japan just sent us 16,000," Welling added.
Welling remarked on how inundated that their small staff of four has been with the wall-to-wall boxes in their office. "We're good buddies with our friend at the UPS store, John," she said. "He's like, 'You've gotta come over here now. People can't get through the door!"
While the Bezos donation won't go beyond the promised $400,000, Welling hopes other organizations might step up, inspired by the project. If kids from Haiti can take time to make paper cranes for Japan, who knows what could happen?
Below, check out a slideshow of some of the work, as well as some pictures of the Bezos Family Foundation offices. Join their Facebook page here.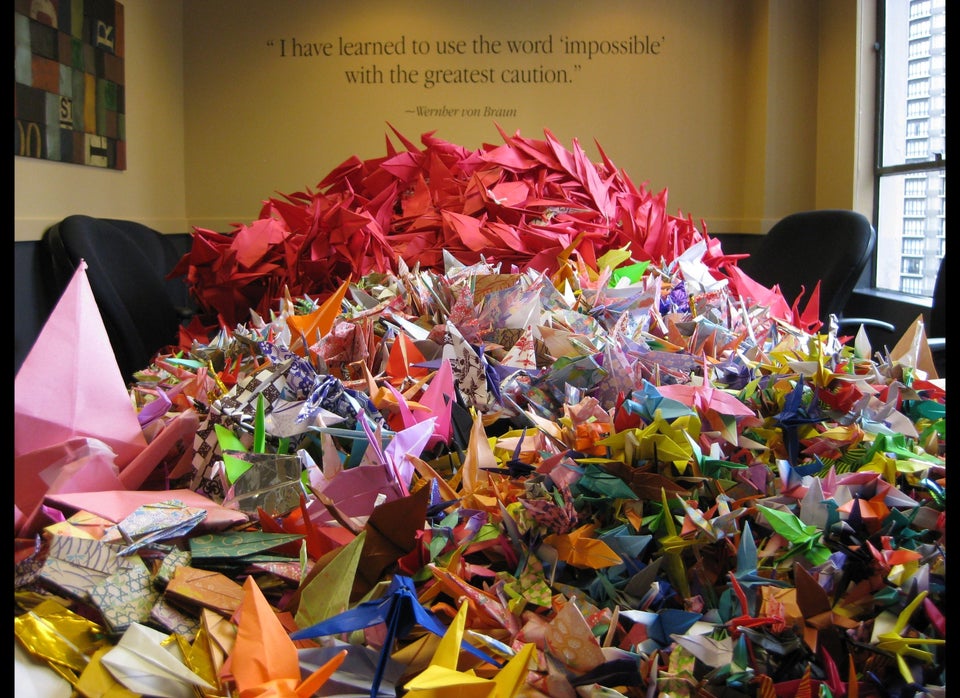 Popular in the Community