Museum of Chinese in America (215 Centre Street, NY, NY)
October 5, 2017—March 25, 2018
In the spring of 1995, I spotted a tiny news brief buried in the Arts section of the New York Times on folded paper and paper mache artwork made by Chinese detainees in the York County Prison in York, PA who had been stranded after their ship, The Golden Venture was shipwrecked two years earlier off the coast of Far Rockaway, Queens. People of the Golden Vision, an advocacy group for the undocumented immigrants, led by lawyer Jeff Lobach and his wife Cindy, were trying to raise money for the group's legal defense by selling the prisoners' art to the general public.
When the Golden Venture struck a sandbar in June of 1993, there were 286 passengers on board (26 were women) who had survived a harrowing three-month journey, from Bangkok to Mobasa, Kenya, and around the Cape of Good Hope, subsisting on a bowl of rice a day, and ending in a mutiny. Some were fleeing persecution (political or religious), a few were fleeing from China's one-child policy, but most signed on to the dangerous passage for economic reasons, propelled by the prospect of menial job which would enable them to support their families back home in villages in Fujian Province.
Told by their "snakeheads" –human smugglers—that they could apply for political asylum if they actually set foot on land, many jumped into the freezing ocean water. Sadly, 10 of the men did not make it to shore. Some 157, however, were sent to York Country Prison in York, PA, a decision that represented a major change in United States detention policy. Previously, undocumented immigrants were merely given a court date and released. Thrown into immigration detention, the Golden Venture prisoners languished in jail for up to three years and eights months, biding their time by making over 10,000 sculptures out of magazine pages, graph paper, toilet paper, and glue. Initially, given as gifts to people who helped them and shown in court hearings, the art work was ultimately sold at various fundraisers.
I called the contact number and arranged to pay $50 for an eight inch high bald eagle, made by artist Wan Jian Yun, cataloged as ZA-12B. The fax that I received back, from Cindy Lobach, (sent from the law office of Barley, Snyder, Senft & Cohen, ended with a passionate pronouncement: "We hope this lovely artwork will serve as a vehicle to spread the word of the Chinese refugees' plight and assist them in attaining their ultimate goal of asylum here in the United States."
Purchasers of folded art pieces were encouraged to communicate with the artists: "Please feel free to write to the artists—they truly appreciate letters from the outside. Many of the men cannot read English, but the letters will be translated for them in the prison. Some (those who know or are learning some English) will write back!"
Fast forward to December 2017, when a new exhibit FOLD: Golden Venture Paper Sculptures (October5—March 25) opened at the Museum of Chinese in America (MOCA). Curated by Andrew Rebatta, the exhibit includes 40 pieces chosen from the museum's own collection of 100 paper sculptures, as well as four significant loans: a card from a female detainee, a hybrid animal created for Cindy Lobach's children, the Tower of Eternal Gratitude, and the Buddha-faced Statue of Liberty atop the US Capitol Dome inside Chinese city walls.
Following MOCA's first show of the sculptures in 1996, Fly to Freedom: The Art by the Golden Venture Refugees, which was shown at a time when the prisoners were still detained, the current exhibit FOLD marks the 20th anniversary of the parole of the remaining detainees in 1997 by President Bill Clinton. At the time there were 58 left, some 30 in York. Sadly only a few of the 58 received asylum, with 15 receiving permission to stay on a private relief bill which needs to be passed every year. Thirty-five detainees were either deported or remained in the country undocumented.
Rebatta chose the word FOLD for the exhibit's title, not only because it represents the technique used in creating much of the art but also because he understands the word as a kind of "forced cohesion, relating inside and outside" as well as a "visual representation of time—both expanding and collapsing."
He began work on the exhibition in the spring of 2016, long before, he said, Donald Trump was elected to the presidency. Rebatta first reached out to Patrick Radden Keefe, a writer for The New Yorker and the author of The Snakehead: An Epic Tale of the Chinatown Underworld and the American Dream to connect with York residents who were still in touch with the refugees. Rebatta also used a personal network to seek out Philadelphia attorneys and cultural organizations who worked with the refugees and who might be able to loan sculptures.
The resulting exhibit is a moving one, conveying the spirit and frustrations of the detainees. The first two pieces introduce us to two of the show's main motifs: a bird in a paper cage, symbolic of the prisoners' feelings of entrapment and a sailing ship, reminiscent of the sea faring legacy of Fujian, their home province. Part of a ramen noodle box can be seen in the floor of the delicately crafted bird cage and the ship's sails were made of manila folders, the kind that close with red strings, which the paper artists used as rigging on the ship. Nearby is a replica of the Golden Venture, seen through the prism of the detainee's failed voyage. It is topped by an eagle, and bears two flags, a larger American flag and a smaller Chinese flag.
A major section of the show is devoted to eagles or "Freedom Birds" much like the one I purchased. In the center, there is a huge eagle that was created as a gift for a Federal judge. "Cindy Lobach told them that you can't give a judge a gift," Rebatta said, as he led members of the Chinese American Planning Council (CPC) on a tour through the exhibit. Rebatta noted that there were over 1,000 pieces of folded paper in the wing of one bird. While some birds are cruder than others, several of the pieces were clearly made by skilled artisans. A folded paper owl is so meticulously done that it looks like it is made of ceramic.
In the last section of the show, Rebatta has grouped pieces that he calls fundraisers or souvenirs. Most sold for $10 to $50. There's Donald and Daisy Duck, two cats fishing, a sculpture of a hybrid animal and a lantern of white legal pad paper with orange tassels made from pulled threads from the orange prison towels. He points out the cleanly cut leaves on a sculpture of a tree, explaining that the prisoners were allowed to use child safety scissors.
The show is augmented with a video in the main gallery showing the story of the detainees and how the sculptures were made. In a second room, a video of lawyers and others brings the story up-to-date.
When I asked if it was possible to contact one of the Golden Venture artists, Rebatta referred me to Cindy Lobach, their art historian, whose lengthy email response reveals just how substantial her involvement has been with Golden Venture detainees. "When they arrived," Lobach wrote, "her husband Jeff, then President of the York County Bar Association, agreed to represent the incarcerated men in front of the INS to determine if they had valid claims of asylum." He recruited several other lawyers as well. "Jeff's client received asylum and he has now become a permanent son of ours and has married and lives in York. His daughter is our wonderful 16-year-old granddaughter."
The story, however, did not have such a happy ending for most of the other undocumented immigrants. Many were repatriated to China after sitting in limbo in the prison for more than three years. A few did gain political asylum. A few others gained "artists' visas" from the INS and were permitted to stay because of their extraordinary artistic abilities."
Would any one of them speak to me I asked Lobach? Clearly, this is a question that has been asked repeatedly by reporters over the years. "I don't know of any artist who would be willing to speak, even anonymously, regarding his experiences," Lobach wrote, explaining that "most of these men continue to worry about repercussions from the smugglers who got them here, the Chinese government itself, or others, even after they have gained citizenship here, which applies to a few. Others just want to forget this entire period of their lives."
Forgotten, perhaps, but not to be forgotten is the highly imaginative folded paper artwork that they created during their incarceration, pieces that speak to freedom and lack of freedom, paper eagles with open beaks and expressive faces, their wings spread in the air.
These remarkable freedom birds will be on view at MOCA until the end of March. After that, there is no definite plan for the show to travel although Rebatta has received some interest from the Asia Society in Houston.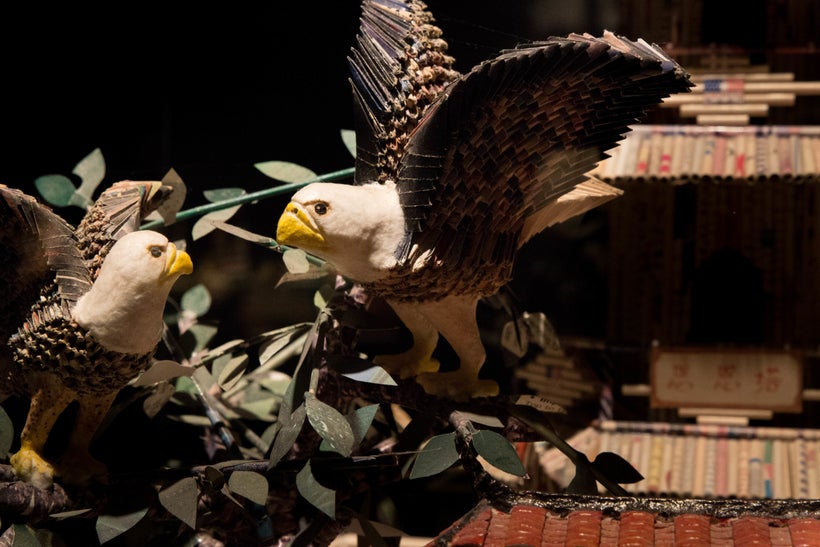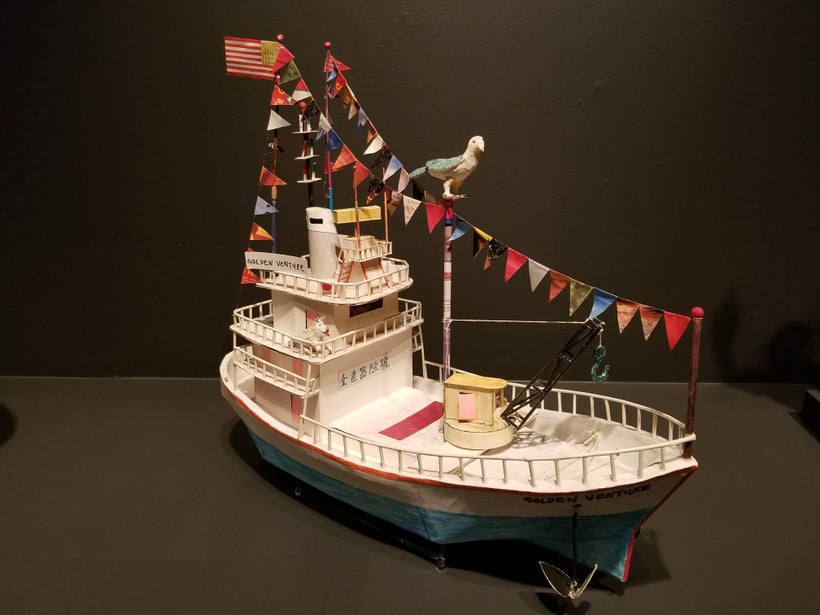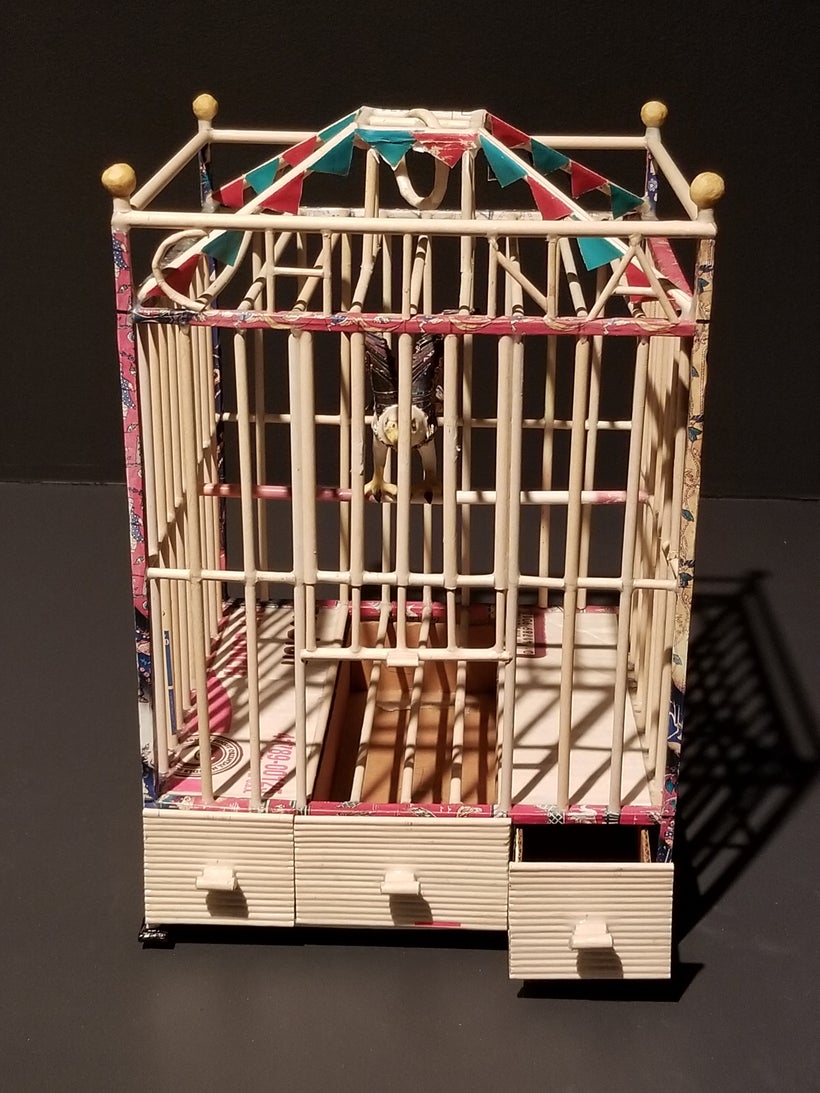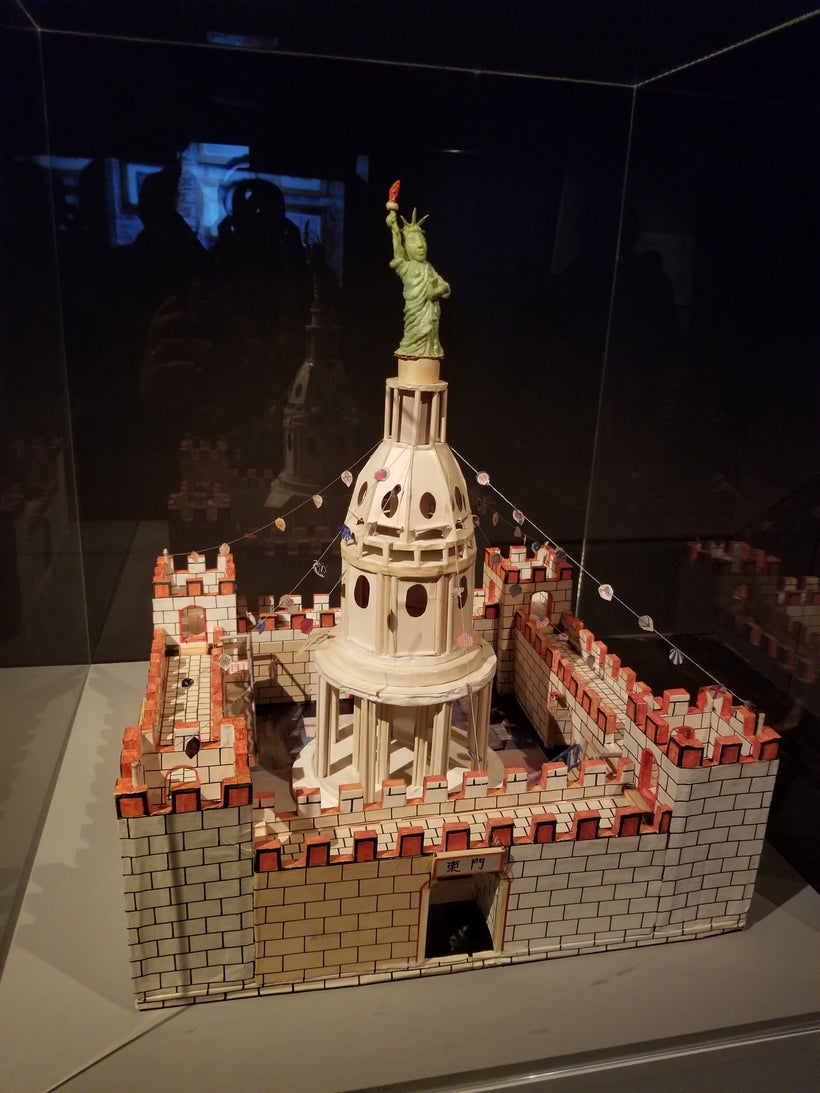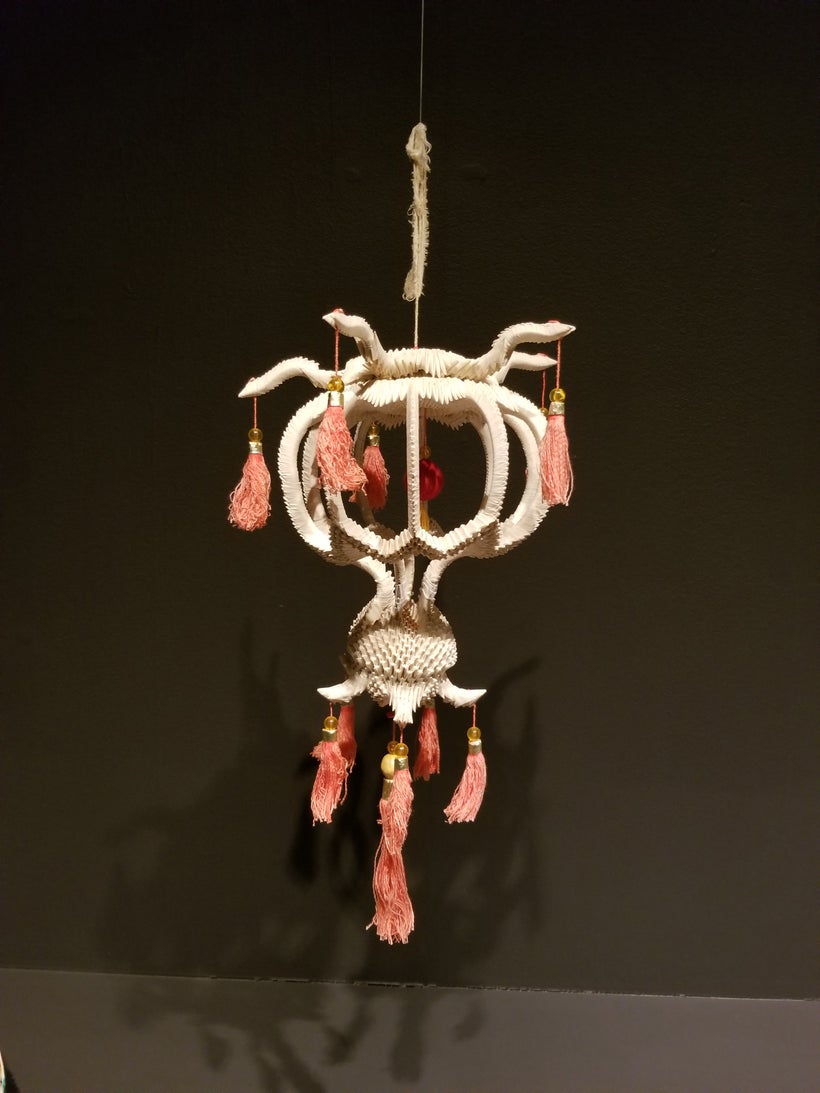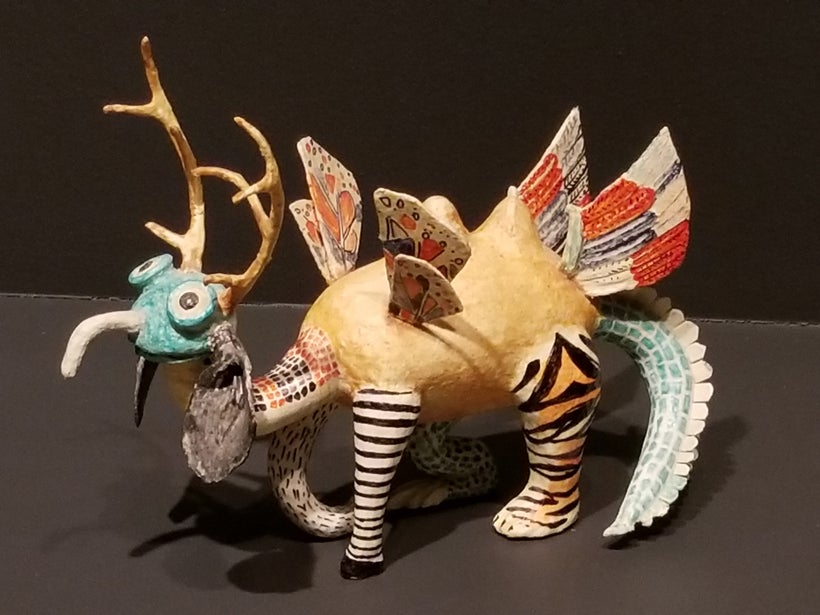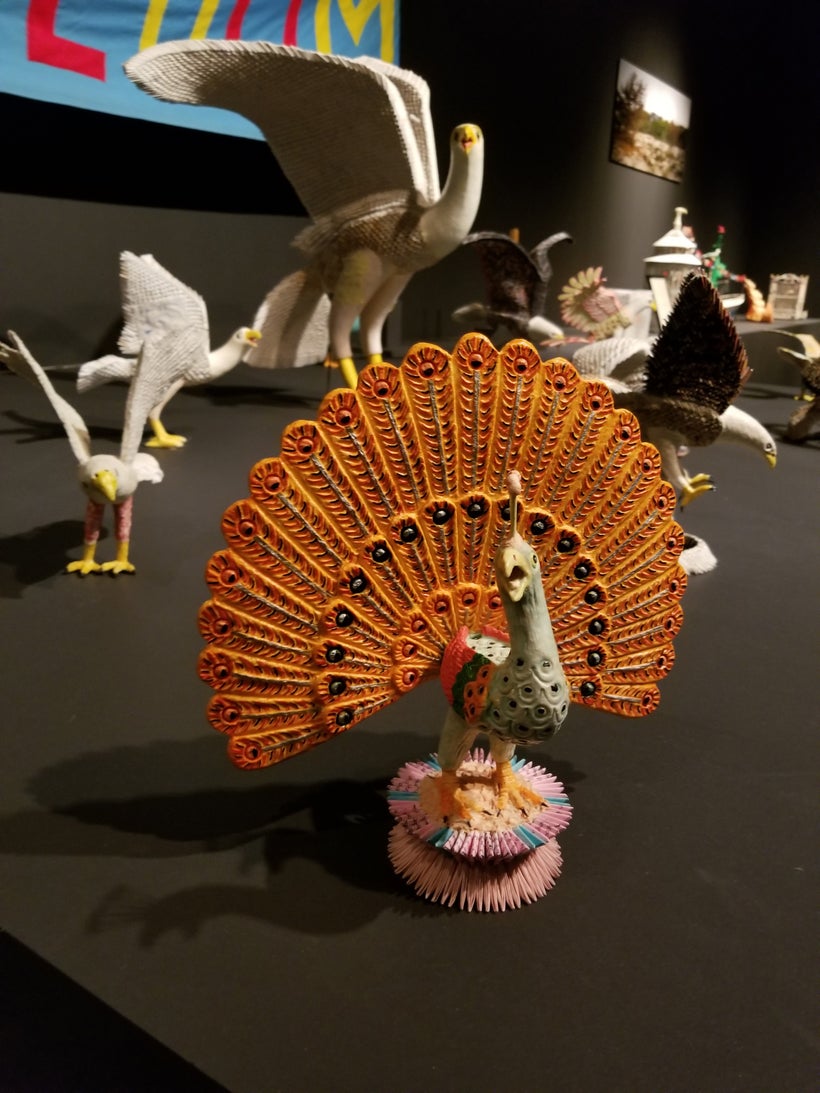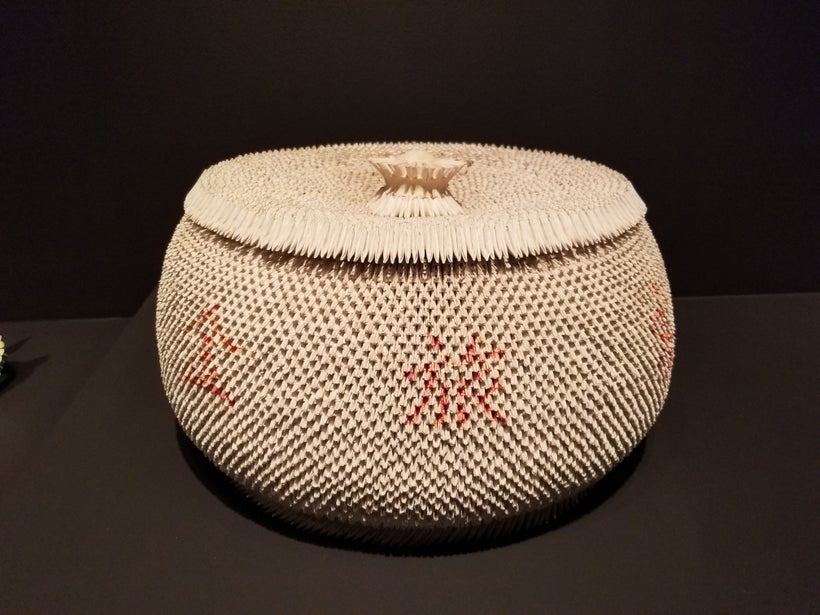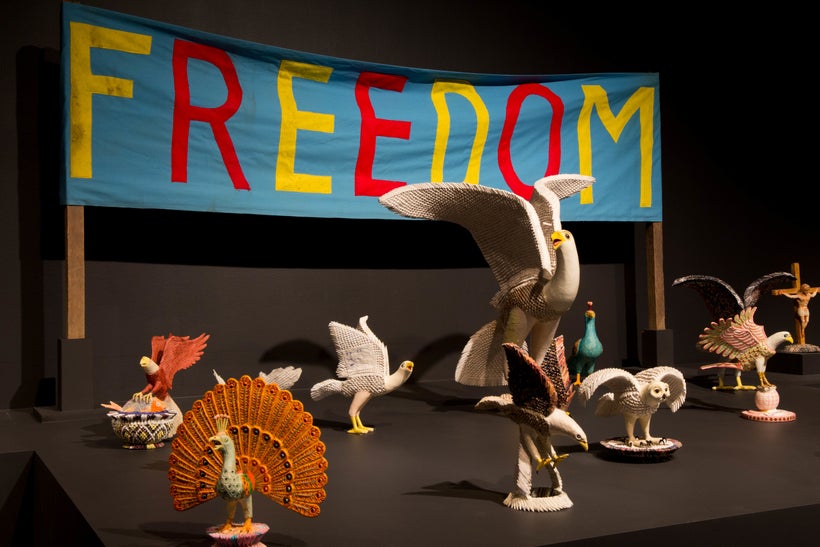 Calling all HuffPost superfans!
Sign up for membership to become a founding member and help shape HuffPost's next chapter
This post was published on the now-closed HuffPost Contributor platform. Contributors control their own work and posted freely to our site. If you need to flag this entry as abusive,
send us an email
.