 Well, you may have heard that this mostly black-and-white film uses a new technology, which Disney senior software engineer Brian Whited created to merge CG and hand-drawn animation. Or that this 7 minute-long film (which was helmed by John Kahrs, a first-time director) is kind of an urban fairytale. In that it recounts one man's desperate efforts to attract the attention of a beautiful young lady in the skyscraper directly across the way.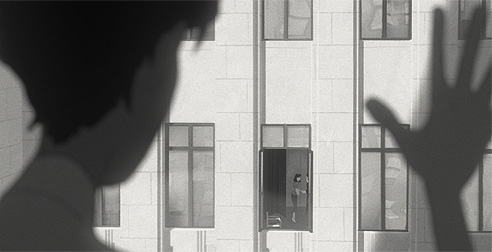 But unless you caught "Wreck-It Ralph" during its theatrical run, you haven't yet had the chance to see Paperman in its entirety. Not 'til today, that is. Which is when I present an exclusive piece of Disney magic, the online premiere of this Academy Award-nominated animated short.
Now don't let this charming, deceptively simple-looking film fool you. Though Paperman may have a limited color palette (i.e. grey, white, black & red), the sky's the limit when it comes to the innovative technology that actually made this animated short possible. Which brings the expressive & organic feel of traditional hand-drawn Disney animation to the CG world.
Which is pretty impressive unto itself. But in the end, what you're going to remember about Paperman isn't the set of software tools that gave this animated short its signature look. But -- rather -- the sweet story that Kahrs and his relatively tiny team at WDAS (we're talking just a core group of 11 or 12 people. Including first-time art director Jeff Turley and animation supervisor Patrick Osborne) crafted about how a chance meeting on a subway platform can sometimes lead to love. Providing that you know how to properly fold a paper airplane, that is.
Look, I know that Valentine's Day is still more than two weeks away at this point. But trust me, folks. Paperman is something that you're going to want to share with someone you care about today. So go click on the video above. And you can thank me later.
________
Jim Hill is an award-winning entertainment writer who lives in New Boston, NH. Over the past 30 years, he has interviewed hundreds of veterans of the animation & themed entertainment industry and written extensively about The Walt Disney Company.
Jim is currently working on a behind-the-scene history of the development & construction of Disneyland. For his more immediate musings on movies, TV shows, books and theme parks, please check out his blog, jimhillmedia.com.
Popular in the Community