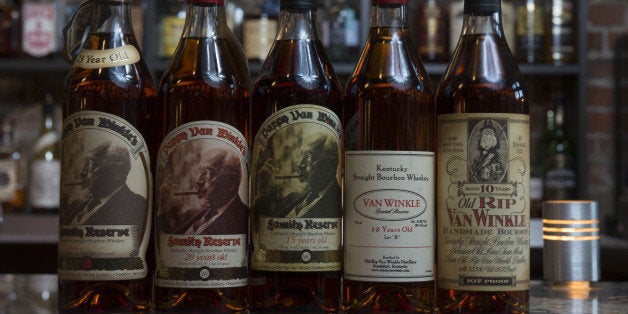 It's hard to say when, exactly, I became obsessed with Pappy Van Winkle. I remember the first time I heard about it -- Jan. 11, 2012, when I watched a clip from "Late Night With Jimmy Fallon" in which my culinary idol David Chang called it his favorite bourbon. And I know that at some point in the middle of 2013, when it seemed every publication on earth featured a story on the Pappy phenomenon, I started seeking it out at liquor stores wherever I went.
For the blissfully uninitiated among you, "Pappy," as it's known, is almost universally agreed to be the best bourbon in the world. It's won every award a bourbon can win and garnered diehard devotion from food luminaries like Chang and Anthony Bourdain. Pappy is also extremely rare. The Van Winkle family reportedly releases just 6,000 to 7,000 cases a year -- a tenth of a percent as much as a brand like Jim Beam -- through their partners at Buffalo Trace. This combination of praise and scarcity has made Pappy one of the most sought-after edible products in the world.

The elusiveness of this apparently great bourbon tapped into the dark part of my psyche that lusted after Tamagotchis at age 8 and Per Se reservations at age 16. I was determined to taste it.
If I were pressed to put a date on the moment when my attitude toward Pappy Van Winkle shaded into full-blown obsession, I might choose Nov. 27, 2013. By that point, I had been calling the Total Wine near my parents' house in northern New Jersey to ask about Pappy almost every day for months. I started doing so after several months of trying, and failing, to find Pappy in New York City. I assumed that the suburbs would be immune to the Pappy mania that was epidemic in New York, and I had a friendly rapport with guy who ran the liquor department at this Total Wine, so I was pretty confident that I was just a few phone calls away from my first taste of Pappy Van Winkle.

But at the end of November, I made a rookie mistake: I went on vacation. I skipped making my Pappy call for a few days. When I returned on the 27th and called again, I got my first answer other than, "No Pappy yet, and no idea when it'll arrive."

"It came in last Tuesday morning," my phone-buddy said. "And it sold out by noon. Sorry!"

He hung up. I was floored. All my planning had come to nothing. I was as Pappy-less as ever.

It wasn't until this moment, I don't think, that I became truly obsessed. The sting of rejection pushed me into what I can only describe as a pit of insanity.

I started scouring occult corners of the Internet for Pappy. I trawled wine-searcher.com for liquor stores in Manitowoc, Wisconsin, or Colorado Springs that had it in stock. I spent hours poring over the bourbon lists of random bars and restaurants across the country, looking for Pappy. Occasionally, I would spot it. But when I would call to confirm, I would invariably be told that they'd sold out months or years ago. When I was putting together a taste test of rye brands for use in Manhattan cocktails, I sheepishly asked Buffalo Trace to send me a sample -- and got a hard "no."

A few times, I actually found ways to buy it: Scalpers sometimes post bottles ("For Collectible Purposes Only, Not For Drinking") on Craigslist, and a few bars around the country have it on the menu for much of the year. The catch is that they're price gougers. On Craigslist, the going rate for a bottle of Pappy Van Winkle 15-year -- the one I was most excited about, which has a suggested retail price of $100 -- was $700. The bars sold it for $50 to $200 an ounce, depending on the age, which translates into well over $1,000 a bottle. I resisted the urge to blow my rent money on a few sips of bourbon.

Last spring, I found a new source of hope when I moved to Los Angeles. Fresh terrain. I contacted every local vendor listed on the Buffalo Trace website and asked about Pappy. No dice. One said they reserved it for their best customers. Another directed me to a website where I could sign up for a waiting list, adding that there were already several thousand people ahead of me in line. Others said they hadn't gotten any for years.

I heard that BevMo, a major chain, was getting a big allocation, which they would offer, via email, to their loyalty club members. I created loyalty club memberships using each of my three email addresses and corralled several friends into signing up as well. I spent the next two months manically checking my inbox; when insomnia or thirst would wake me in the middle of the night, I'd leap toward my phone to see if BevMo had emailed. Then, in a depressing echo of my Total Wine failure, BevMo sent out the email while I was seeing a movie, so I couldn't respond until 45 minutes after it arrived -- far too late to score a bottle. Heartbreak.

At this point, I'd spent untold hours over two years hunting Pappy across three states. My enthusiasm was wearing thin. I tracked down a bottle of Old Weller Antique, which some say is a solid substitute for Pappy, and felt a certain sense of closure.
But weeks later, when an LA liquor store employee emailed to ask if I was still looking for Pappy, my blood pressure tripled. I responded as fast as I could: "Yes, 100 percent, desperately." He replied with his prices. The store was charging $150 for a bottle of Old Rip Van Winkle 10-year and $600 for a bottle of Pappy Van Winkle 20-year. Half the black market price, but still quadruple true retail.
I agonized. Could I really afford it? Not the $600 one, no. And I'd heard the 10-year was much less complex than versions at least 15 years old. But it also occurred to me that I'd seriously considered spending $50 for just an ounce of the 10-year. Compared to that, this was a steal. I sent him my credit card information.

Hours later, a problem: The store didn't take Discover. By the time I sent another card, the bottle had been sold.

In the following weeks, I found myself thinking less about Pappy than I had in many months. Sure, I still made a beeline for the bourbon aisle whenever I went into a new liquor store, and I still entered a Pappy-related Google query now and again. But the rational part of my mind -- the part that knew no liquor could be worth all this agony -- was steadily chipping away at my obsession.

A couple of weeks ago, I was getting dinner with a friend visiting from New York. We considered several far-flung options before settling on Plan Check, a gastropub mere blocks from my apartment. We sat down and were handed menus. I go there all the time, so I already knew what I was going to eat and skipped straight to the drinks section. And right there, in the middle of the bourbon list, were Old Rip Van Winkle 10-year, for $12 a pour, and Van Winkle Special Reserve 12-year, for $16 a pour. Half the neurons in my brain lit up, but I had been burned too many times to get too excited. I looked at my friend's copy of the menu. No Pappy. So I hailed our waiter and asked if they really had it.

"Yep," he said.

"Are you sure?" I asked. "You really have Pappy Van Winkle in stock?"

"Yep. Want some?"

I was stunned, but not too stunned to order a glass of each. I didn't believe they would actually arrive until the bartender handed them to me. Then, finally, I took my first sip of Pappy.

How was it, after all that? It was great. It tasted exactly how I'd always dreamed good bourbon should taste, but never quite did. Each sip caressed my palate with notes of maple, vanilla, leather, tobacco and cinnamon. It was as smooth as the surface of a lake at dawn -- especially the 12-year. I was awestruck by the sheer implausibility of finding this wondrous bourbon, after years of searching, a quarter-mile from my front door.

Yet I have to admit that I wasn't totally satisfied. Because technically, the 10- and 12-year-old bourbons I drank at Plan Check weren't Pappy Van Winkle. The Van Winkles reserve that name for bourbons they age for at least 15 years. I can't help but think that real Pappy will be even more revelatory. My better angel understands that this is a case of the horizon receding as I move toward it -- but I just can't manage to convince myself I'm wrong. What can I say? I'm obsessed.