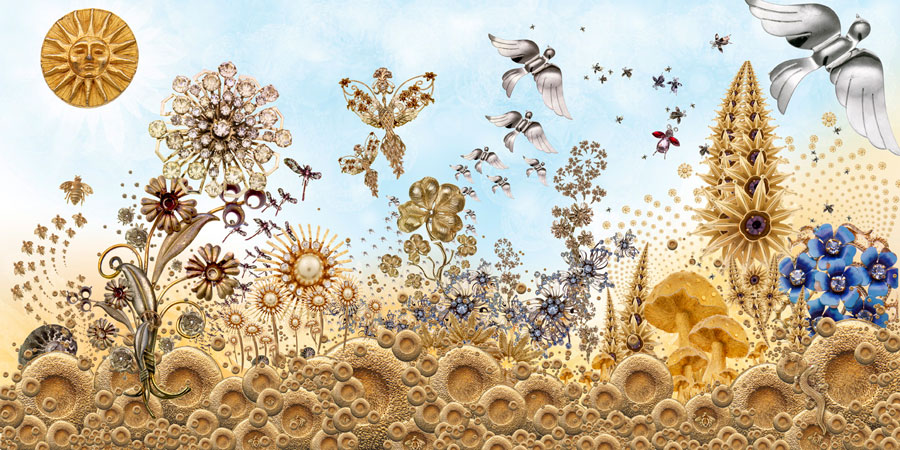 JT Burke: Beautiful Paradise Land | Burke's current body of work uses digital photographs of antique costume jewelry as base materials. Burke repeats and manipulates the imagery digitally to form intensely baroque, Busby Berkeley-like configurations that resemble psychedelic landscapes, dioramas, mandalas, and masks.
"My work is an examination of the myth of Paradise," states Burke. "Paradise is a concoction of our own devices created to comfort us from the sorrow of the human condition. It's a beautiful myth, so beautiful that even knowing it's a myth only slightly diminishes its value."
"Burke invites us to wander in Wonderland, to roam Oz, to join Lucy in the sky," writes critic Peter Frank, who recently included Burke in his selection of "Ten Artists to Watch" for the Los Angeles Center for Digital Art. "[T]his is escapism; but it is finely wrought and thickly wound enough to gratify all levels of taste."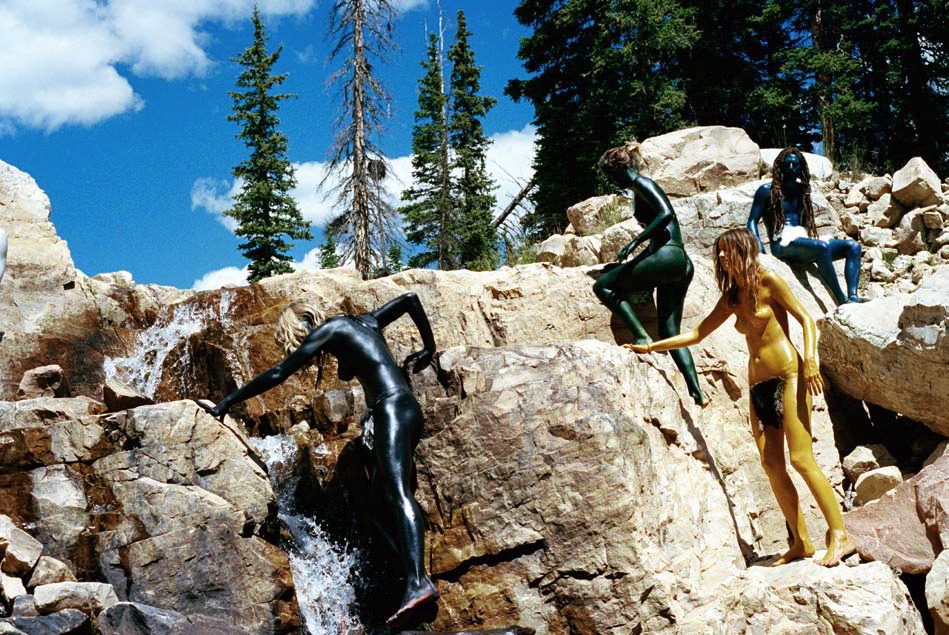 Jim Mangan: Color'd | One bright summer morning, seven young men and women drive away from the billboards and the traffic jams, the neon chatter and the constant digital stimulation of their lives. After walking deep into the mountains, they abandon their clothing, along with the labels that have hung heavily around their necks: "promising student," "stoner fuck-up," "favorite son," "vulnerable daughter." Liberated from the limits that have defined them, they proceed to paint each other from head to toe in richly pigmented bear fat, further obscuring their former selves and setting the stage for the ultimate experience of freedom and resurrection.
The second photographic project in artist Jim Mangan's trilogy about rebirth, Color'd presents a very contemporary answer to a theme that is as old as the mountains and as universal as sunshine. Shot in saturated instant film and grainy 35 mm film, Color'd is set among the high alpine lakes of northern Utah's Uinta Mountains and depicts a journey of stepping outside the increasingly narrow confines of modern America to literally paint anew one's identity.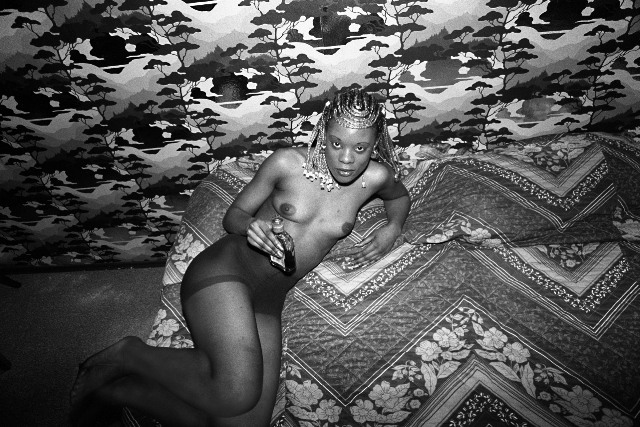 Scot Sothern: Lowlife | Lowlife is an illustrated memoir of dysfunction, a confession of a befuddled white guy maintaining a precarious connection to propriety and fatherhood while side-tripping into noir-ish infatuations. Sothern's images, shot mostly in Southern California between 1986 and 1990, record the existence of these disenfranchised Americans, men and women, hawking souls for the price of a Big Mac and a fix, struggling in a culture that deems them criminal and expendable. As Sothern opines, "Anyone could offer them 10 bucks to take a brick in the face and they'd hold out their palm." These timeless portraits reveal the never changing plight of the street prostitute.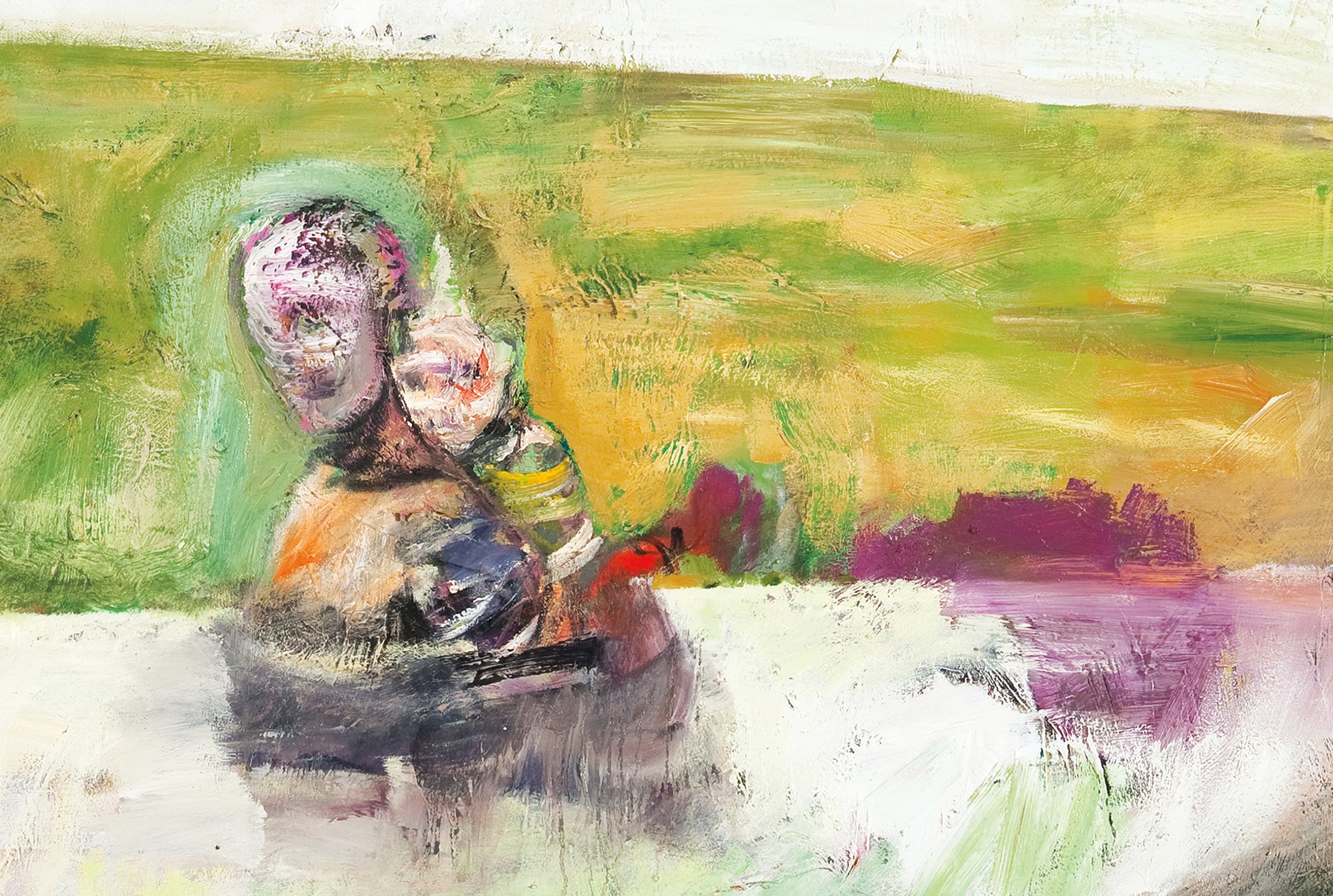 Courtney Reid: The House of Rising Spirits | These works open worlds born from the new challenges and realizations of the artist as the single mother of a daughter with Down syndrome. Landscapes have always been under the surface of her figurative works, which usually start as a landscape and grow into human form. Now they have come full circle, morphing from figure back to landscape and sometimes back to figure again. Reid continues to have psychological and spiritual insights from her unique form of motherhood and these realizations have been reflected in her work.
Reid's works are raw and tender-vibrating with the primal instincts we would have to peel layers of social restraint, technology, and material comfort to uncover inside ourselves. Her work proves that our truest colors can come barreling forth to communicate our deepest instincts, reaching past any barriers of the mind.
A portion of the exhibit proceeds will support Down syndrome research.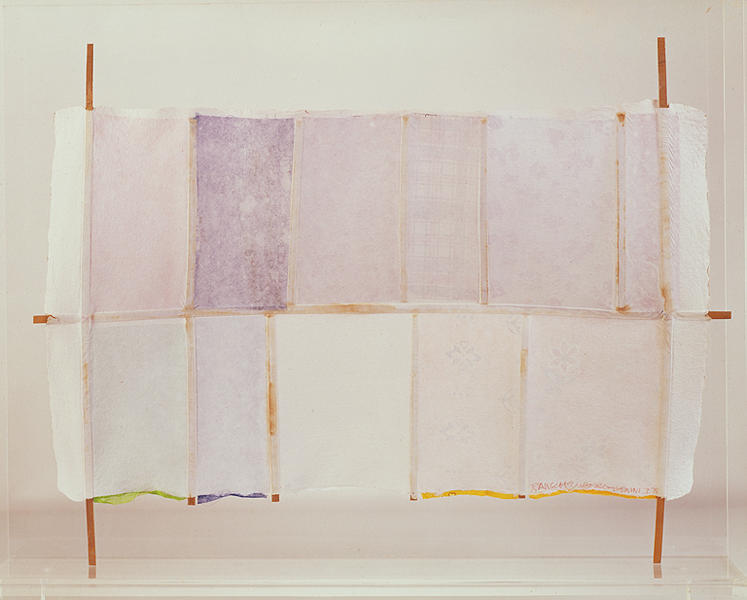 Solid As a Rock: L.A. Art Scene 1950-1980s | Curated by Hoojung Lee and in conjunction with the Getty Pacific Standard Time initiative, Solid as a Rock features seven L.A. artists whose work challenged the prevailing norms in society and empowered others artists to develop what has become the L.A. art scene: Charles White, Betye Saar, Ed Moses, Laddie John Dill, Larry Bell, Robert Rauschenberg, and Matsumi Kanemitsu. This compelling exhibition is a vivid array that reflects the multicultural art heritage of Los Angeles by conveying a wide spectrum of creativity.
Although the featured artists in this exhibition may not necessarily share parallel contextual ideas in art making, their individual practices are collective in spirit. Most importantly, these artists re-envisioned forms & mediums of art making to open up new possibilities. Each artist explored artistic representation and ideas with various media, yet paper was always implied as an essential or central medium of their artwork.
For more information about art events throughout Los Angeles go to Artweek.LA.
Related
Popular in the Community