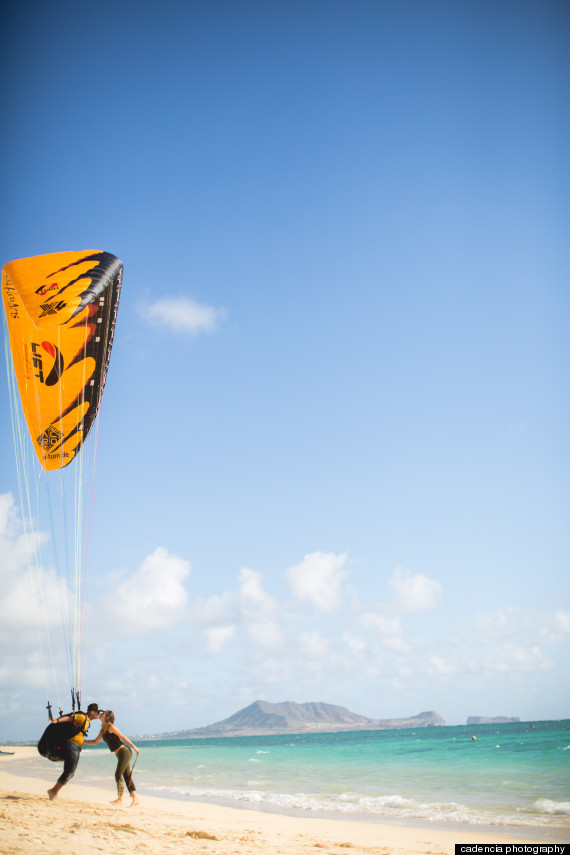 In 2010, Nova Dasalla became the first American to successfully execute the "Infinite Tumble" trick on a paraglider.

"It looks like you're jump-roping the glider," Dasalla told The Huffington Post. "It's not the hardest [but] it's just the most dangerous. In the past five to six years, there have been [paragliding] pilots who tried this maneuver and died trying."
It's notable enough that Dasalla completed this complicated maneuver, but he did so after surviving a near-death paragliding accident.
Dasalla learned about acrobatic paragliding when he saw it on television in 2005, and knew immediately that he wanted to try it for himself. Two weeks after seeing that show, Dasalla started taking lessons.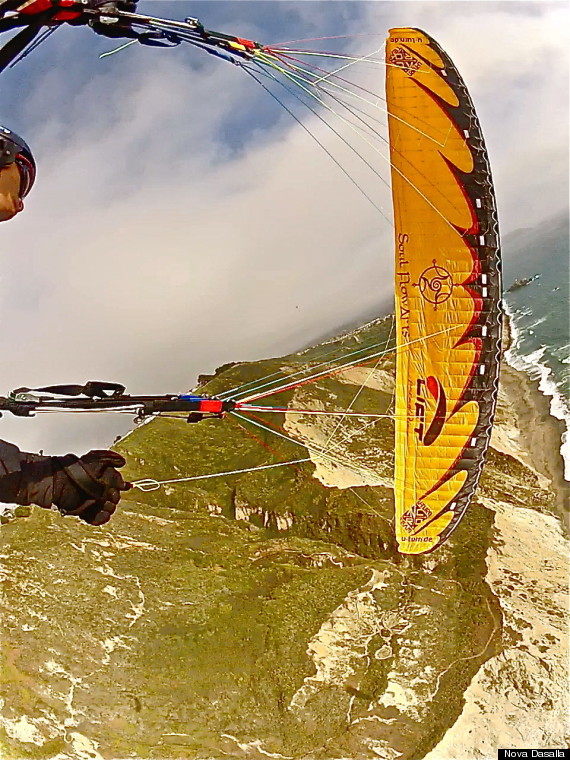 Dasalla began not only flying for fun, but training for acro paragliding competitions.
There are a variety of complex tricks that serious acro paragliding pilots strive to perfect. One is called "helis," or "helicos," which involves a paraglider spinning around like a helicopter.
Unsurprisingly, these kinds of maneuvers are both very difficult and often extremely dangerous. In September 2009 -- when Dasalla was the No. 1 ranked acro paraglider in the U.S. and No. 49 in the world -- Dasalla was at a popular paragliding site in the Traverse Mountains of Utah called Point of the Mountain. He tried to do a "helico" trick he had done many times before when things took a turn for the worse: Twisted in the wing of his paraglider and unable to stabilize himself, he smashed full-force into the mountain.
"If you picked up a heavy rock with a string at the end and threw it against the wall, that's how I slammed into the mountain," Dasalla said.
He hit the mountain legs-first, which he considers lucky. "If I'd hit my head first, I would've been dead instantly," he explained. "If I'd hit my body first, I would've died of internal bleeding about a week later."
Dasalla was in the hospital for two months with two broken legs, a broken back and a broken shoulder. For a while, he wasn't sure he'd even be able to walk again, yet he still dreamed of being the first American to accomplish the "Infinite Tumble."
By November 2009, Dasalla was able to walk decently with a cane, and he set his sights on paragliding training. "There was no way I was giving up," Dasalla said.
He was back in the air by April 2010, and accomplished his goal of being the first American to do the "Infinite Tumble" that summer.
The accident changed his perception on life. It helped put his focus not only on paragliding, but on finding love and having a family.
"Before my accident, I really didn't consider getting married or having a family," he said. "I hadn't experienced real true love. But I can tell you when you're faced with not living again, those things definitely creep up."
His life took another turn in August 2010, when Dasalla met a woman named Jinju. They got married the following year.
"I guess the universe kind of said, 'Wow, maybe you are ready for something like this,'" he said.
The couple is now expecting its first child.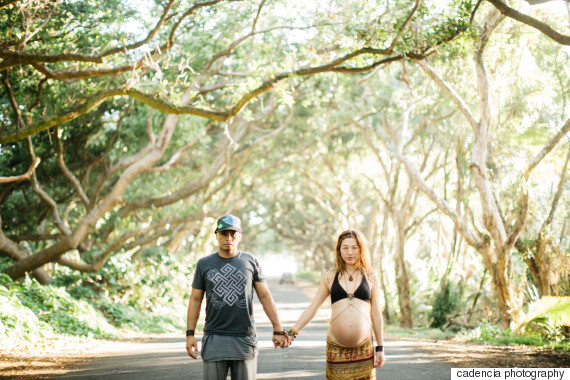 Dasalla said he has wondered how and why he is still alive.
"There was the old me and then there is the new me," Dasalla said. "That line, that division, was September 16, 2009, when I had my crash. That completely changed my outlook which meant that my energy was different."
He and Jinju, who has a Ph.D. in neuroscience, started a company called Soul Flow Arts, which focuses on self-improvement through ancient wisdom, holistic healing and "the flow arts" -- physical activities such as yoga and hoop-dancing.
"There's nothing better than improving people's lives, one at a time, and using what we teach to improve ourselves," Dasalla said.
While the couple's company focuses on many activities that are widely known to be relaxing, Dasalla still uses acro paragliding as his outlet to unwind. Paragliding "goes beyond relaxation," he explained. "I find that it helps me put things in perspective."
Even after 10 years of paragliding and an accident that could have ended his life, "I still have that child-like excitement about flying," he said.
By day, Dasalla lives in San Francisco and works in sales. But once he leaves the office, it's usually not long until he's up in the air. Sometimes Dasalla is paragliding by 5:30 p.m., looking down at the commuter traffic below him.
"It definitely centers me and gives me a good balance," he said. "This is the time for me to release anxiety, stress and also feel fortunate and grateful that I'm able to paraglide."
Dasalla created a short film documenting his journey to becoming the first American to perform the Infinite Tumble. He talks about his life-changing accident, his recovery in rehab and finally being able to achieve his dream in the summer of 2010.