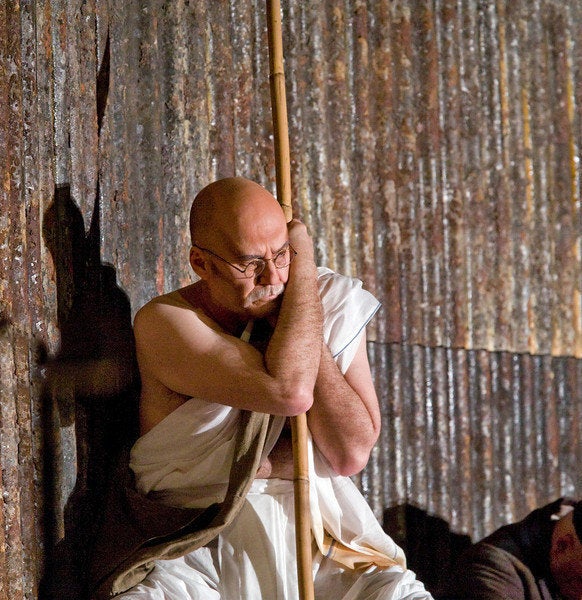 NEW YORK -- The seminal Philip Glass opera, "Satyagraha," illustrates Mahatma Gandhi's early life in South Africa juxtaposed against the plights of fellow social reformers -- Russian novelist Leo Tolstoy, Bengali writer Rabindranath Tagore, and American civil rights leader Martin Luther King, Jr. The Metropolitan Opera's visually stunning production fuses Glass's hypnotic melodies together with dramatic puppetry, striking sets, mesmerizing vocals, and a thought-provoking Sanskrit libretto.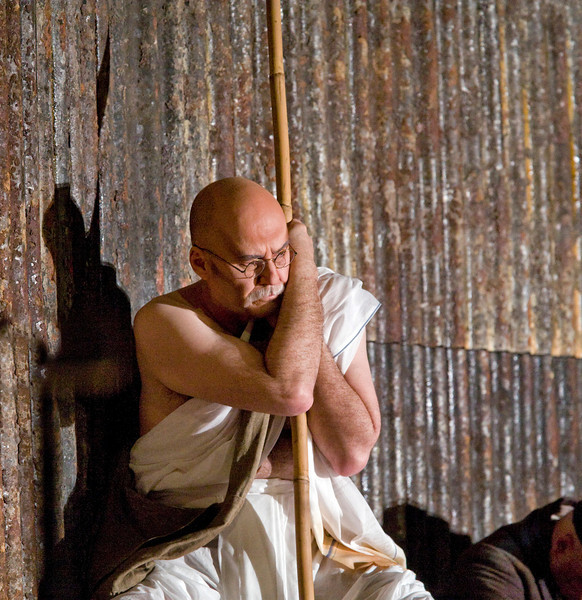 Richard Croft as Gandhi in Phillip Glass's "Satyagraha"
Although Glass composed "Satyagraha" (titled after Gandhi's nonviolent movement of civil disobedience in South Africa, where he led the oppressed Indian minority) in 1981 and the opera is set in the late 19th century and early 20th century, its message remains relevant today with the uprisings of the Arab Spring and the current Occupy Wall Street movement. "Almost all the techniques of protest -- now the common currency of contemporary political life -- were invented and perfected by Gandhi during his South Africa years," Glass has said in the past.
While not all of the Occupy Wall Street demonstrations have remained peaceful (police shot at a protester at Occupy Oakland), it is evident that the movement took lessons in Gandhi's methods of protest. ARTINFO caught a performance of "Satyagraha" at the Met, taking note of the ways Occupy Wall Street parallels with Glass's opera.
"Tolstoy Farm (1910)," depicts the satyagrahis living in one place communally, cooking, scavenging, and building together. At New York's Zuccotti Park, Occupy Wall Street protesters live together under self-imposed rules. Protesters are asked to stay sober and to pitch in with cleaning and serving food. When ARTINFO stopped by a few weeks ago, we saw people waiting in line patiently for food and sweeping the concrete.
"Indian Opinion," shows the power of the newspaper central to the satyagrahis' plight. The newspaper gave the satyagrahis a voice to the cause, serving as a way to inform the public of their fight. The Indian Opinion refused advertising and at its height, reached an estimated readership of 20,000 in South Africa. Occupy Wall Street has the Occupied Wall Street Journal, which provides a way for the "99 percent" to spread the word about the decentralized movement's gamut of causes, like Wall Street regulation and jobs creation.
"King," is set against a live backdrop where an actor plays Martin Luther King Jr. behind a podium, his back to the audience as he emulates King's movements during his monumental 1963 "I Have a Dream" speech. Occupy Wall Street may have no leader, but several high profile individuals have spoken to support the cause, including noted civil rights activist Cornel West author of "No Logo" and "The Shock Doctrine," Naomi Klein; former Black Panther Angela Davis; and filmmaker Michael Moore.
"Satyagraha is a weapon of the strong; it admits of no violence under any circumstance whatsoever; and it ever insists upon truth," said Gandhi of his movement. Occupy Wall Street follows that sentiment, which Glass beautifully outlines in his opera of the same name.
-Ann Binlot, ARTINFO

More of Today's News from ARTINFO:
Related
Popular in the Community