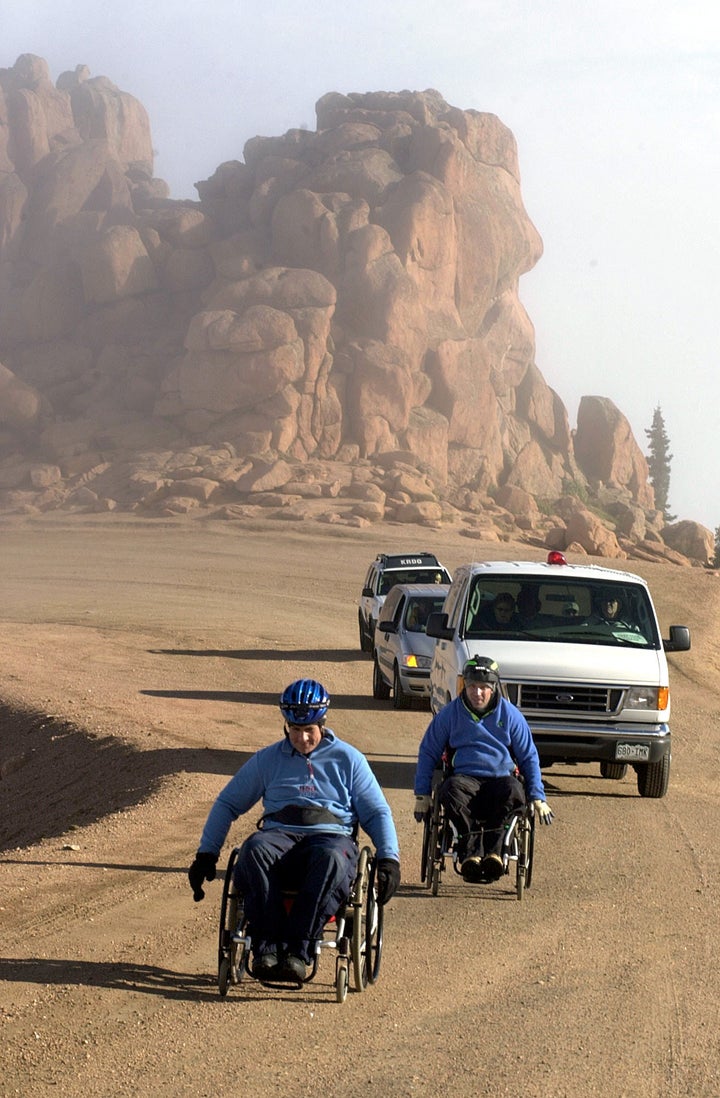 There's a 13-mile route from the base of Pikes Peak to its 14,110-foot summit. On Saturday, one man is going to take that path in his wheelchair.
While about 450 hikers will try to walk up the mountain outside Colorado Springs, Colo., as part of the annual Pikes Peak Challenge, Glen House, a paralyzed physician will begin rolling his wheelchair up the mountain in the predawn darkness.
"I can't tie my shoes or button my shirt," House said, but he'll be taking on Pikes Peak. "It's a lot of work, but it's unbelievably exciting."
House, 42, was paralyzed from the waist down in a skiing accident while in college. He has enough use of his arms and hands to push the wheels of his chair, even up a steep incline like the Pikes Peak Highway. In addition to the physical demands of ascending about 7,000 feet into thin air, House will have to contend with traffic on the twisting roadway, which lacks guardrails.
The trek should take about five to six hours, said House, who's trained by propelling himself up hills near his home in Colorado Springs. His longest trip to date has been 3.5 miles, but he's not fazed by the immensity of the climb, because he successfully completed it several years ago in a more technologically advanced wheelchair than the model he'll use this weekend.
Still, he had a close call on that journey when his chair spun around and he almost rolled off a cliff, he said.
"It gets real steep," House recalled. "If somebody hadn't been there, I would have gone right off the edge."
Because of close calls like that, the Pikes Peak Challenge organizers have insisted that House have a support team with him. A van will trail him, carrying things like batteries for his wheelchair. There will be a few oxygen tanks, too, in case House starts huffing and puffing too much.
The specialty chair and wheels that House uses cost almost as much as some cars. He said the lightweight chair goes for around $5,000 and the wheels, which last about five years, are another $7,000.
In a previous climb, Paralympian Muffy Davis rode a wheelchair alongside House, but this time a mountain biker will try to peddle up Pikes Peak with him.
Organizers of the challenge, which benefits patients with brain injuries, are thrilled to see House gear up for the event. There are some hikers who have recovered from serious brain injuries, but House is the only entrant who cannot walk.
"We're trying to knock down barriers," said Rhonda Rickett, special events director of the Brain Injury Alliance of Colorado. "Folks with disabilities still can accomplish amazing things."

REAL LIFE. REAL NEWS. REAL VOICES.
Help us tell more of the stories that matter from voices that too often remain unheard.