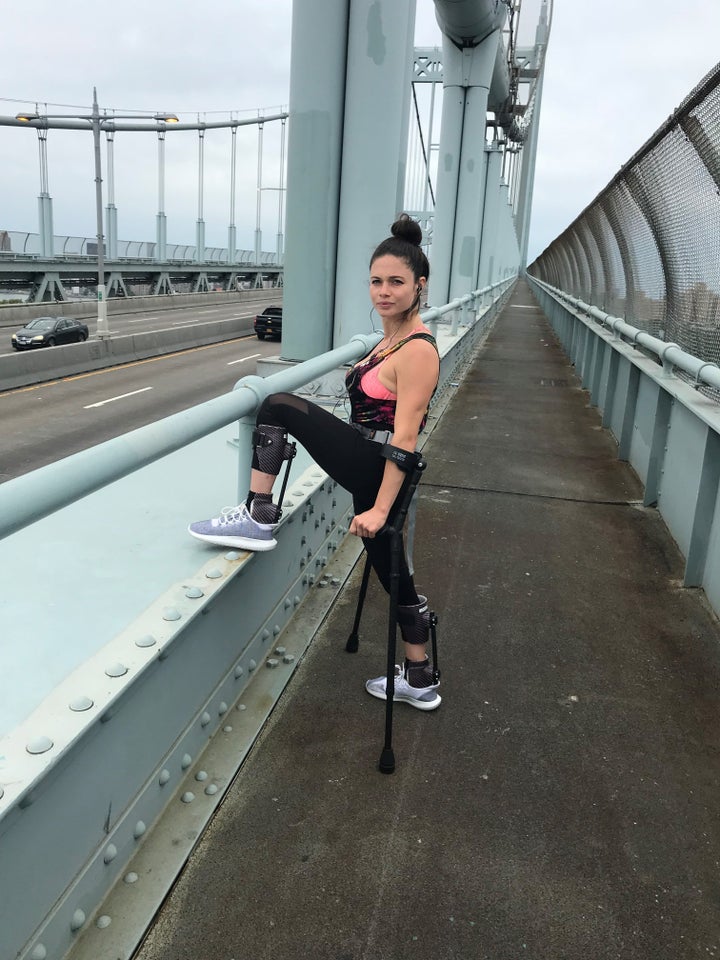 Hannah Gavios' long list of physical accomplishments is impressive. She is a certified yoga teacher, she regularly mountain climbs and ice-skates, and on Nov. 4 she is taking on the New York City Marathon ― on crutches.  
Gavios, now 25, became paralyzed in 2016 when, in an effort to escape an attacker, she fell off a 150-foot cliff in Thailand and fractured her spine. The attacker discovered her and proceeded to assault her for hours. The next morning, she was rescued and taken to a hospital in Phuket for a spinal fusion. While she still has function in her hips, quads and hamstrings, the injury has affected movement in areas like her ankles, feet, calves and glutes. She walks with a cane and uses her upper body strength to propel herself. 
"My parents flew in, and we were there for 18 days," she recalled for HuffPost. "Then I was doing inpatient therapy at Mount Sinai Hospital [in New York], and since then I've just been recovering." 
That recovery has included physical therapy and building up her other muscles to compensate for the ones that are paralyzed. While she has use of much of the lower half of her body, she is unable to feel her feet and ankles. She embarked on extensive physical therapy program, refusing to give up when things got tough. She even learned krav maga, a form of self-defense developed for the Israeli military.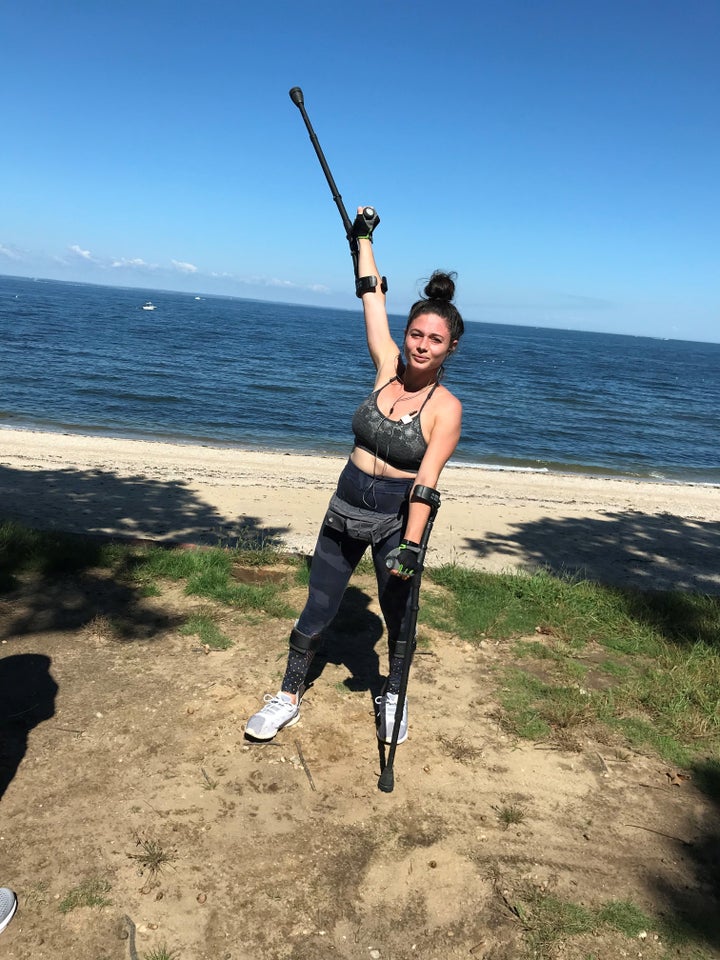 "My goal right now is to run and be able to walk again without assistance," she said. "I'm raising money for spinal cord injury research to speed up a process that will not only benefit me but 5.4 million Americans with paralysis." 
For all that Gavios has been through, it's easy to imagine having a less than stellar outlook on things. But that just isn't who she is. Explaining that she has always been a really positive person, she said she continues to be motivated by wanting to just live her life. "I want to just be another functioning member of society again and not feel like I'm left behind," she said. "I just want to be able to do all the things and more that I did before my injury."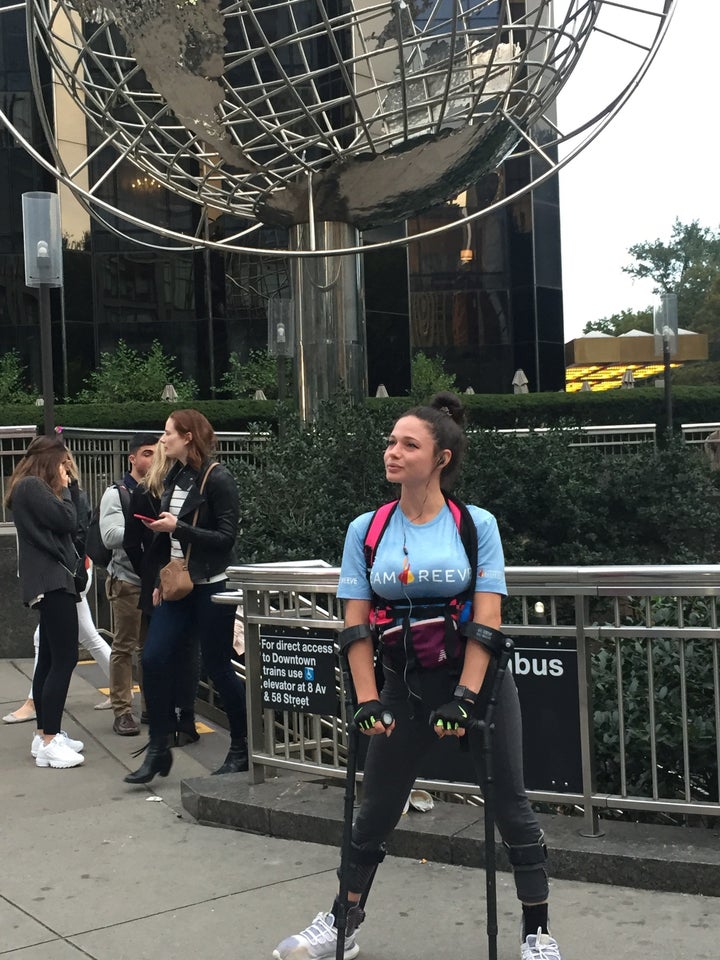 Gavios' training has been slow and steady. It started with one hour of walking around per day, then two, then three. When she hit three, her coach instructed her to start tracking miles. "There have definitely been some bumps in the road," she said. A wound on her right foot presented a challenge, as healing time for a person with a spinal cord injury is longer because of low circulation, and any pressure applied hampered the process.
"I had to just hop around on one leg for a while," she said. "I had to stop doing all physical activities I love doing. It was terrible. But I gave it time, and it finally healed."  
The training has been a learning process for Gavios ― figuring out which braces she needs to wear, how to track the miles, how she will have enough water and support on race day. Through it all, her confidence in her ability to do it has only gotten stronger. She began training by just walking, and she soon implemented swinging, which has significantly upped her pace. "Now it's more like 80 to 90 percent swinging," she said, adding that an 18.7-mile training session last week took seven hours. 
Gavios is an inspiration in so many ways, but her message is a simple one: to come from a place of gratitude.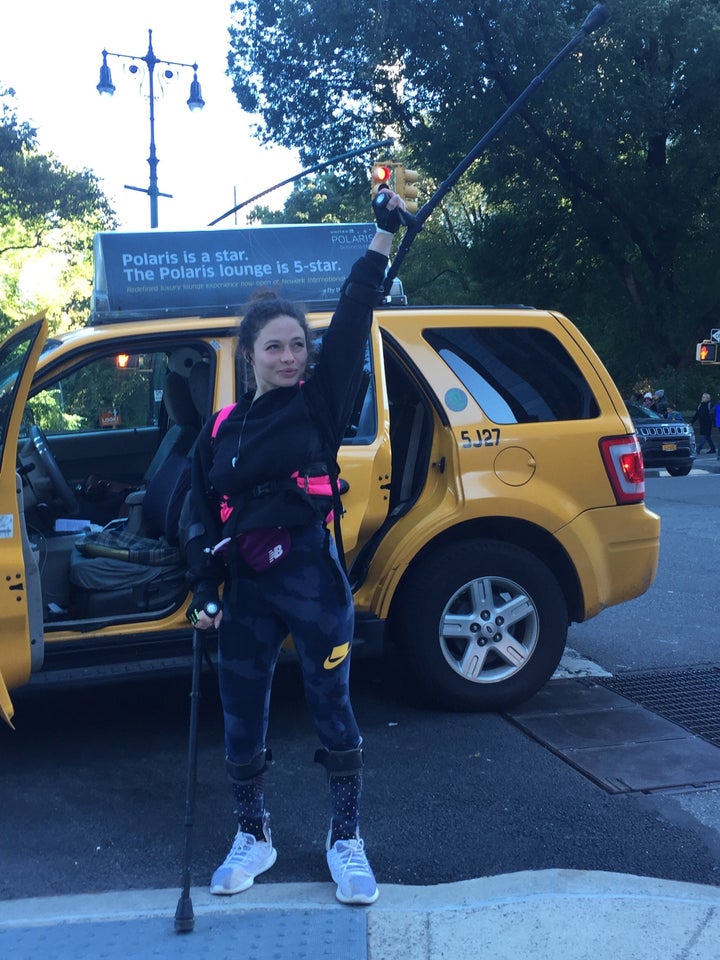 "A lot of the time we focus on what we don't have instead of what we do," she said. "For me, yeah, I'm not able to move my feet or ankles, but I can stand and walk and use my arms and upper body. Why not use that to its fullest potential? I could have died or been in a wheelchair or a more complicated situation, so I'm just grateful for where I am today. I'm able to walk, so I want to do the marathon and make the most of it."
Learn more about Gavios' story and donate to her page here. 
A previous version of this article stated that Amanda Sullivan crutched a marathon in Washington, D.C. Sullivan crutched the New York City marathon.
Calling all HuffPost superfans!
Sign up for membership to become a founding member and help shape HuffPost's next chapter
BEFORE YOU GO