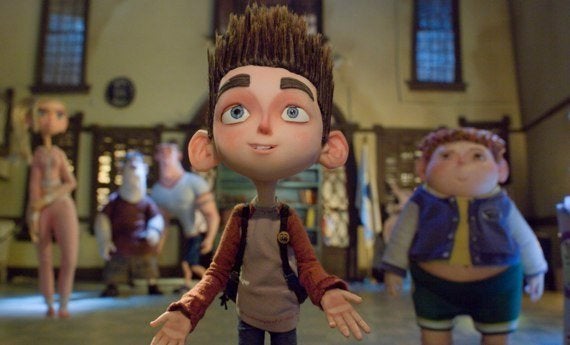 "ParaNorman"! Seemingly out of nowhere, this little gem of a movie comes along to break us out of our -- partially heat induced, partially whiskey induced -- coma of August. (Good grief, when will it all end? When?) On Monday, I expressed my fear that audiences will overlook this slice of greatness. I am not alone in my praise, as the reviews for "ParaNorman" are overwhelmingly positive. So, today, instead of doing a more common negative movie review roundup (admittedly, negative reviews are fun), let's, instead, take a look at the ten most unabashedly positive reviews of "ParaNorman."
10. "'ParaNorman'' is probably the year's most visually dazzling movie so far, and the stunning climax centering on an 11-year-old witch (Jodelle Ferland) is too good to spoil." -- Lou Lumenick, New York Post
9. "This wryly funny take on the classic ghost story, with its tributes to horror thrillers from 'Halloween' to 'Friday the 13th' and rich cast of characters, has distinctive Tim Burton-esque visuals, and a welcome dearth of potty humor. However, a scene featuring the demise of Norman's uncle might be too terrifying for those under 8." -- Claudia Puig, USA Today
8. "What's so enjoyable about the movie is how it doesn't skimp on the scary-movie details. Yes, it's stop-motion animation (created by the studio artists at LAIKA, who made the equally spooky 'Coraline') that kids should like, but much of what's here will connect squarely with an older audience, too. For instance, a kid is told he has to retrieve something from the hands of a corpse that has been ripening for a day or two inside an abandoned house. Surely they won't show the dead person, right? Wrong." -- Bill Goodykoontz, Arizona Republic
7. "But don't be fooled into assuming that 'ParaNorman' is all about the visuals. It delivers a potent, multipronged fable that touches on meaty themes, from bullying to dealing with death. It also delivers an especially resonant message about not succumbing to a cult of fear." -- Randy Meyers,San Jose Mercury News
6. "Indeed, there's a sharp, acerbic edge to the humor that turns out to be no mere laughing matter; churning beneath the story is a core of genuine rage at the idiocy of the mob mentality, the collective impulse to terrorize or ostracize those who refuse to blend in." -- Justin Chang, Variety
5. "But this is horror done right, with suspense and surprise rather than gore and viscera. And speaking of surprises, 'ParaNorman' effectively works in a moral about how fear causes us to lash out at others, putting the witch's tormentors in the same boat with Alvin and the trigger-happy townsfolk." -- Alonso Duralde, The Wrap
4. "With infinite warmth toward its characters, whip-smart humor and a plea for human compassion that feels especially necessary these days, ParaNorman is a movie worth wrapping yourself up in. It inspired in me the kind of love that's not necessarily logical, and may have overlooked some flaws that I just can't admit right now." -- Katey Rich, CinemaBlend
3. "As much as I love the old Looney Tunes and vintage Disney shorts and features, and enjoy complaining that they just don't make 'em like they used to, every now and then I see a contemporary animated film that makes me believe that we just might be living in a new golden age of the genre." -- Glenn Kenny, MSN
2. "Has enough genuine scares and thoughtful material about life and death that I would have a hard time mounting an argument that it was aimed at children in any way." -- Drew McWeeny, Hitfix
1. "The movie advances its risk-taking to a whole other level in the finale, offering an explosive crescendo that wows the senses and is sure to bring tears to the eyes. It's a marvel on a technical level — intricate landscapes shot with shallow focus all set to Jon Brion's rousing score — but in the end, the film works because it's a great, bold story." -- Matt Patches, Hollywood.com
Mike Ryan is senior entertainment writer for The Huffington Post. You can contact him directly on Twitter.
Popular in the Community