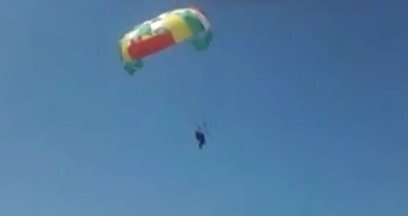 Sunbathers in southern Russia were shocked at the sight of a donkey which "flew" over the Azov Sea this weekend as part of a promotional stunt.
Amateur video footage shows men attaching a parasail harness to the mule before launching it from a beach near the village of Golubitskaya. Beachgoers were said to be distressed at the slight of the donkey, which brayed in fear as it soared above the bay for about half an hour, according to Russia Today.
The donkey was said to be visibly shaken, but unharmed. Russian authorities are now vowing to launch an animal cruelty investigation on the stunt's organizers, said to be employees of a Golubitskaya leisure firm. If convicted, the group could face up to two years in prison.
Watch footage of the flying donkey here:
Popular in the Community