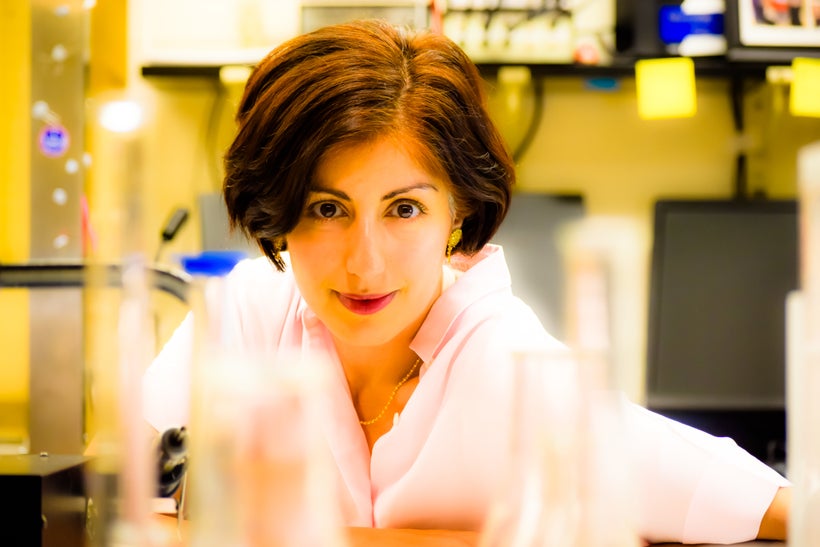 With the goal of harnessing the untapped potential of Iranian-Americans, and to build the capacity of the Iranian diaspora in effecting positive change in the U.S. and around the world, the Iranian Americans' Contributions Project (IACP) has launched a series of interviews that explore the personal and professional backgrounds of prominent Iranian-Americans who have made seminal contributions to their fields of endeavour. We examine lives and journeys that have led to significant achievements in the worlds of science, technology, finance, medicine, law, the arts and numerous other endeavors. Our latest interviewee is Parastoo Hashemi.
Parastoo Hashemi is an assistant professor in the Department of Chemistry and Biochemistry at the University of South Carolina. She runs a research program that combines neurologic and environmental chemistry. Her publications have appeared in prestigious journals and her work has been recognized by several awards including the Masao Horiba Award in Analytical Chemistry, the Eli Lilly Young Investigator Award in Analytical Chemistry and the Carolina Advancement of Women Award. For more details, please see (here).
Tell our readers where you grew up and walk us through your background. How did your family and surroundings influence you in your formative years?
My family left Iran in 1986, when I was six years old, during a time of great turmoil in Iran. We moved to London, UK, briefly and then to the North East of England, to a small university town called Durham. The cultural transition was difficult, more so for my parents - since kids adapt very quickly. Nonetheless, the UK was a safe and welcoming place. Durham is a beautiful, 1000-year old Roman town, surrounded by lush countryside. My father worked as a professor of chemical engineering. We would go to the countryside and collect samples and bring them home or to his lab for analysis, and this is how I developed my passion for science. At age 18, I moved to London to study chemistry at King's College. I love London; I learned so much about the people of world by living in that cosmopolis. From then on, I have travelled extensively in Europe, Asia, America and Africa to learn more about our world. I graduated with first class honors (top 2% of my class) and started my PhD program in Imperial College, London. As part of my program I collaborated with and spent extended periods of time in the Max Plank Institute, Koeln, German and in the Panum Institute, Copenhagen, Denmark. These were important cultural experiences for me, living in places where you can't speak a word of the language and having to quickly adapt to the cultural norms. I had become somewhat of an expert at this by the time I came to U.S. in 2011 to do a post doc in Chemistry at the University of North Carolina at Chapel Hill, NC. But the transition to the States was the easiest of all. Americans are so kind, open and welcoming that I instantly felt right at home here. I got my first faculty position at Wayne State University, Detroit and now I teach and run a research lab of about 15 people at the University of South Carolina in Columbia, SC.
You received the Eli Lilly Young Investigator Award for Analytical Chemistry in 2015; and had received the Horiba Award for Analytical Chemistry in 2013. What were the significant accomplishments that led to these?
I have degrees in Chemistry and Biomedical Engineering but what makes my research unique is that I bring the fundamental principles of basic sciences and engineering to the study of important biological and environmental problems. For this, I have had to spend so much time learning neurophysiology and environmental geochemistry. In novel ways, I have applied the tools of analytical chemistry to measuring the brain's molecules (specifically serotonin) in living organisms, and heavy metals in real environmental systems (including in live plants). My awards highlight the interdisciplinary, cutting edge technologies that my lab uses to ask pertinent questions about the health of our earth and its people. We have two specific areas of interest. First, we are trying to understand the basic neurochemistry of mental illnesses such as depression with the aim of improving therapies. Here we insert tiny probes into the brain and make real-time measurements of serotonin in health and disease states. Second, we are studying how metals such as lead are transported into domestic waters, into our bodies and ultimately into our brains and what the effect of these metals are on brain chemistry using the same tiny probes.
What has been your personal key to success? What were the biggest inspirations for your career?
My inspirations were my mentors, my dad and all of the scientists I'd read about who changed the world for the good. Three factors have helped me along this path:
First, I had excellent mentors. My PhD and Post Doc advisors are ultra-smart and kind and patient mentors. They taught me how to be a good scientist and how to have integrity in my work. They both supported and provided me with opportunities and continue to do so. I am paying all of it forward in my own lab. I also have good mentors in my collaborators and colleagues I meet at conferences. These colleagues have helped me with my first papers and grants.
Second is my interest in art and playing music. It may sound strange but I think this is one of the things that has helped me a great deal as a scientist. Much of what my lab does is to create new tools, technologies and hypotheses. And creativity is difficult to develop. Since I was tiny I have always painted, sculpted and played the flute as my creative outlets. In graduate school I began to channel that creativity into my work and the results were fantastic.
Third is sheer determination hard work. I worked really hard up till now; there's no way to sugarcoat it. I have often put in 12-hour days and worked seven days a week when seeking to meet deadlines. I never give up. I am very stubborn when I put my mind to something. If I want to get something done, I will work on it and won't stop until it's done.
In your view, what is the biggest challenge with which your field is currently grappling?
It is very difficult to measure anything in the brain. The brain is physically delicate and chemically unimaginably complex. The biggest challenge in our field is to make tools and devices small (measured in nanometers), fast (microseconds) and specific enough to measure brain chemistry. But scientists are making great strides, taking advantage of nanofabrication technology (i.e. for smart phones) to engineer tiny probes. When we have more tools for studying brain chemistry, we can significantly contribute to the discussions on psychiatric diseases, aging, brain damage etc.
How did you decide to study biomedical engineering? How can prospective biomedical engineering students assess their skill and aptitude as they consider entering this field? What factors should prospective students consider when choosing a university?
I was always good at chemistry; during my undergraduate degree I got the opportunity to do some research in a lab where analytical chemistry was applied to a biological problem. This was a "eureka" moment for me. I finally understood that I could use my knowledge (having sat through hours and hours of technical lectures) to make a difference. I was hooked. Biomedical engineering is a very inspiring discipline that brings basic and applied scientists together to understand biological phenomena. Imperial College has one of the best engineering departments in the world so I got to learn from brilliant people, and had a highly enjoyable experience. My advice for prospective engineering students is to get research experience, it not only looks good on your CV but it can prepare you for what's to come. Engineering research is difficult and the more you can do to prepare yourself, the better. When choosing a school, the top factor should be the research areas available. Getting a PhD is one the hardest things you can do at such an early age and you must be passionate about your research. Otherwise it is nearly impossible to wake up every day and keep working on something that (by its very nature) does not work, and it's your job to make it work.
What is the biggest challenge that you have faced in your career?
Research can be very challenging and unforgiving. The biggest hurdles that I had to overcome were those of my own confidence. It's really hard to keep up your confidence when you work on something for years and years intensely with no outcome or reward. I learned over the years to trust myself and to keep exploring ever-new, ever-creative avenues until I reach my goals, and I always do; it's just a question of time, hard work and confidence.
What research avenues are you exploring for the next few years?
We are branching out into novel technologies utilizing microelectrode arrays to measure multiple transmitters and metabolites to chemically map the brain. We are also interested in working on Autism research to identify whether genetic or environmental factors alter brain chemistry during development.
What successes and challenges have you experienced in raising funds for your research in your lab? What are your main sources of funding?
It's very difficult for this generation of assistant professors to get their first 'big' grant. For me, it was a question of developing a thick skin and persevering after rejections. I always felt as though I had good ideas, but it took time and good mentoring for me to learn to write successful grants. I have three 'big' grants from federal institutes and some smaller internal and foundation grants.
Can you share your thoughts on your Iranian-American identity? What does it mean to be an Iranian-American to you?
I have travelled a lot and lived in many different places, but I consider America my home. I have lived here for over 10 years and have encountered some of the most intelligent and kindest people. I have appreciated the positive attitude of Americans towards my native culture, being interested in the food, traditions and poetry of my homeland, but never questioning whether I belong in the States. It's a beautiful thing and I look forward to continuing to live in this cultural freedom where I get to be myself and feel welcomed for it.
REAL LIFE. REAL NEWS. REAL VOICES.
Help us tell more of the stories that matter from voices that too often remain unheard.
This post was published on the now-closed HuffPost Contributor platform. Contributors control their own work and posted freely to our site. If you need to flag this entry as abusive,
send us an email
.