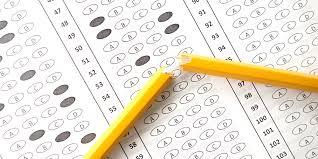 Louisiana State Superintendent John White insists that Louisiana students in grades 3 through 8 will take the Partnership for Assessment of College and Careers (PARCC) assessments in the spring of 2015.
Supposedly, in spring 2015, Louisiana students will take the PARCC assessments, meaning the same PARCC assessments that students in other PARCC states are to take, not some rigged assessment that White is trying to call "PARCC" but is really a Louisiana Department of Education (LDOE) patchwork that White is slyly substituting for the PARCC assessments.
"We want to make sure the scoring is right and accurate," White said, noting that about 5 million students across the country are expected to take the Partnership for the Assessment of Readiness for College and Careers test. ...

Neither the national partnership nor Smarter Balanced were able to give figures Friday on how many of its test-takers would use the paper format.
Pearson even has a website specific to PARCC.
It is clear that Pearson is responsible for the PARCC assessments.
It is also clear on this Pearson technology platform, PearsonAccess, which "serves as the entry point to all Pearson services used by school districts participating in the PARCC consortium," that Louisiana is not listed among the states granted access to the Pearson-administrated PARCC assessments.
The states allowed to access Pearson's PARCC platform are Arkansas, Colorado, Illinois, Maryland, Massachusetts, Mississippi, New Jersey, New Mexico, Ohio, Rhode Island, and the territory, Washington, DC.
PARCC is down to ten states and DC for 2014-15. (Note: New York is administering Pearson tests for five years beginning in 2011, not the Pearson PARCC tests.)
Louisiana is not an active PARCC state according to official PARCC contractor, Pearson.
So, if White is advancing the idea that "PARCC" tests administered in Louisiana are the same PARCC tests taken by "5 million students across the country," he is lying.
In order for Louisiana to be among the official PARCC states in 2014-15, LDOE must have a PARCC contract with Pearson.
Louisiana has no PARCC contract with Pearson and never did.
Currently, White is hanging all of his Louisiana assessment hopes on two contracts that LDOE has had for years with Data Recognition Corp (DRC).
It is possible that what White is leading Louisiana state agencies and the public to believe as "PARCC assessments" are actually DRC-developed knockoffs. This would make sense given the following statement in a letter dated December 4, 2014, from Louisiana Division of Administration (DOA) General Counsel Scott Johnson to Superintendent White, Louisiana Board of Elementary and Secondary Education (BESE) President Chas Roemer, and copied to all ten remaining BESE members:
During the BESE Academic Goals and Improvement Committee meeting on December 2, 2014, Superintendent White testified that the Department of Education would utilize Partnership for Assessment of Readiness for College and Careers (PARCC) questions for the 2014-15 school year assessments, and Louisiana Department of Education (LDE) would utilize the existing contracts with Data Recognition Corporation (DRC) for the procurement of the PARCC questions.

The existing LDE-DRC contracts (CFMS #s 603573 and 704708) do not allow the procurement of PARCC questions. Specifically, CFMS #603573 prohibits the acquisition of test questions from a pre-existing bank or off-the-shelf test questions, and both CFMS #603573 and CFMS #704708 provide for transitional testing.
DRC's questions are clearly a "bank" of questions, but they are not from a "pre-existing bank." From the DRC site:
DRC will use these field-tested items to develop a bank of rigorous, nationally standardized college- and career-ready items, which will be available for use in the spring of 2015. [Emphasis added.]
Thus, the DRC questions advertised above are from a bank, but it is DRC's bank, not a bank that existed previously. Also, it is possible that there is some arrangement between LDOE and DRC to pepper the DRC CCSS questions with token "Louisiana-developed PARCC questions" in White's effort to contort LDOE's existing DRC contract into a rigged, faux-PARCC "contract."
What is for certain is that LDOE has not properly advertised and awarded a legitimate PARCC assessment contract for Louisiana in 2014-15.
LDOE would have had to issue a Request for Proposal (RFP) before entering into any testing contract between LDOE and Pearson or any other vendor, and LDOE did not do so.
DOA is trying to get White to spill the truth of what will happen in the spring of 2015 when that testing window hits.
The DRC contracts are for transitional assessments through 2014-15, assessments meant to lead Louisiana up to CCSS assessments- not including CCSS assessments.
In reality (the reality where people are not trying to endlessly con others on the road to serving self), whatever White is concocting in the name of "PARCC" tests is completely separate from the real PARCC.
Meanwhile, the CCSS-PARCC litigation continues between Governor Jindal and BESE over Louisiana's testing contracts, which conveniently allows White to hide behind BESE legal team skirts even as he dodges the reality that Louisiana is not officially administering Pearson's PARCC assessments.
Looks like Jindal got us out of PARCC after all, at least for 2014-15, and in time for a fresh legislative session to roll around.
Originally posted 12-05-14 at deutsch29.wordpress.com
Schneider is the author of the ed reform whistle blower, A Chronicle of Echoes: Who's Who in the Implosion of American Public Education
Related
Popular in the Community