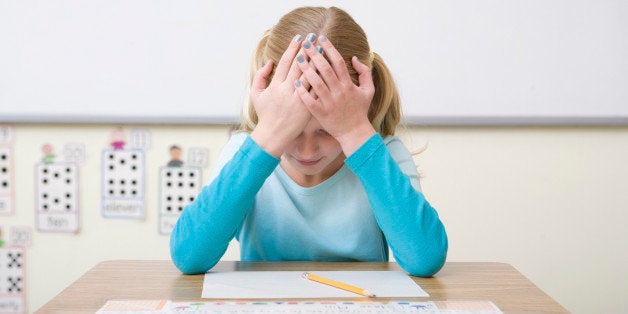 The story of two sisters, ages 9 and 11, who are scheduled to take PARCC, illustrates the absurdity of the educational policy surrounding this test. The older sister has special needs, so her parents wrote a letter on her behalf requesting that she be permitted to opt out of taking the test. This request was denied by her school district. She must opt out herself, according to the Illinois State Board of Education (ISBE).
Meanwhile, her younger sister, for whom the test might be annoying and time wasting but not harmful, will be permitted to opt out. After her computer froze during a practice test, losing all of her work, she declared to her third grade teacher, "That's it. I'm opting out of taking this test." And it was as simple as that.
If her older sister were capable of making a similar declaration, her parents would not have submitted a written request. But they knew that she might not be able to summon up the right words or the courage to say that she refuses to take the test. Thus, her anxiety and challenges with verbal communication may trap her into taking a test that will do great harm to her.
There are many good reasons why she should be permitted to take a different assessment, or no assessment at all.
There are no appropriate accommodations in place for children with special needs who are being required to take the PARCC test.
The test is already very long, and since her Individualized Education Plan (IEP) specifies extra time for testing, it could take over 20 hours for her to complete this test. Those hours are lost time for the specialized instruction she desperately needs.
Because she has an IEP, she is constantly assessed. Nothing new or useful will be gained from her taking PARCC.
There is no doubt she will become frustrated and dysregulated by the disruption to her school routine and the demands of the test, particularly those related to taking it on a computer. So add on more hours with the social worker and occupational therapist to calm her down enough to function in school.
The outcome of this testing for her is highly predictable. She will fail.
Here's what failure looks like for a child who already knows too much of it. Another child in her sister's school who has diagnosed special needs, including dyslexia, was forced to take the PARCC practice test. He received a score of 20 percent correct and was demoralized. It validated everything he already believed to be lacking about himself, further damaging his confidence and fragile self-esteem. It did nothing to inform his instruction at school. He has already been tested multiple times and the school has a record of the results. While the support he needs for his dyslexia is often not there, he is expected to take a high stakes test that will waste precious time that could be spent helping him with his learning disability.
So what are the options for the sister with special needs?
She can practice saying, "I do not want to take this test," and hope those words come out of her mouth every time she is presented with a section of PARCC.
She can write a letter that states she will not take the test but needs to remember to present the letter every time a session of PARCC testing takes place.
She can scream and cry during all of the hours and days of testing.
She can waste countless hours attempting to take a test she will certainly fail.
It seems so unfair that her younger sister can opt out of PARCC because she is clever and verbal. The younger sister will be permitted to read quietly in a different room during testing sessions. She loves to read and at least she will learn something. Amazingly, a third grader can make a decision about taking this test, but the parents of a child with special needs have no right to do so on her behalf? That feels like a violation of parental rights and the rights of children with special needs. It makes no sense at all.
As usual, it is those who need the most help who are crushed under the heel of the educational-industrial complex. Even if the child with special needs remembers to opt out each time PARCC is presented, what plan is there for her during all of these hours of testing? How well will she be able to handle the complete disruption of her school routine?
Students with IEPs are constantly assessed to see if they are on target to meet their goals. Forcing them to sit for a meaningless and time-consuming test is abusive. It is disrespectful of the children and does not meet any of the goals expressed in their IEPs, which may even be a violation of the law.
Shame on the "educators" at ISBE who made this decision.
Calling all HuffPost superfans!
Sign up for membership to become a founding member and help shape HuffPost's next chapter