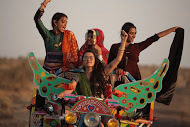 Photo courtesy of Wolfe Releasing
Set in the desert landscape of northwest India, director Leena Yadav's story of four women trapped in the restrictive mores of rural village is moving and engaging. Inspired by the lives of real women, Yadav's film embraces the universal desire of every human being to have the freedom to live without strictures or brutality simply because of their gender.
While the film is told primarily from the women's perspective, it does not carry a heavy-handed, moralistic message. The women - played by an excellent ensemble of actresses - each have their own particular challenges which they must face. Rani (Tannishtha Chatterjee ) was married at 13, had a child, was widowed at 16 and now must fend for herself. Lajjo (Radhika Apte), Rani's best friend, is married to an abusive man and, to add to her shame, believes she is infertile. Bilji (Surveen Chawla )is a dancer and a prostitute who has traded respectability for a certain amount of freedom. Finally, Janaki (Lehar Khan ) is a 13-year child bride, daughter-in-law of Rani, who was forced to marry Rani's drunken and adulterous son against her will.
Although the film deals extensively with the tragedies in the lives of the women, it is also filled with humor and even surprising spectacle. Each of these women has an earthy, infectious charisma that brings a centered reality to the tragic drama of their lives. The landscape of Gujarat and the interludes of circuses and festivals broaden the scope of the film and give it an almost epic quality. Despite all the burdens of the village patriarchy and rampant misogyny, these women still represent many of the strengths and promise of the Indian nation.
The film does offer some glimmer of hope for these women who are trapped in an heartless landscape of feudal values. An enlightened and forward-looking villager, Kishan (Sumeet Vyas), has started a handicraft collective that is the beginning of the liberation of the village women from the tyranny of their husbands and the village elders. As the film ends, the women have begun to become more economically independent with the hope that their personal liberation is not far behind.
The film will be released theatrically on June 17th in New York, Los Angeles, and the Bay Area, and will also release on DVD/VOD on August 9th.
Calling all HuffPost superfans!
Sign up for membership to become a founding member and help shape HuffPost's next chapter