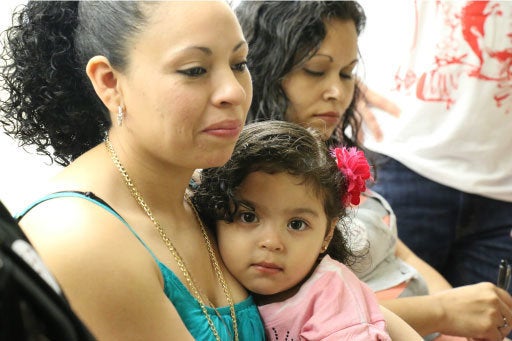 WASHINGTON ― Virginia Gov. Terry McAuliffe (D) pardoned an undocumented mother of two on Wednesday for a years-old conviction for driving without a license in the hope that it will help spare her from deportation.
But the fact that she is no longer defined as a criminal might not matter to the Trump administration. 
Immigration and Customs Enforcement detained Liliana Cruz Mendez, the 30-year-old originally from El Salvador, last Thursday when she went to the agency for a routine check-in. ICE had repeatedly allowed her to remain in the U.S. in spite of a 2006 removal order for crossing the border illegally and a 2013 misdemeanor conviction for driving without a license, which she could not obtain because of her status.
Her case now becomes another test for President Donald Trump, who claims his focus is on criminals but has detained scores of non-criminals as well. Cruz Mendez can't be defined as a criminal anymore ― the question is whether ICE cares.
The agency indicated after McAuliffe's pardon announcement that nothing has changed.
"ICE took Ms. Cruz Mendez into custody based on a final order of removal issued by an immigration judge in April 2006," agency spokeswoman Carissa Cutrell said in an email. "Even without any criminal convictions, she is still subject to removal from the United States based on that final order of removal."
Cruz Mendez's supporters, from advocates to politicians, have not claimed she is not subject to removal. Instead, they argue she has contributed greatly to her community and should be allowed to remain in the U.S. with her husband and children.
"Taking Liliana away from her kids & husband won't make VA safer," McAuliffe tweeted after announcing his pardon. "Feds need to focus on public safety threats & real immigration reform."
Rep. Don Beyer (D-Va.), who has advocated for Cruz Mendez's relief, said afterward that he was "very pleased but still cautious" because the pardon doesn't change the deportation order, even if it takes away her conviction.
"The Trump administration and ICE seem determined to deport anyone who comes across their path who is in the country without papers," Beyer told HuffPost. "So the simple fact that she's undocumented in the Trump mind makes her a criminal."  
Cruz Mendez is seeking a stay of removal, which would allow her to remain in the country. Nick Katz of the advocacy group CASA, which is working on her case, said they are hopeful the pardon will help her receive that stay.
"It really weakens the foundation of ICE's argument for why they were saying that she needs to be removed from the United States, and we hope this will weigh strongly in their consideration," Katz said.
He said they plan to push governors to issue pardons in similar situations for immigration-related crimes in an effort to keep people out of deportation proceedings.
For now, Cruz remains in detention. Beyer said he hopes Trump can consider what deporting her would do to her children, noting that the president said he was moved by images of violence against children in Syria.
"Maybe he could be moved by the idea of a mother being separated from her children by thousands of miles for no credible reason," he said. "Nobody's life is going to be helped by this, although many will be hurt."
BEFORE YOU GO
PHOTO GALLERY
How Donald Trump Talks About Undocumented Immigrants