After a month of traveling in the West Bank and Israel with a couple of pit stops in Paris, I have returned to Nice and am surprised by how glad I am to be "home."
I always feel relived to return from a long trip; to be able to sleep in my own bed and do some laundry, but this is different.
Before I left for Ramallah I was starting to feel a little lonely and isolated in Nice. I worried that once winter set in, it might feel like that coastal town that forgot to shut down that Morrissey sings about.
I even began to wonder if I might be happier back in the US.
But as soon as my train from Paris pulled into Gare de Nice Ville, it hit me that I was where I should be.
A feeling of comfort washed over me as I stepped onto the platform. It felt good knowing that I didn't need to stop and ask for directions, or risk getting lost at every turn, because I knew where I was going.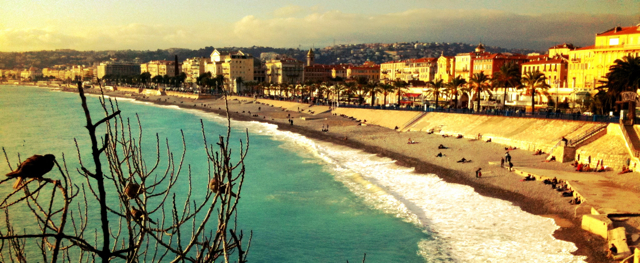 I realized that over the past few months, maneuvering my way around Nice had become second nature without me really noticing.
During my month in Ramallah -- as much as I loved finally being in the same place as the Englishman -- I had a lot less independence.
Without a car, or even the slightest grasp of Arabic, I was more dependent on my (very patient) boyfriend than I felt comfortable with.
Being in a familiar place again and feeling self-sufficient gave me back a bit of the confidence I'd lost.
My first morning back in Nice, (after indulging in some exquisite patisserie) I walked down to the beach and I'm not sure why but I was surprised to see the Mediterranean Sea still wrapped around the pebbly shore. As if I subconsciously thought it had left town when I did.
But there it was, as sparkly and blue as ever. It was reassuring to see the shore dotted with faithful beachgoers, undeterred by a little winter weather.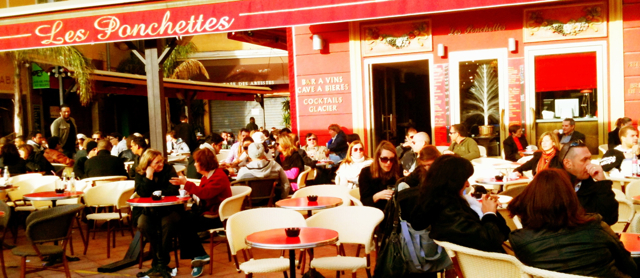 And as I strolled through the crowded flower market past the busy cafes and seafood restaurants, my fears of returning to a desolate depressing beach town vacated for the winter were erased.
As I made my way back up onto the main road, I saw huge Christmas trees strung with lights set up in the big square and a Christmas market full of people buying candied apples and hot cider.
I am just back in Nice for a couple of weeks before returning to the states to spend Christmas with my family, but I am having a renaissance with my new city. I'm glad I won't be saying goodbye for good.
It's an amazing thing to be able to hop on the train and be on the fabulous beaches in Cannes in 20 minutes or the world's perfume capitol: Grasse in 45. I have barely scratched the beautiful surface here, and I need to give the Côte d'Azur a real chance to win me over completely.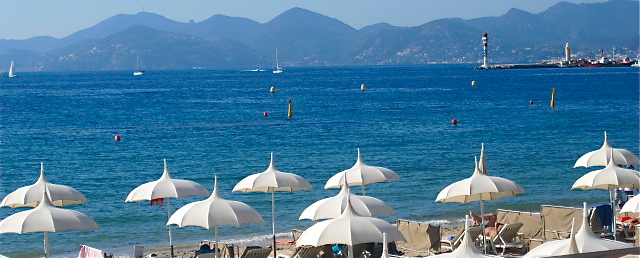 When I went down to get my baguette the other morning, the friendly lady at the bakery below the apartment looked genuinely happy to see me and asked me where I had been.
I think if I can be patient, bit-by-bit this place really will feel like home.