 One of the two turkeys President Barack Obama pardoned last November didn't live to see his second Thanksgiving.
Peace had served as the understudy to first bird Liberty, in case illness prevented Liberty from participating in last year's White House ceremony. Obama spared both birds, joking that this was one executive action that didn't require congressional approval. They retired to the Mount Vernon estate in Virginia, where Peace died Monday.
"We had to humanely euthanize Peace yesterday afternoon after he became extremely ill over the weekend," Rebecca Aloisi, vice president for marketing at Mount Vernon, said Tuesday. She added that Liberty still "attacks his food bowl with enthusiasm."
Peace's death is untimely but not unusual. The two turkeys Obama pardoned in 2010, Apple and Cider, were both dead by the next Thanksgiving. They developed respiratory infections soon after arriving at Mount Vernon, according to Aloisi, and then a foot disorder that made it hard for them to walk and escalated into joint problems.
Turkeys so fattened for consumption live only a fraction of the 12-year live span of their wild relatives. Peggy Albertson, spokeswoman for the National Turkey Federation, which raises a flock of birds for the presidential pardon each year, said these birds are expected to survive about two years if they don't end up on a Thanksgiving table.
But many, like Peace, don't make it that long.
After President George W. Bush pardoned Stars in 2003, ABC's John Stossel visited Frying Pan Park in Virginia, a previous presidential turkey sanctuary, and found the turkey pen empty. Stossel spoke with farmer Marlo Acock about what happened.
"We usually just find 'em, and they're, they're dead," Acock told me.

Most of the turkeys last only months. One died in one day.

It seems these presidential birds, bred to be eaten, are just too fat to live much longer.

Acock said, "Their flesh has grown so fast and their heart and their bones and their other organs can't catch up."
Frying Pan Park spokeswoman Judy Pedersen confirmed to HuffPost that all the pardoned birds sent there had a "short retirement." From 2005 to 2009, the White House sent pardoned turkeys to Disney World and Disneyland, where more than half of them died within a year of arrival, according to animal rights group Farm Sanctuary.
Meanwhile, White House chefs are preparing organic birds half that size for the first family's Thanksgiving feast, according to the White House food blog.
UPDATE: PETA will attend the presidential turkey pardoning on Wednesday and hand out free vegan roasts because "Thanksgiving is murder on turkeys." From the group's press release:
Approximately 250 million turkeys are killed in the U.S. every year—more than 45 million for Thanksgiving dinners alone. In nature, turkeys are known to be protective and loving parents as well as fast runners who are able to use reason to outwit their pursuers. But most turkeys slated to be killed for food are crammed into windowless warehouses, where disease, smothering, and heart attacks are common. Turkeys are drugged and bred to grow so large so quickly that their legs are often unable to withstand the weight. Countless birds slowly starve to death within inches of food after they become crippled and are unable to move.
See photos of previous turkey pardons below: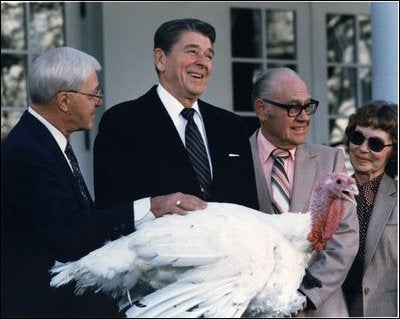 White House Turkeys
Popular in the Community