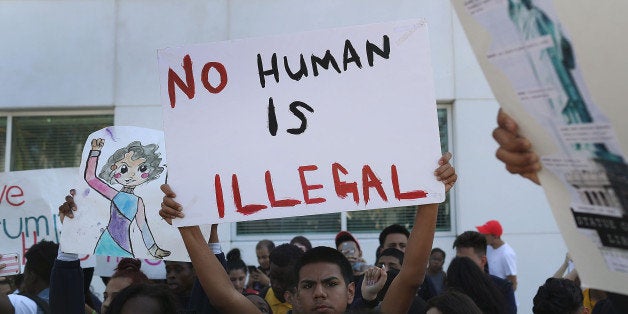 President Obama still has time to save an important group of immigrants from deportation -- lawful permanent residents who once committed minor criminal offenses, somewhere between 100,000 and 200,000 people.
The President can avert their deportation by exercising the pardon power that the Constitution explicitly gives him. But time is running out.
Mr. Obama has made several valiant attempts to provide common-sense compassionate relief to defined sub-classes of otherwise deportable immigrants. Too often, those efforts have fallen victim to partisanship. Comprehensive immigration reform, passed by a bipartisan Senate supermajority, died in the House when Speaker Boehner refused to allow a floor vote.
Republican state officials sued to enjoin a temporary deportation reprieve for the long-term resident parents of U.S. citizen children, and Republican judges obliged.
A pardon would be different. Neither Congress nor the courts could undo it.
References to "criminal aliens" evoke dark images of violent, frightening, hard-core invaders. The reality is different. Some fit that sinister description. President Obama has wisely made their removal his highest immigration enforcement priority. He has recognized, however, that not all crimes are equal. Today, crimes like marijuana possession and shoplifting don't normally trigger deportation for long-time lawfully present immigrants.
But that could change. President-elect Trump has pledged to deport all immigrants who have committed any "crime," no matter how minor the offense, how lenient the sentence, or how long ago it was committed. Perhaps he will ultimately modify this extreme position, but we have no way to know.
Many of the lawful permanent residents who once committed minor offenses came here as children and now have U.S. citizen spouses and children of their own. The offenses might be one-time youthful indiscretions. Many have already fully served their criminal sentences and have lived peaceful, productive, law-abiding lives ever since.
Rey (not his real name) came here as a baby, legally admitted as a permanent resident. He is a college graduate with a good job and a history of volunteering in his community. One day, he gave a ride to a childhood friend. The police pulled him over for a traffic violation and discovered drugs in his friend's bag. Because the drugs were in his car, Rey pleaded guilty to a misdemeanor. Without a pardon he is at risk of being deported, alone, to a country he does not know.
Law professors Peter Markowitz and Lindsay Nash, supported by more than 100 nonprofit organizations, have sent President Obama a memo urging him to pardon people like Rey, forgiving the deportation penalties they potentially face.
They acknowledge that the pardon power has most frequently been exercised in criminal cases. Deportation, in contrast, is a civil penalty. But the Supreme Court has made clear that the pardon power is not limited to criminal offenses. Professors Markowitz and Nash meticulously document the legal authority for pardoning civil penalties and offer examples of Presidents who have done precisely that.
Perhaps the best-known modern example is President Carter's categorical pardon of the several hundred thousand men who had left or remained outside the U.S. to avoid the military draft during the Vietnam War. Many of the pardoned individuals were non-U.S. citizens. President Carter emphasized that the pardon eliminated both the criminal penalty and the civil immigration penalty. A subsequent, carefully-reasoned opinion of the Justice Department's Office of Legal Counsel confirmed his power to do so.
Fifteen Presidents have granted categorical pardons. President Washington pardoned everyone who had been guilty of treason during the Whiskey Rebellion. President Lincoln pardoned all who had taken up arms against the U.S. during the Civil War. Presidents Johnson, Grant, and Truman all issued mass pardons for Army deserters -- in Truman's case, for the specific purpose of preserving their eligibility for naturalization.
A pardon is this president's best and last chance to secure the futures of Rey and the thousands of other lawful permanent residents whose minor transgressions earlier in life now threaten their futures and their families. Mr. Obama should seize this one remaining opportunity.
Stephen Legomsky is a law professor emeritus at Washington University, the former Chief Counsel of the federal immigration services agency, former Senior Counselor to the Secretary of Homeland Security, and the principal author of "Immigration and Refugee Law and Policy," which has been the required text for immigration courses at 185 law schools.
Popular in the Community