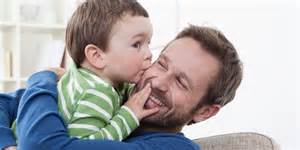 In an article dated March 27, 2017 People magazine reported that superstar Jennifer Lopez and athlete Alex Rodriguez are dating. In detailing their recent jaunt to the Bahamas, journalist Melody Chiu stated:
"Back in Miami, her ex-husband Marc Anthony, who is on good terms with Lopez, babysat their 9-year-old twins, Max and Emme."
Excuse me? Marc Anthony is babysitting his own children?
Babysitters are crucial pinch hitters stepping in when a parent isn't available. A babysitter is a neighbor, parent or friend doing a favor or it's someone you employ and compensate on a regular basis. But when one parent tends to their children while the other parent is at work, a movie, has a doctors appointment, enjoys a round of golf or a vacation, they are being a parent, not a babysitter.
Identifying a parent as a babysitter is an instant demotion. Times have changed since fathers paced waiting rooms with cigars while their wives were in labor. We've asked them to step up to the plate and many are! Men are no longer only weekend visitors in their kids lives. In 2017 many men stay home and parent full-time and those that don't, contribute more time to their home life and children than ever before.
Sadly, the way we see and speak of present day fathers isn't reflective of this shift. Most representations of parents on television offer a harried, multitasking, over worked and shrieking mom nagging the hapless, helpless dad. The constant image of the goofy, inept father undermines the work that dads are actually doing. Calling them babysitters is an insult while simultaneously providing our youth with a poor example of the responsibilities expected as future fathers and caretakers.
There's also an implication that a mother should be grateful when the father steps in. We place higher expectations on mothers and when they meet these unfairly high standards it's sans fanfare. When a father steps in and does the same (or less), he receives a hero's welcome.
I think it's safe to assume that had Marc Anthony been on a vacation with a new girlfriend while Jennifer Lopez stayed home with her children, Ms. Chiu would not have reported, "Lopez babysat their twins." And she shouldn't. Lopez wouldn't be babysitting, she would be parenting.
Popular in the Community