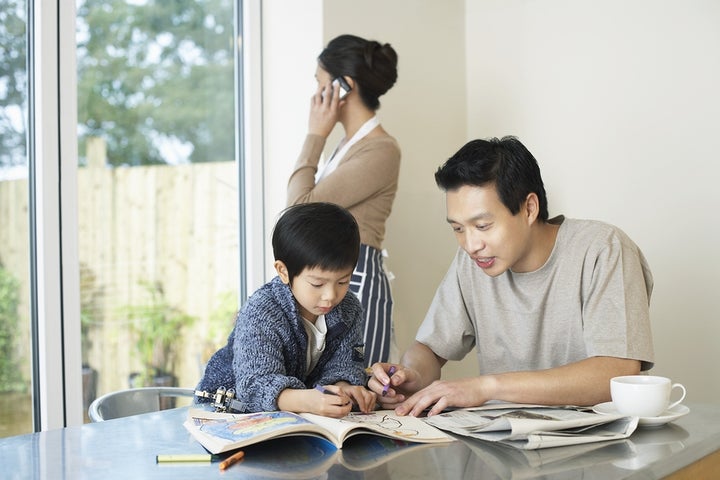 Many studies have been done on how strong parent-to-school relationships can benefit students' academic performance, as well as their behavior in class. This connection is also incredibly beneficial for parents and families. Students spend the majority of their waking hours apart from their parents, and a strong connection with their school can help parents to understand on a more intimate level what their children do all day.
The school community of administrators, teachers, and other parents can serve as an important support system for parents to lean on in difficult times. As a parent myself, I know firsthand how vital this relationship is, and how difficult life can be when you don't have a strong connection to your school community.
I have two children, ages seven and eleven. A few years back, my wife and I had just started my son, Samarth, in a Montessori school, and my daughter, Sreshta, transferred that year to a public elementary school. We had very little familiarity with either of the school communities we'd just joined.
Then, things got more complicated. I was hit by a rare form of idiopathic hypertrophic cranial pachymeningitis (IHCP) which caused double vision, preventing me from driving and forcing me to stay home. At the time, my wife also fell ill, making things even more difficult when it came to parenting. For one, we needed to figure out a way to send our kids to school while we recovered, but we didn't know any of the parents at the schools, nor did we have a way to contact any of them. Even if we had had a way to contact them, asking someone you've never met to drop your kids at school would have been awkward and risky.
It was hard to contact the teacher too. We had her email address, but it usually took her about a day to respond. She couldn't share contact information for any of the other parents, so she would have to contact the other parents separately so see if they were willing to help. Then, if they were, she could then share their contact information with us. It was a very awkward and time-consuming way to communicate.
That's when it hit me: I could open up Facebook and connect with a friend I knew more than 30 years ago; I could go on LinkedIn and connect with someone I worked with over 15 years ago. I could even use Nextdoor, which was just starting back then, to connect with my neighbors. So why couldn't I use a similar network to connect with the parents or teacher in my child's class, instead of jumping through all these hoops? This was the place where my children were spending half of their lives, and all I got was the occasional email or paper note from the school.
I saw an opportunity for a whole new generation of social media and mobile-savvy parents who, like me, were now entering the school system. These parents are used to connecting and communicating with each other through their smartphones. They are all fluent in the language of photos, likes, comments, and direct messages. I wanted to allow these parents to participate in their child's learning, connecting them through a secure platform that would meet a variety of parent-teacher communication needs.
I'd worked for six years as vice president of product and partnerships at an ed tech company called GlobalScholar, where we focused on building an end-to-end learning platform to connect teachers, students, and administrators. During that time, I had come across a lot of research stating that parental engagement was crucial to a child's success, but that schools didn't know how to communicate, coordinate, and engage effectively with today's generation of parents.
Schools and educators today, however, are beginning to realize this, and have been experimenting with digital communication models that include social media and apps. For example:
A school or classroom Facebook page can be a simple tool for sharing pictures and sending public and private messages between parents and teachers. The privacy settings of Facebook can ensure that only the parents of students in the school or classroom can have access to the page.
With Twitter, a teacher or principal can give frequent and quick updates about events going on at the school, and parents can help boost publicity for these events by retweeting posts.
Various mobile apps that address specific needs are a convenient way for parents and families to keep up to date on what their student is up to during the day. Here's one teacher/blogger's review of seven parent/teacher communications apps. Included in this list is Bloomz, which allows teachers to post classroom pictures and videos, ask for volunteers, and have parents sign up for conferences. Parents can use the app to send messages to teachers and other parents, and a translation feature keeps parents who don't speak English fluently (or at all) connected to their child's education. Also included is ClassDojo, which helps parents stay engaged through messages, photos and voice notes from the teacher.
As more and more schools are adopting digital and mobile communication practices, they are helping teachers and parents work as a team to support students' education. When the lines of a communication are open in a way that both sides are comfortable with, we can all get back to what we care about most: helping our children reach their highest possible potential.
Support HuffPost
The Stakes Have Never Been Higher
Related
Popular in the Community